Storm knocks out power for nearly 42,000 in Las Vegas Valley
Updated July 9, 2018 - 11:50 pm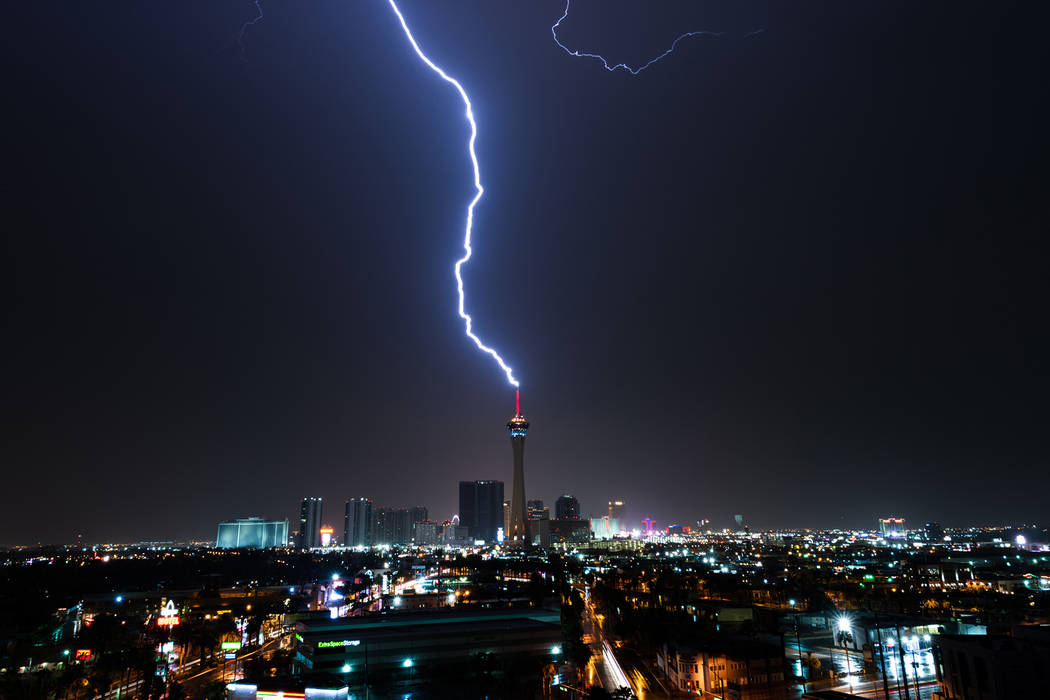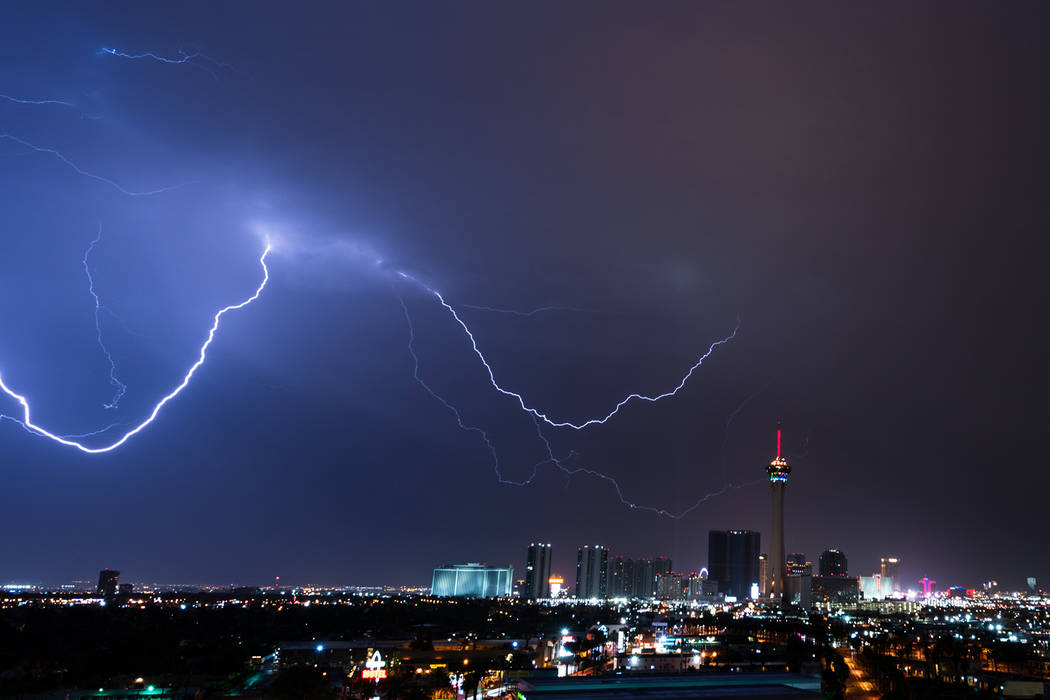 A large thunderstorm Monday night left tens of thousands without power in the Las Vegas Valley and prompted flash flood and severe storm warnings for Clark County.
As of 10:30 p.m., more than 40,000 NV Energy customers were without power, according to the company's outage map.
The National Weather Service temporarily issued a severe thunderstorm warning for the valley. A flash flood warning in the northeast part of the county is in effect until 11:45 p.m.
Major power outage in east Las Vegas. The intersection of Nellis and Bonanza is out and a bicyclist almost got hit. #RJnow #Storms @NWSVegas pic.twitter.com/0YYfMfzFW6

— David Guzman (@davidguzman1985) July 10, 2018
The storm caused more than 30 flights to be diverted from McCarran International Airport by 10 p.m., airport spokeswoman Christine Crews said.
"I think its safe to say anyone flying tonight can expect delays," Crews said.
Most of the valley saw gusts between 40 and 45 mph, meteorologist Chelsea Kryston said. The weather service recorded a 68 mph gust at the airport during the storm.
Parts of the eastern valley saw rain totals of about a third of an inch by about 10:30 p.m., Kryston said. The southern half of the valley saw rain totals between .04 inches and .12 inches by the same time.
Streets are pitch black. #RJNOW #poweroutage #MonsoonSeason pic.twitter.com/bImoqcZVWp

— David Guzman (@davidguzman1985) July 10, 2018
Portions of the north and central valley experienced about a quarter-inch of rain by 10:35 p.m., according to the Clark County Regional Flood Control District.
The Metropolitan Police Department dispatched some units to areas where downed trees or other traffic hazards were blocking the roadway, Lt. David Gordon said.
We're seeing some rainfall in the Central Valley now. A 68 mph gust was recorded at the airport. pic.twitter.com/HYLFjamhWj

— Blake Apgar (@blakeapgar) July 10, 2018
Forecast through Friday
Las Vegas can expect thunderstorms and slightly cooler temperatures this week, the weather service said.
A 30 percent chance of scattered afternoon thunderstorms is expected through Friday, the weather service said.
Tuesday's high is expected to hit 102 degrees. Temperatures will dip slightly on Wednesday to 100 degrees, the weather service said. The high will drop to 99 on Thursday before ticking back up to 101 on Friday. Lows throughout the forecast will be in the 80s.
The normal high this time of year is 104, and the normal low is 81.
Winds should not be a problem for parts of the valley not experiencing a thunderstorm this week. However, winds inside storms could have gusts higher than 40 mph, the weather service said.
Contact Blake Apgar at bapgar@reviewjournal.com or 702-387-5298. Follow @blakeapgar on Twitter.