Storms bring flooding, power outages to Las Vegas Valley — PHOTOS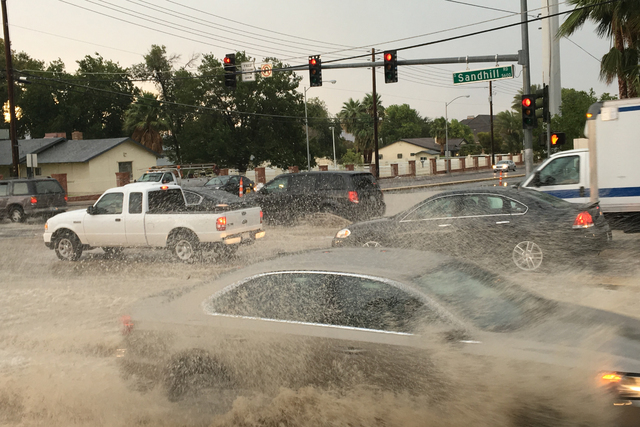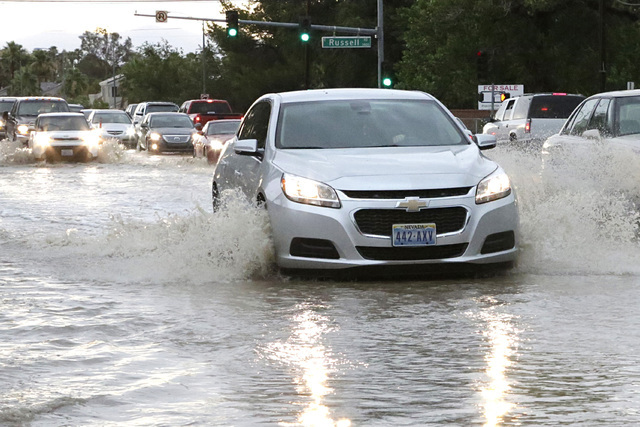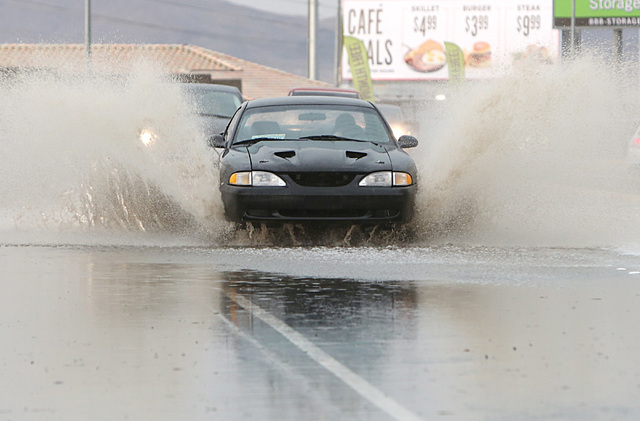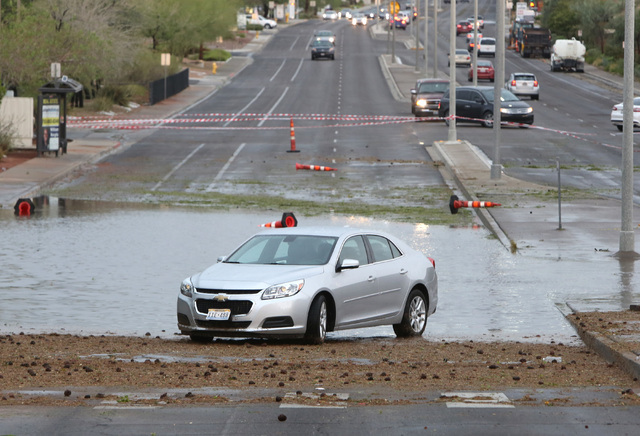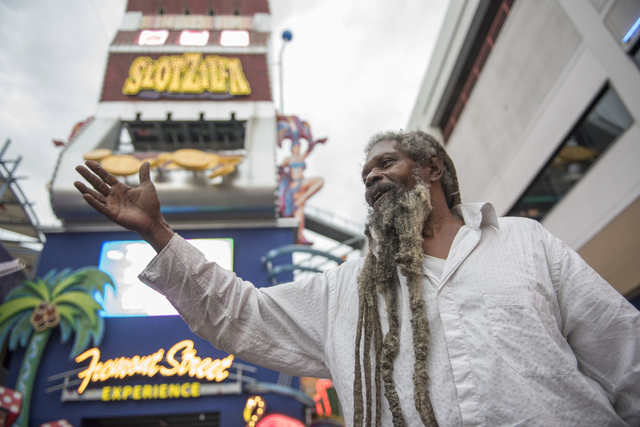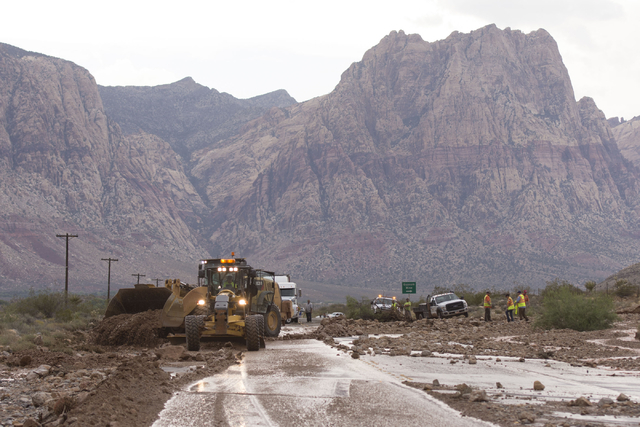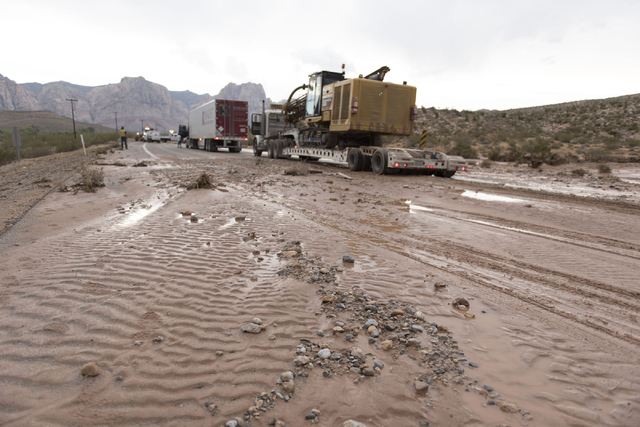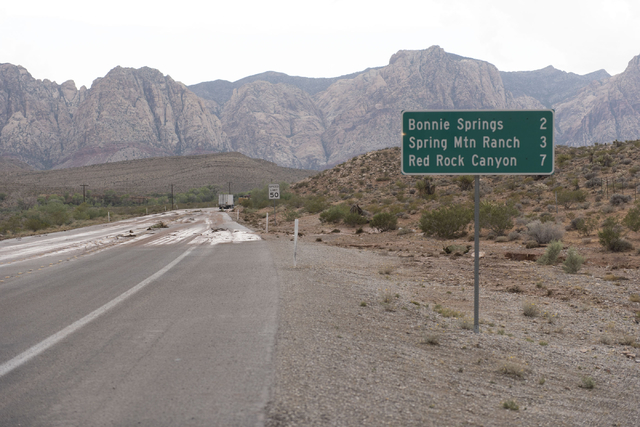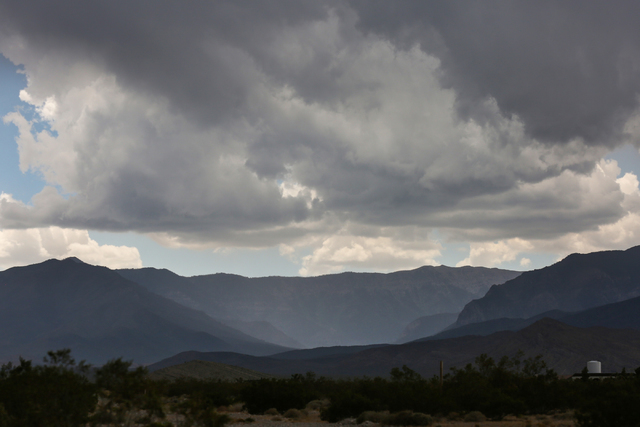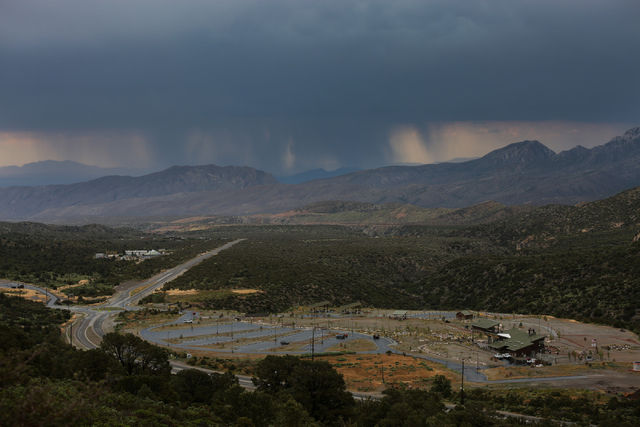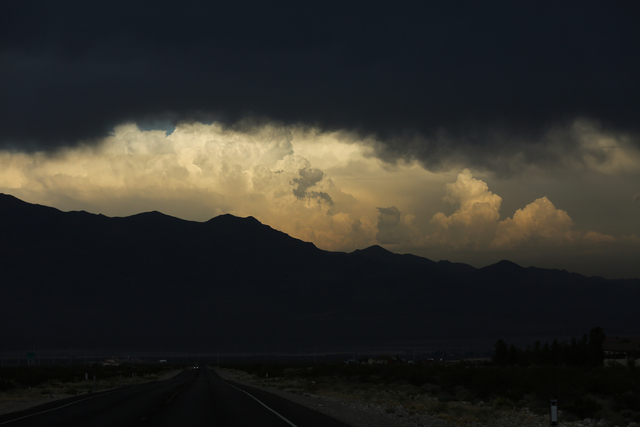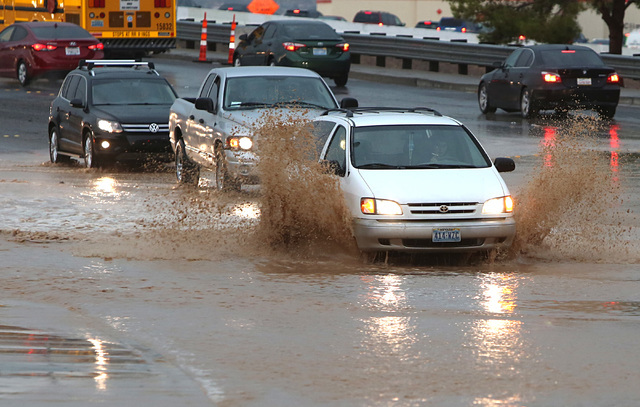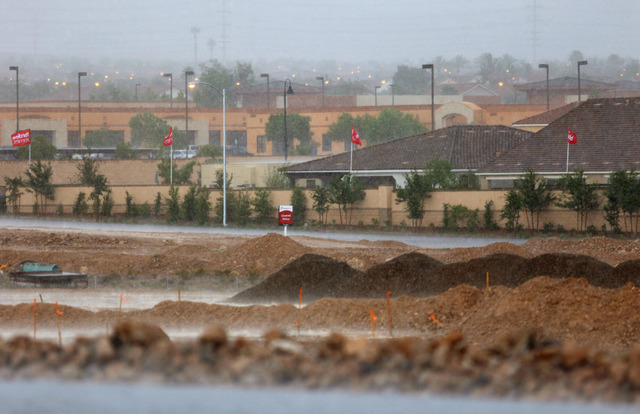 A storm system caused flooding and traffic problems as it passed over the Las Vegas Valley on Thursday afternoon.
The National Weather Service initially issued a flash-flood warning for the western valley and Mountain Springs around 1 p.m., then extended it with another advisory for northwestern Mohave and northeastern Clark counties until 6:45 p.m. Thursday.
The service reported heavy rain and 2-inch hail around the valley as a storm system moved in from the west.
The Clark County Fire Department responded to at least four swift-water rescues. During the first, firefighters were able to rescue two people from a wash near Eastern Avenue and Desert Inn Road at about 3:50 p.m., but a third person, who was having a medical episode, was swept away to the Las Vegas National Golf Course, where golfers rescued her. She was taken to Sunrise Hospital and Medical Center in critical condition.
During the second incident, two people with dogs were rescued from a wash at 3642 Boulder Highway, and later in the day firefighters rescued a homeless man and his cat from a wash off Pebble Road. The man was transported to a local hospital.
Two other adults had to be rescued from a wash near Hollywood Boulevard in the evening.
The Clark County Regional Flood Control District reported 12 feet of water in the Tropicana Detention Basin at around 3 p.m., and standing water on the 215 Beltway near Buffalo Drive. Water in Las Vegas washes was moving at up to 30 mph in some areas.
The Blue Diamond Ridge Detention Basin logged 1.34 inches of rainfall in a 90-minute period. At 3:10 p.m., basins within the city had logged more than 1.5 inches of rain, with the highest count, 1.89 inches, coming from the Duck Creek wash at Eastern Avenue.
For 16 years, Foster Holloway, 56, has lived near the trails along Pittman Wash, which he calls "the ditch." On Thursday, he biked down to the bridge to assess the storm's damage at Green Valley Parkway near Windmill Lane.
His back tire sunk into a once-covered utility hole in the sidewalk before he came upon at least 50 feet of fence apparently torn down by the water's force.
"I haven't seen the power of water come over the road like this before, and it took out this whole section of fence," Holloway said.
He pointed to fresh green leaves that had gathered in the fence's chain and weighed it down, and he gestured to the opposite side of Green Valley Parkway, where four cars were stranded and landscaping rock had piled up.
"A lot of water came over the top of the road to cause this amount of damage," Holloway said. "I don't recall anything like this."
The Clark County Fire Department said a lightning strike may have been the cause of a house fire just before 3 p.m. near Spring Mountain and El Camino roads that caused about $10,000 in damage and displaced two adults.
About 3:30 p.m., the Regional Transportation Commission reported that the intersection of Eastern Avenue and Warm Springs Road had flooded and drivers were advised to avoid the area.
Nevada Highway Patrol Trooper Jason Buratczuk said State Route 159 was blocked for more than an hour as cleanup crews cleared about 2 feet of debris near mile marker 3.
At 7 p.m., U.S. Highway 95 southbound was still down to one lane between Russell Road and Galleria Drive because of flooding.
Locals in downtown Las Vegas enjoyed the break from the heat, but said the rain was still an inconvenience.
"Today was a twist. Out of nowhere it starting storming, I love it," said Renee Mashore, 22, a hostess at Le Thai.
She enjoyed the sudden rain on the last day of the valley's hottest June on record, but the weather affected patrons dining in the restaurant.
"Work becomes more difficult when it rains because we have to close our back patio, and everybody is just crammed inside," she said.
Heavy rainfall and lower temperatures might have given some local businesses a boost.
"It's cool because more people are walking around than in 115-degree weather," said Brandon Booker, 29, a promoter for Hennessey's Tavern. "But Vegas weather is bipolar; this is just a tease."
Clyde Williams, a busker from Trinidad, wasn't happy with the rain.
"My drums need shade," he said as he was setting up at the Fremont Street Experience, "and I can't come out in the rain either because of my instruments."
Delay times for flights traveling to and from McCarran International Airport steadily increased starting at about 2:30 p.m. Thursday. More than 20 flights were diverted, and customers were stuck waiting for flights for up to 2½ hours.
NV Energy reported that about 4,500 customers in the southeast valley lost power at about 3:30 p.m., and that the outages were caused by the weather. As of 7 p.m. Thursday, power had been restored for all but about 500 customers.
Review-Journal writer Tatiana Villamil contributed to this story. Contact Max Michor at mmichor@reviewjournal.com or 702-383-0381. Follow @maxmichor on Twitter.
RELATED
Check out a timelapse of today's monsoon storms over the Las Vegas Valley
Las Vegas sees hottest June temps on record