They're having snow troubles in the South too — PHOTOS
February 26, 2015 - 4:55 pm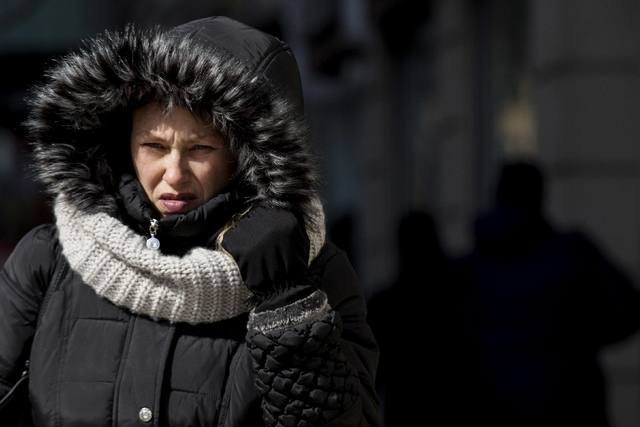 RALEIGH, N.C. — Residents across the U.S. South were digging out on Thursday after the latest winter wallop, which dumped more than a half-foot of snow and knocked out power for hundreds of thousands in a region accustomed to milder cold-weather conditions.
Wet, heavy snow snapped tree limbs and shorted power line fuses in North Carolina, leaving more than 200,000 Duke Energy customers without power at the peak of the outages, and about 130,000 still without electricity Thursday afternoon.
In the absence of power to run the well system for her home in Raleigh, Danielle Pender said her family of four was using melted snow to supplement bottled water.
"The last big snow storm, we were without power for 13 days, but now we have kids," said Pender, 48. "We can't hold out very long."
Outside their house, a car had skidded into a ditch and a downed power line was holding up snow plows on the street.
Hundreds of schools were closed in the Southeast and Deep South, and officials warned of dangerous driving conditions in areas with heavy snowfall.
A county coroner said a 22-year-old student at the University of Mississippi was killed in a sledding accident on Wednesday in Oxford, the state's third weather-related death this week.
Many of the 1,200 U.S. flights canceled on Thursday affected travelers at airports in Charlotte, North Carolina, and Atlanta, according to the tracking website FlightAware.com.
Areas in north Georgia received up to nine inches of snow on Wednesday and Thursday, resulting in numerous car crashes but no deaths, said Crystal Paulk-Buchanan, spokeswoman for the Georgia Emergency Management Agency.
"Luckily, this was not an icing event, it was a snow event," she said.
Farther south in metro Atlanta, many schools were closed as a precaution Thursday but much of the city was spared major snow. The storm prompted state officials to delay the execution of Georgia's only female death row inmate until Monday.
RELATED
Winter returns with snow in Las Vegas Valley — PHOTOS
This is how awful the snow has been in Boston — PHOTOS