Thunderstorms in Las Vegas Valley cause power outages, flooding
Updated July 20, 2018 - 12:49 am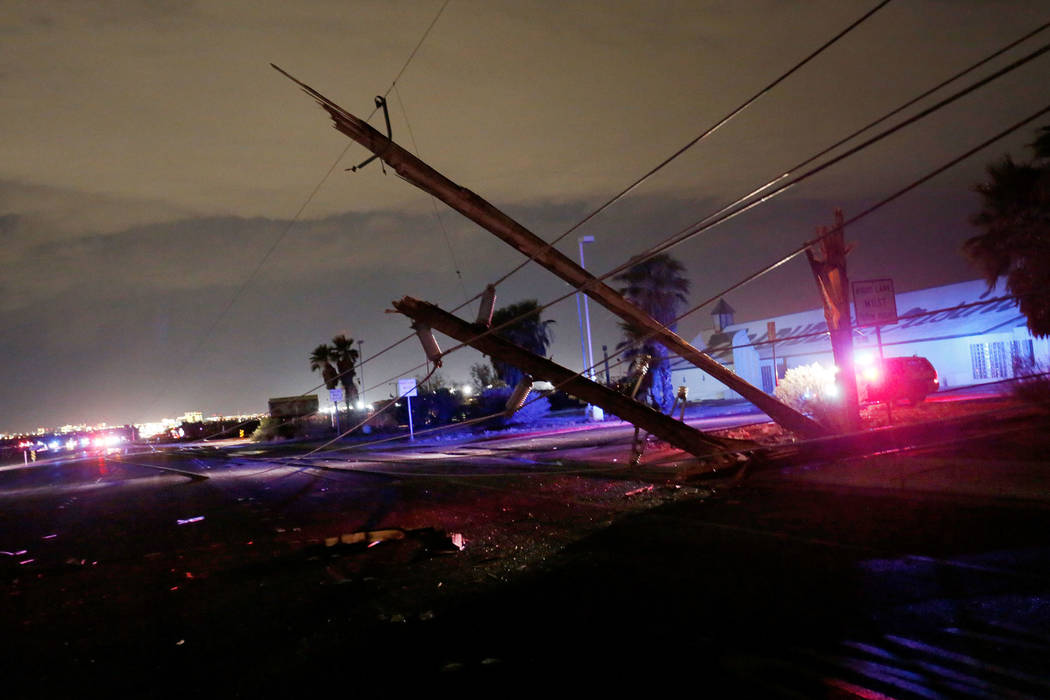 Thunderstorms battered parts of the Las Vegas Valley on Thursday, downing power lines and causing flooding in some areas.
The National Weather Service tweeted that a severe thunderstorm warning had expired but strong winds and heavy rain were still expected around the valley.
A flash flood warning was issued for eastern parts of Clark County including Lake Las Vegas and Las Vegas Bay. That warning is set to expire at 1:15 a.m.
About .75 inches of rain had fallen at the edges of the mountains to the east, and rainfall in the northwest valley had peaked at .39 inches as of 10:20 p.m., National Weather Service meteorologist Chelsea Kryston said.
McCarran International Airport experienced slight delays Thursday afternoon because of the thunderstorms, according to the Federal Aviation Administration's website. Gate hold delays were between 15 and about 29 minutes but decreased as of 4:15 p.m.
Winds between 45 and 60 mph were reported throughout the valley Thursday night, Kryston said, "but the strongest winds look to be behind us."
Las Vegas Fire Department reported that power lines were down or sparking across the valley Thursday night.
In Henderson, power lines along Boulder Highway fell on top of the road and several vehicles about 10 p.m. Thursday night, trapping drivers inside until the Henderson Fire Department arrived to free them, according to department spokeswoman Kathleen Richards. No one was injured, she said, but one person did have to be extricated from a vehicle.
More than 24,000 customers were without power at 9:30 p.m., according to NV Energy. Henderson and the east valley were hit hardest by the outages, thanks to downed lines on Boulder Highway.
The power company had seven crews working across the valley to get power restored as quickly as possible, NV Energy spokeswoman Jennifer Shuricht said about 11 p.m.
The Las Vegas Valley and Spring Mountains were under a flood advisory until 12:15 a.m., the weather service said.
There's a slight chance the valley will see more thunderstorms at the end of the week, but dangerously high temperatures lie ahead as that monsoon moisture moves on.
Friday has about a 10 percent chance for showers and thunderstorms in the afternoon, according to the National Weather Service, and that chance will drop below 10 percent during the weekend.
Thursday's high should be 106 degrees, the weather service said, and Friday should see a high near 107. The valley will stay humid for the next few days, thanks to a high-pressure system keeping moisture trapped above the city.
That humidity will keep temperatures high overnight and into the early mornings, with morning lows in the upper 80s and low 90s through the weekend and into next week, the weather service said.
Saturday and Sunday will see highs near 107, and Monday's high will rise to about 109 as the valley dries out.
The weather service has issued an excessive heat watch for next week with highs near 112 on Tuesday and Wednesday. Normal highs for this time of year are typically around 105, the weather service said.
Contact Max Michor at mmichor@reviewjournal.com or 702-383-6239. Follow @MaxMichor on Twitter. Review-Journal staff writer Mike Shoro contributed to this report.