Utah home destroyed by landslide, 20 others evacuated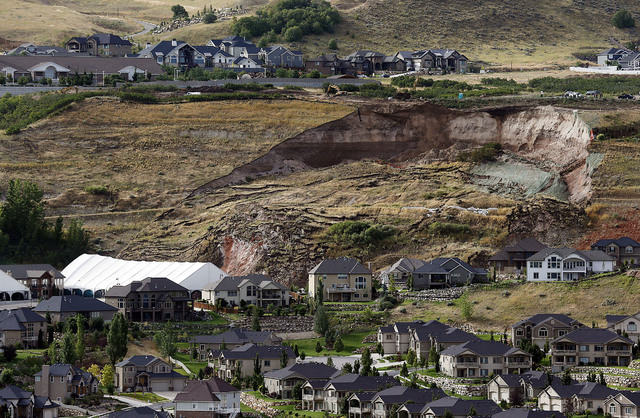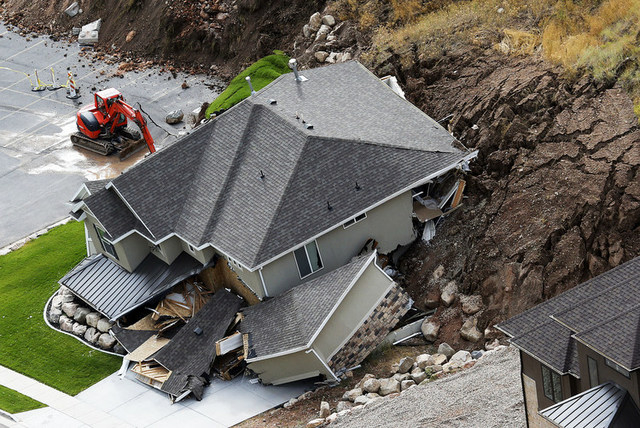 NORTH SALT LAKE, Utah — A landslide struck an upscale suburban Salt Lake City community on Tuesday, destroying a home and forcing evacuations as a rain-soaked hillside tumbled from above.
No one was hurt in the slide in North Salt Lake, where residents of the manicured neighborhood near a tennis and swim club said they could hear the hillside rumbling hours before it tumbled.
"It was very eerie and very frightening, and we knew the mountain was coming down," said Steven Peterson, 64, who lives across the street from the crushed home. Six of the 10 people who lived there and were home went to Peterson's house to escape danger. The family is from Peru and includes young children and their grandparents in their 70s.
"We all sat on the porch and watched their house collapse," he said. "It started very slowly and then it got louder and louder."
Images showed the 2,960-square-foot home pushed onto the driveway and over large landscaping rocks. Walls were ripped from the roof and windows were blown out. A large, half-moon-shaped chunk of land measuring 400-feet by 400-feet, and 20 feet deep, was missing from the hill above.
The slide came as severe thunderstorms hit Utah and Nevada. Flooding damaged about 100 homes in Carbon County, southeast of Salt Lake City, where road crews were cleaning up and providing hundreds of sandbags for people affected by a severe thunderstorm Monday night.
In Nevada, flooding closed roads on the edge of Las Vegas and at Death Valley National Park, as most of the state was under a flash flood watch with more rain in the forecast.
The landslide hit in North Salt Lake — a city of about 17,000 people 10 minutes north of Salt Lake — after officials had worried for nearly a year about cracked soil on the hillside above the houses.
Geotechnical engineers and representatives from the home developer removed soil last fall to make the slope less steep and alleviate pressure, city engineer Paul Ottoson said.
The cracking reoccurred this summer, however, and the city hired a company to go back up to the hill to remove more soil. That work had just begun but was halted by this week's heavy rains, he said.
Edwards said the city sent homeowners a letter this week recommending that they protect their valuables.
Further development on the hillside will be halted until the cause of the landslide can be determined, he said, adding that the city planned to declare a state of emergency to seek help for people.
Eaglepointe Development, the company that has developed homes in the area extensively since 1999, said in a statement all its work was done based on recommendations and approvals from the city and independent engineering companies.
The company suggested seismic activity in the area may have contributed to the slide along with the rains. But the University of Utah's Seismograph Stations has seen no evidence of seismic activity in that area at that time, said Katherine Whidden, a research seismologist.
In another neighborhood about a mile away, a deep, slow moving landslide that began in the 1990s cracked 17 homes over two decades, forcing the demolition of all of those houses, said Ken Leetham, the North Salt Lake Assistant City Manager. The final demolitions were finished within the past two years, and the area is now open space and off limits to construction, he said.
Of the 27 homes evacuated, all but four families are expected to return by Wednesday when rainstorms pass, said city manager Barry Edwards. It's unknown when the other four families will be allowed to return home.
Angie MacDonald, 36, and her husband moved in to the area in January with their twin 3-year-old daughters. They've been nervous since seeing construction crews working on the ridge over the past few months. They have not been evacuated, but it's left them unsettled.
"It's scary. It's really scary, but it's not shocking either," MacDonald said. "It makes me wonder: Did we build in the right place?"
———
Associated Press writers Lindsay Whitehurst and Michelle Price in Salt Lake City contributed to this report.
Thunderstorm floods Utah county; 100 homes damaged
The Utah governor's office says about 100 homes are damaged in Carbon County after a severe thunderstorm flooded the area Monday night.
The sheriff's office reported homes in the cities of Helper, Spring Glen and Carbonville were damaged, as well as the Westwood area about 100 miles southeast of Salt Lake City.
County road crews started the cleanup effort Monday and are providing hundreds of sandbags for people affected by the waters.
— Associated Press