Wet carpets anyone? Las Vegas Valley's 48-hour rainfall totals
Updated September 3, 2023 - 9:05 am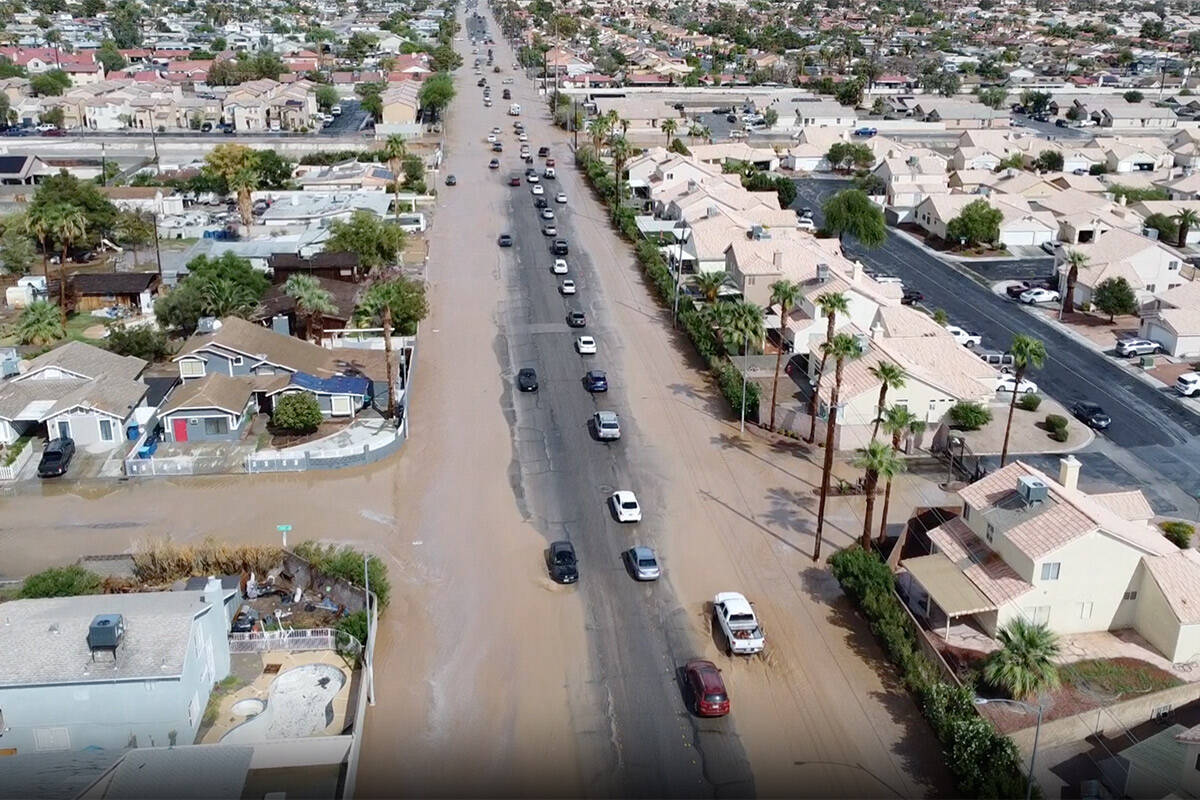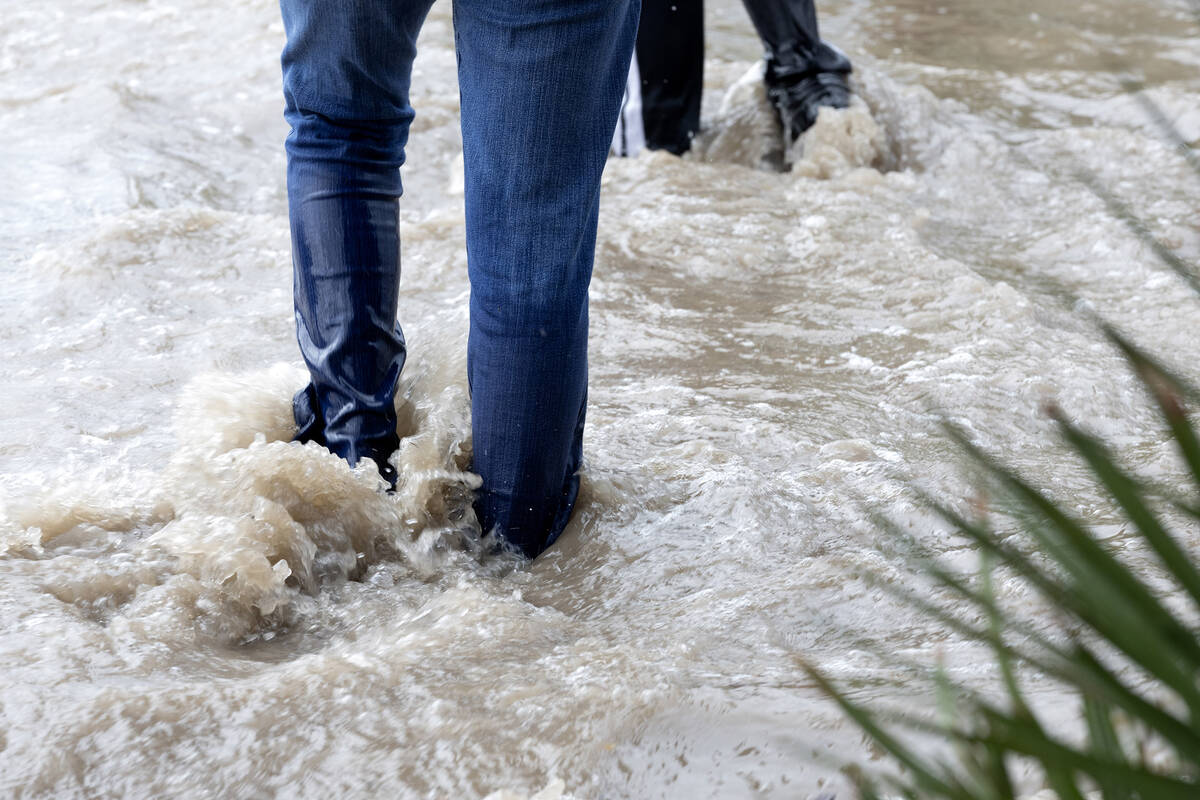 Las Vegas hardware stores had a run on large rental fans this weekend as people tried to dry out water-damaged residences.
Debris-filled roads, standing or flowing water several feet deep where it normally is dry and nearly full drainage basins are one thing. Water 4 inches deep getting into two bedrooms, a hallway and two bathrooms takes the angst to a higher level.
"Last time I was able to get seven fans at Home Depot, but today they only had three left so I got them all," Sun City Summerlin resident Sylvia Johnson told the Las Vegas Review-Journal.
Ceiling fans were on high speed and some carpets have been pulled. Come Sunday morning she'll return from a night at her daughter's house to open windows for more ventilation.
It was Johnson's third time wading and worrying through a flooding episode this summer, she said.
Her fingers are crossed for a contractor's efforts to dig deeper and get more water protection around the house foundation to hopefully prevent future flooding issues. As water comes in, a pocketbook empties.
Soggy 48 hours
Such is one battle among hundreds or thousands as Southern Nevadans cope with Mother Nature's Labor Day weekend delivery of a very soggy 48 hours — perhaps unrivaled in the valley's weather history.
"Perhaps" is the key word because the valley does not have comprehensive valley-wide rain gauge data, just a single official measuring station at Harry Reid International Airport. It is backed up by the National Weather Service office a few miles away on South Decatur Boulevard.
"It's not even close (to being a weekend rain record) for the airport," said weather service meteorologist Clay Morgan. "But for the valley as a whole, it was very wet."
He wouldn't delve into his 20-year history of serving the local weather service office because "we deal on hard data, not faulty memory."
Wet, indeed. As in 3.78 inches at Flamingo Wash at Nellis Boulevard or 2.76 inches at The Lakes or even 2.60 inches at Red Rock Canyon.
3.19 inches in 2 hours at Jean
A gauge in the desert on sloping terrain almost 5 miles southwest of Jean recorded 3.19 inches in two hours (about 2.4 inches falling within 45 minutes) Saturday afternoon. The runoff swamped Interstate 15, closing the southbound lanes well into the overnight hours if not longer Sunday.
Social media posts showed northbound motorists out of their cars on apparently dry pavement standing at a concrete median watching a river running over the southbound lanes.
Despite the nearly 4 inches in a handful of places, the official Las Vegas two-day figure for Friday and Saturday will be 1.18 inches as recorded at the weather service office. That's because power was interrupted to the airport's Automated Surface Observing System on Friday.
Once that happened, humans trained in weather observations took over, but the official record will be that recorded at the Decatur office, Morgan said.
And it may not be over.
Sunday brings what appears to be a slim chance for thunderstorms, Morgan said.
"Our best shot is early afternoon, but they will be moving east very quickly so it is a short window," Morgan said.
From Friday morning through Sunday morning night (48 hours), here are the rain totals for selected parts of the valley, as recorded by gauges operated by the Regional Flood Control District:
Location, total rainfall for 48 hours
Flamingo Wash at Nellis — 3.78 inches
Grapevine Springs 2 (halfway from Route 157 to Mount Charleston — 3.35 inches
Jean (4.9 miles southwest of Jean) — 3.31 inches
Las Vegas Wash at Las Vegas — 3.15 inches
Las Vegas Wash at Nellis — 3.07 inches
Russell Road realignment near Hualapai Way — 2.83 inches
Beltway channel at S. Buffalo — 2.80 inches
The Lakes — 2.76 inches
Red Rock Canyon — 2.60 inches
Rainbow Blvd. at West Desert Inn — 2.56 inches
Flamingo Wash at Torrey Pines — 2.56 inches
Smoke Ranch at Buffalo — 2.52 inches
South Hualapai and West Russell — 2.44 inches
Flamingo Wash at Spencer — 2.44 inches
Harris Springs 1 — 2.36 inches
Upper LV Wash near Shadow Ridge GC — 2.32 inches
East end of Charleston behind Hollywood Regional Park — 2.24 inches
Blue Diamond Ridge South — 2.24 inches
Blue Diamond near Hualapai — 2.23 inches
Far Hills at LVVWD basin — 2.20 inches
Downtown Las Vegas — 2.17 inches
Desert Inn Arterial — 2.13 inches
Tropicana near Arville — 2.13 inches
Charleston at I-15 — 2.13 inches
Beltway channel at Peace Way — 2.13 inches
Las Vegas Wash at Craig Road — 2.09 inches
Rainbow Canyon — 2.09 inches
Rainbow Curve — 2.01 inches
Torrey Pines at Oakey — 1.97 inches
Near South Point Casino — 1.97 inches
Gowan Road North near Alexander — 1.93 inches
Angel Park West — 1.93 inches
Charleston at Rampart — 1.85 inches
Sunrise Landfill at base of Frenchman's Mountain — 1.73 inches
Rio at Twain — 1.46 inches
Contact Marvin Clemons at mclemons@reviewjournal.com. Follow @Marv_in_Vegas on X.