Winter returns with snow in Las Vegas Valley — PHOTOS
February 23, 2015 - 9:25 pm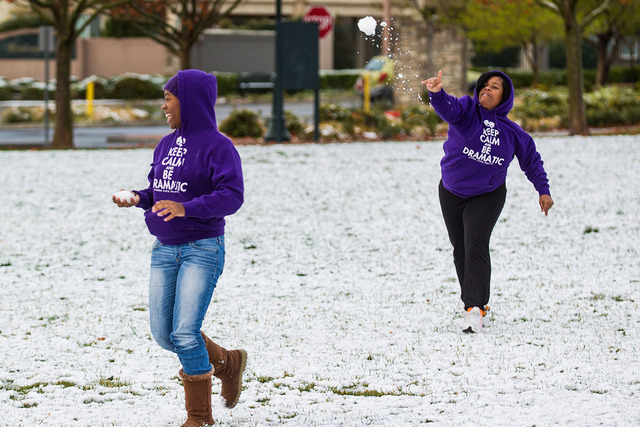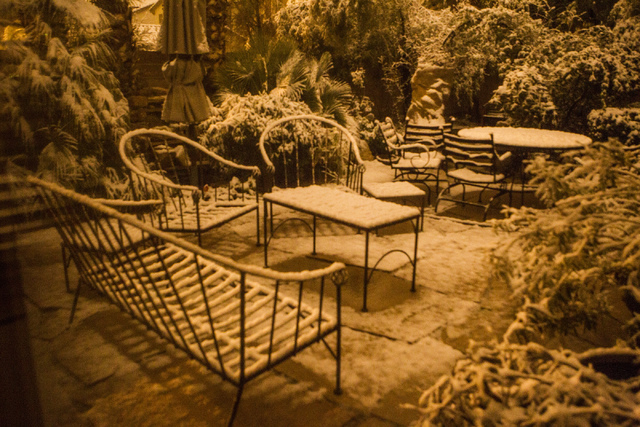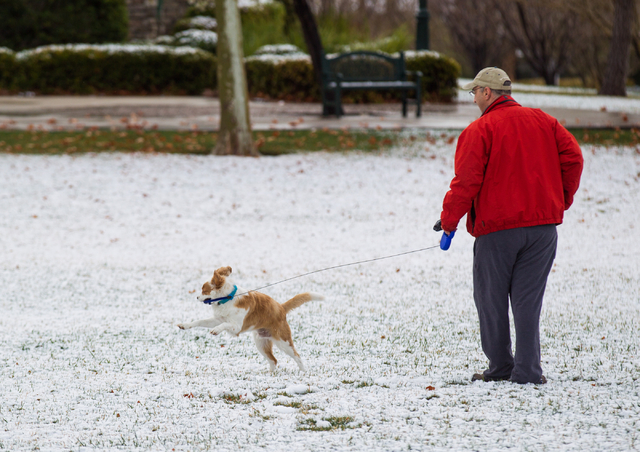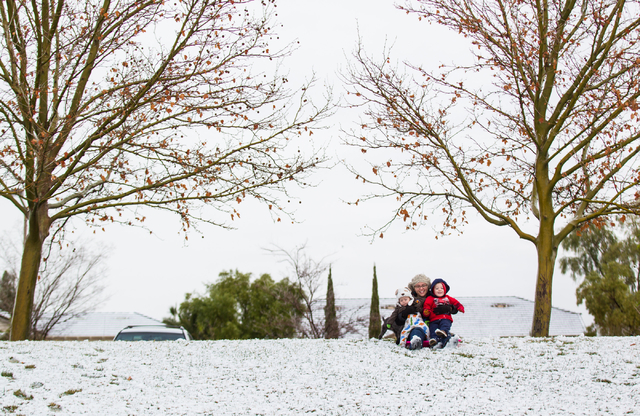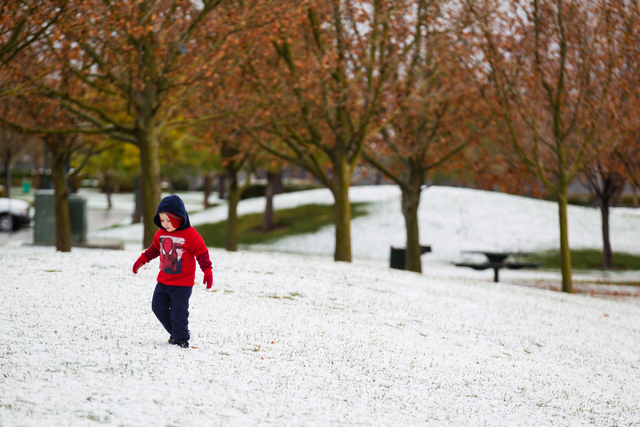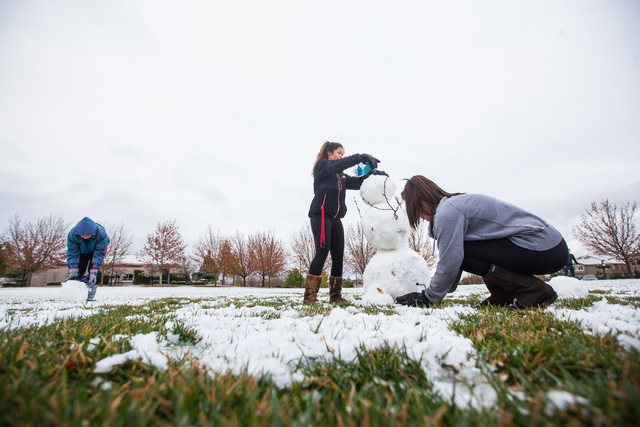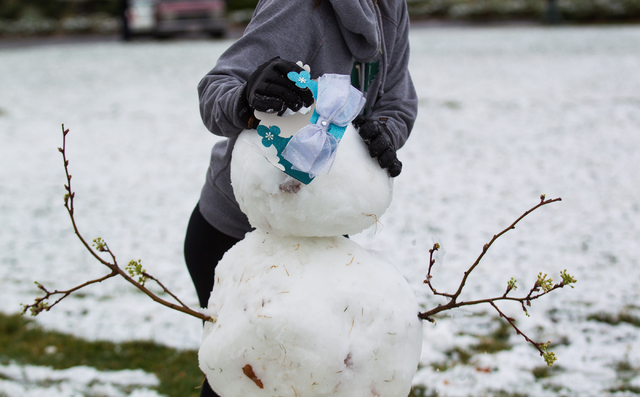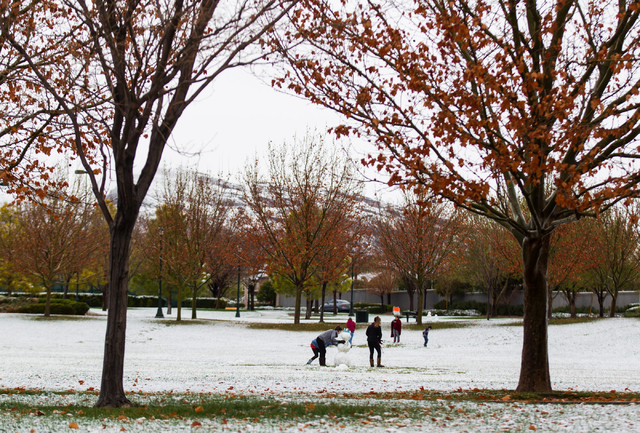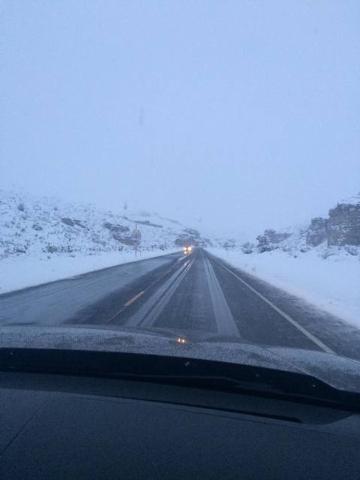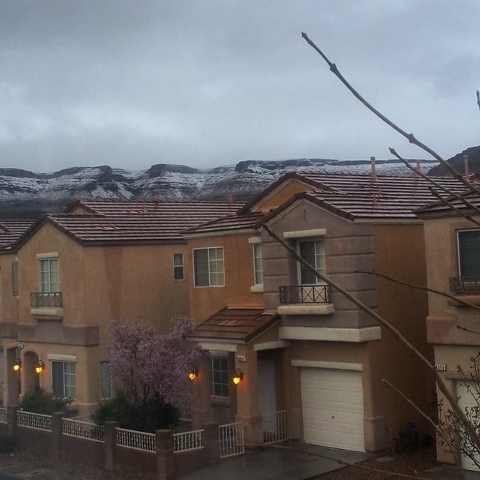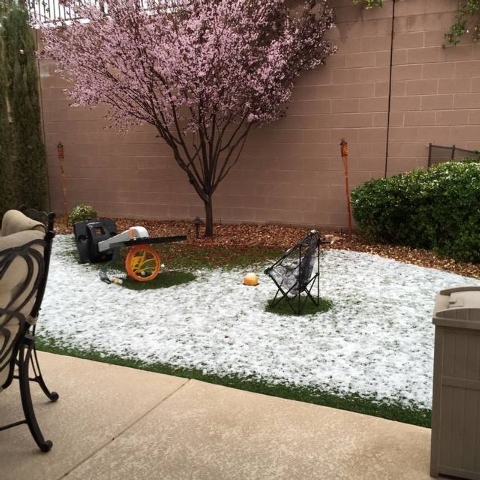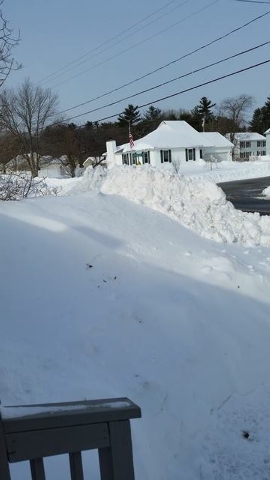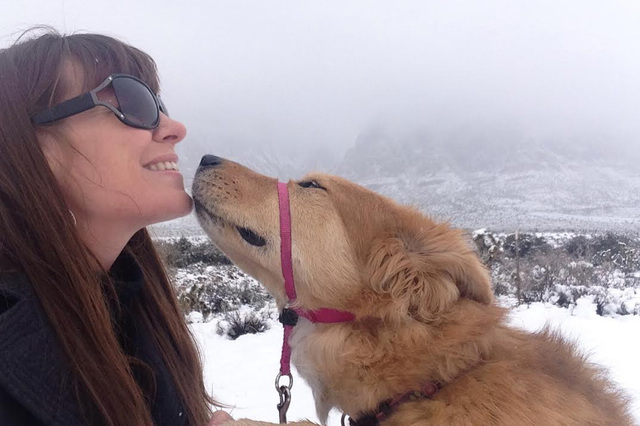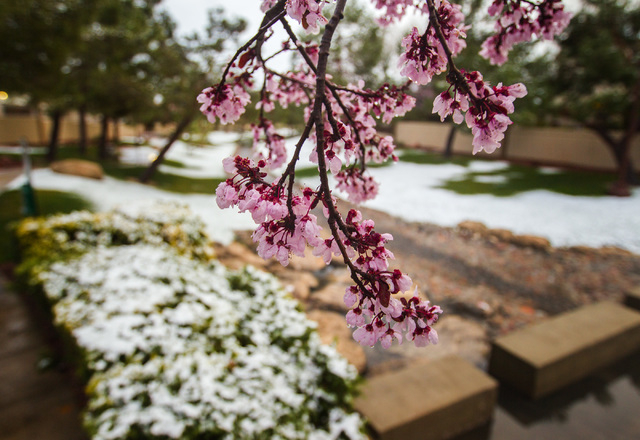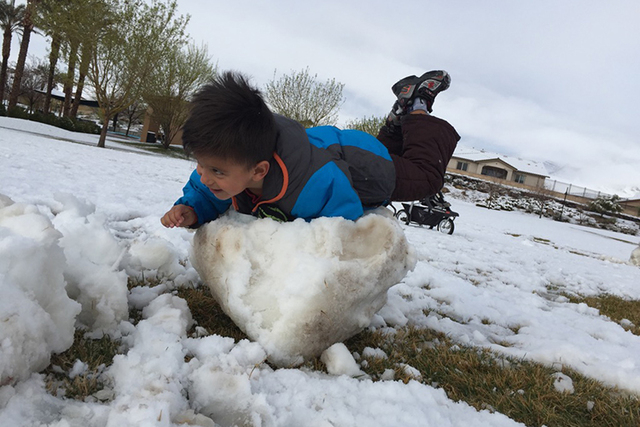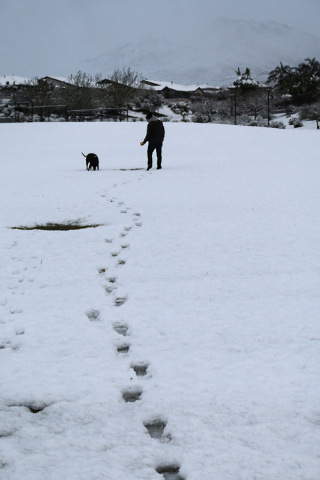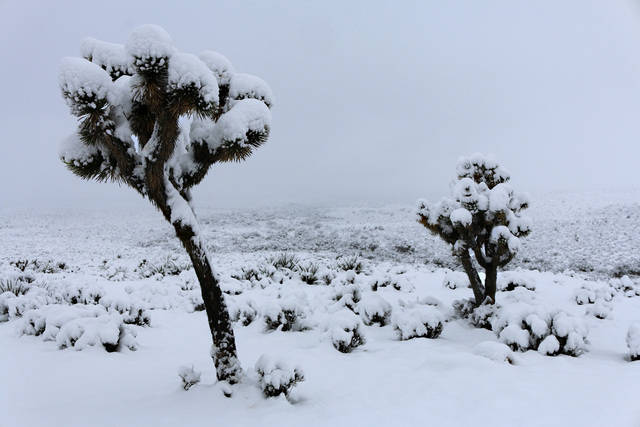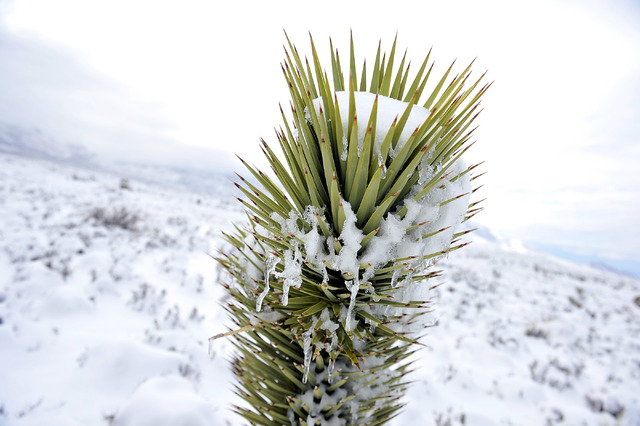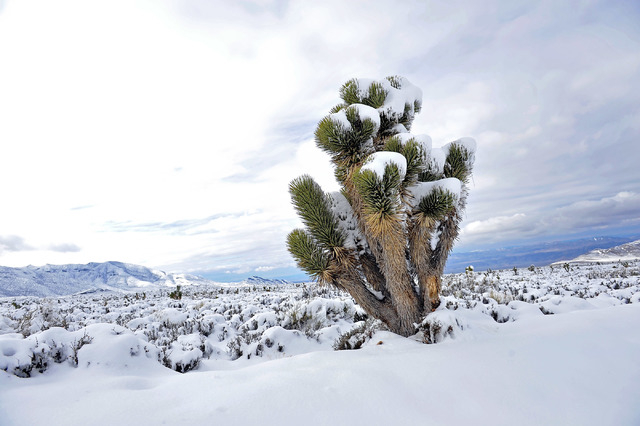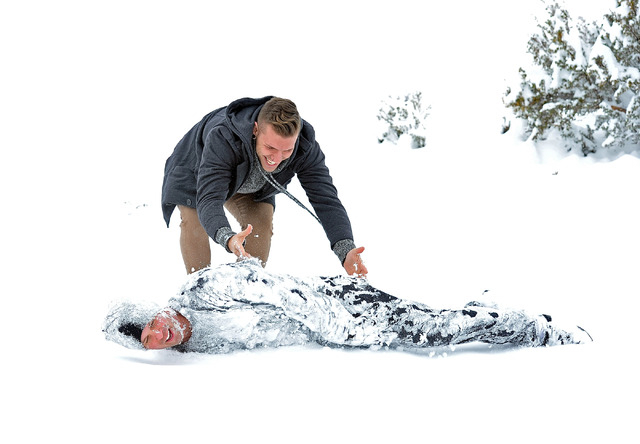 After a two-day dose of wintry weather, the valley can expect a thaw in the coming days, according to the National Weather Service.
After a dusting of snow and scattered showers Sunday night and Monday morning, the valley will see less cloud coverage Tuesday through Thursday as temperatures inch up to the low and mid-60s.
Clouds will start to move out Tuesday morning between 10 a.m. and noon. Temperatures are expected to peak at about 60 degrees. Wednesday and Thursday should see high temperatures of about 66 and 65 degrees, with low temps dipping to 42 and 46 degrees.
Precipitation is expected again Friday evening with windy conditions and temperatures in the low 60s, National Weather Service Meteorologist John Salmen said. The weather service predicts a shower or two Friday evening and over the weekend, with high temperatures of about 58 degrees on Sunday and Monday.
But the low pressure system expected to roll in Friday evening won't carry as much moisture as the one that just brought snow and rain to much of Southern Nevada, Salmen said.
Parts of Summerlin were covered with about one to two inches of snow Monday morning, National Weather Service Meteorologist Stan Czyzyk said.
Kids and kids at heart built snowmen and tossed snowballs before the school or work day began.
Alexander Callirgos and Devereaux Adams took their dogs, Zar and Jambi, to play in the snow at the Vistas Park football field, near the 215 Beltway and Alta Drive.
"I've lived in Las Vegas my whole life and this is only the third time I've seen snow here," Adams said.
At Paseos Park, southeast of the intersection of Alta and Desert Foothills drives, Maria Serrata's 9-year-old daughter and 4-year-old son packed a boulder-sized block of snow that they used as a perch and a spot to belly flop. Then, naturally, they kicked it to pieces.
"It's fun for them," Serrata said. "They just wanted to build something and bust it."
Snowy conditions continued throughout Monday in areas above 3,500 feet, Czyzyk said. Mountains Edge recorded about half an inch of snow Monday morning. More than three inches fell near Mountain Springs Pass near Pahrump.
On Mount Charleston, the Las Vegas Ski & Snowboard Resort reported about 10 inches of snow, the weather service said. Kyle Canyon recorded 11 inches.
Visitors to Mount Charleston should prepare for winter conditions and consider using snow chains, Czyzyk advised.
Snow chains are required on a section of state Route 160, which connects the Las Vegas Valley to Pahrump, the Nevada Department of Transportation announced Monday afternoon. Motorists going east will need chains once they pass state Route 159, Red Rock Canyon Road, heading into Nye County.
But the snow wasn't all fun and games.
Las Vegas police said the storm stranded three hikers Sunday afternoon in Red Rock Canyon National Conservation Area near the Ice Box Canyon trail. They were found Monday, about 24 hours later.
Search and rescue teams were forced to delay the search until early Monday morning due to inclement weather. Red Rock Canyon saw five inches of snow by about 8 a.m. Monday, the weather service said. The hikers were advised Sunday to build or find shelter and stay put overnight.
The Nevada Department of Transportation sent out a news release Monday assuring drivers that at least six snowplows were ready to deal with snow and ice in Clark County. An additional two dozen machines were available for coverage in Lincoln, Esmeralda, Mineral and Nye counties.
NDOT was prepared to deice road surfaces by spreading 40 tons of "Ice Slicer" road salt. That salt is 90 percent sodium chloride, and the rest is made from traces of 60 minerals, NDOT said.
Wet roads were blamed for at least one crash that tied up traffic on the 215 Beltway at the airport connector. No one was hurt when the tractor-trailer overturned.
Assistant city desk editor Adam Kealoha Causey and reporter Keith Rogers contributed to this report.
Contact reporter Cassandra Taloma at ctaloma@reviewjournal.com or 702-383-0381. Find her on Twitter: @CassandraTaloma
Share your snow photos with us!