Arbor View outlasts Desert Pines in double overtime — PHOTOS
Updated September 23, 2023 - 12:03 am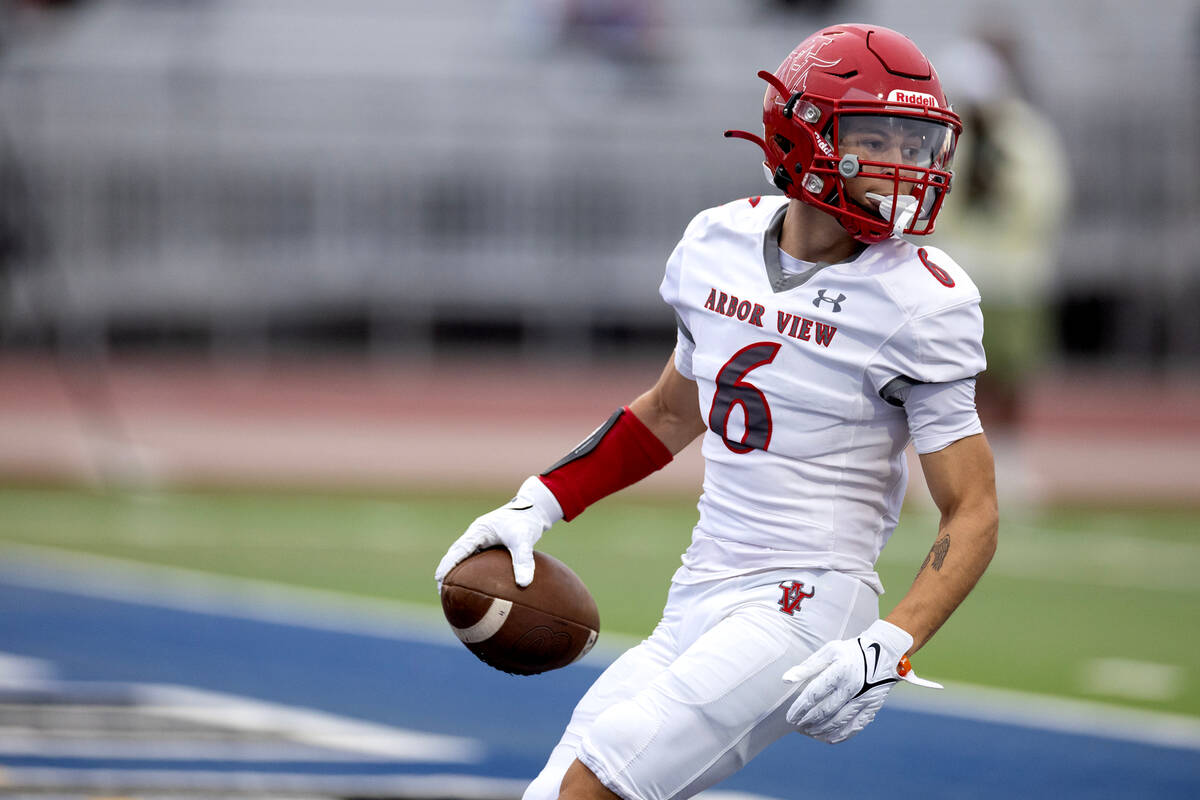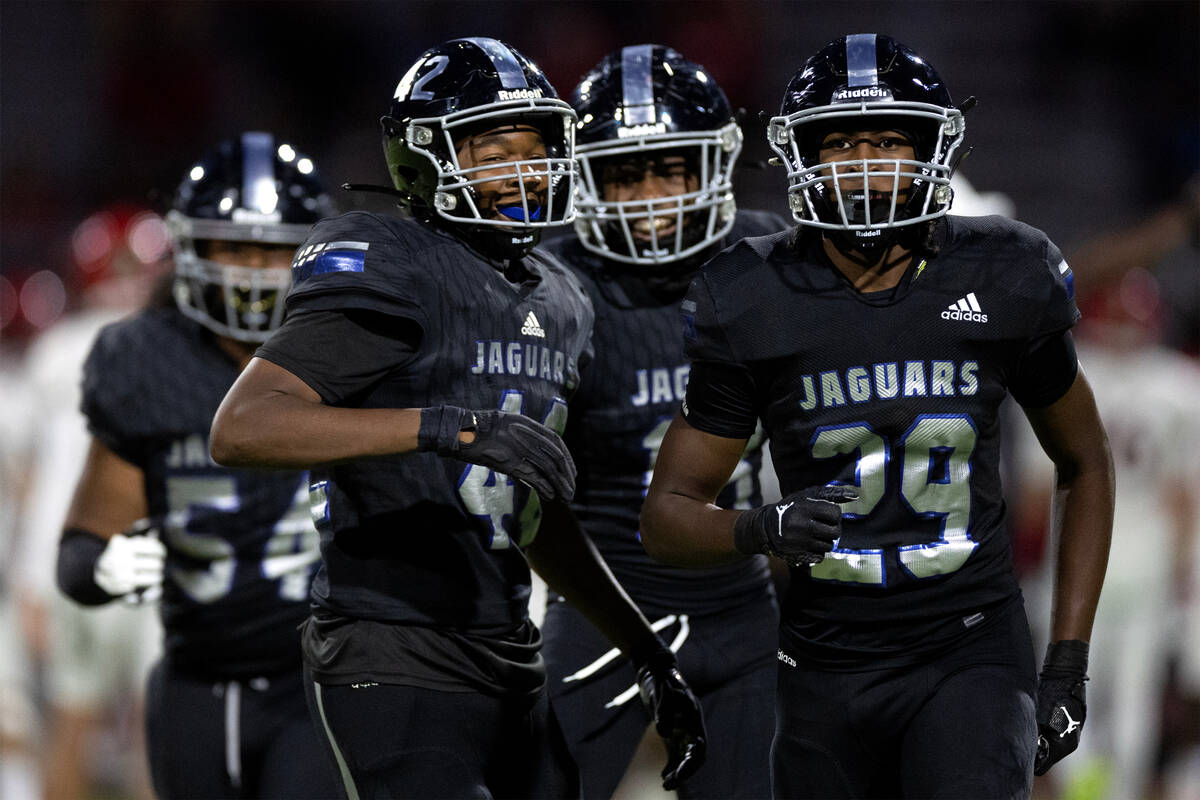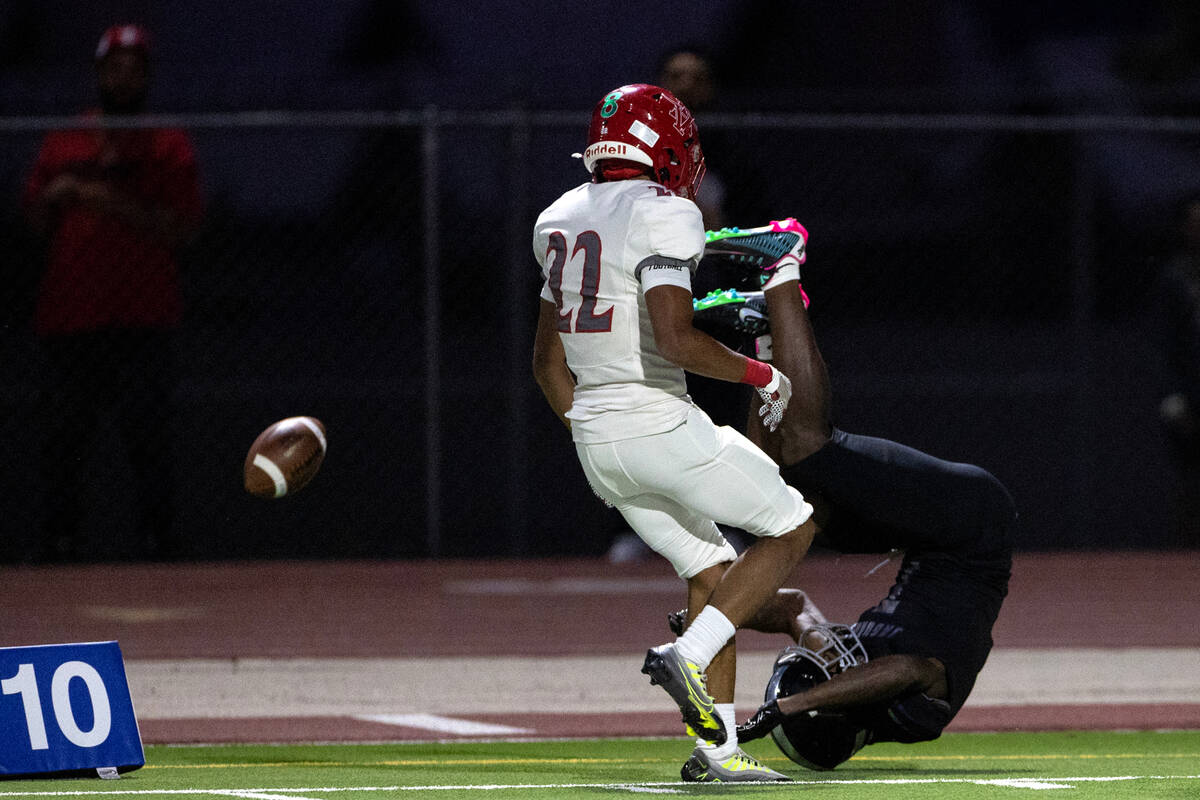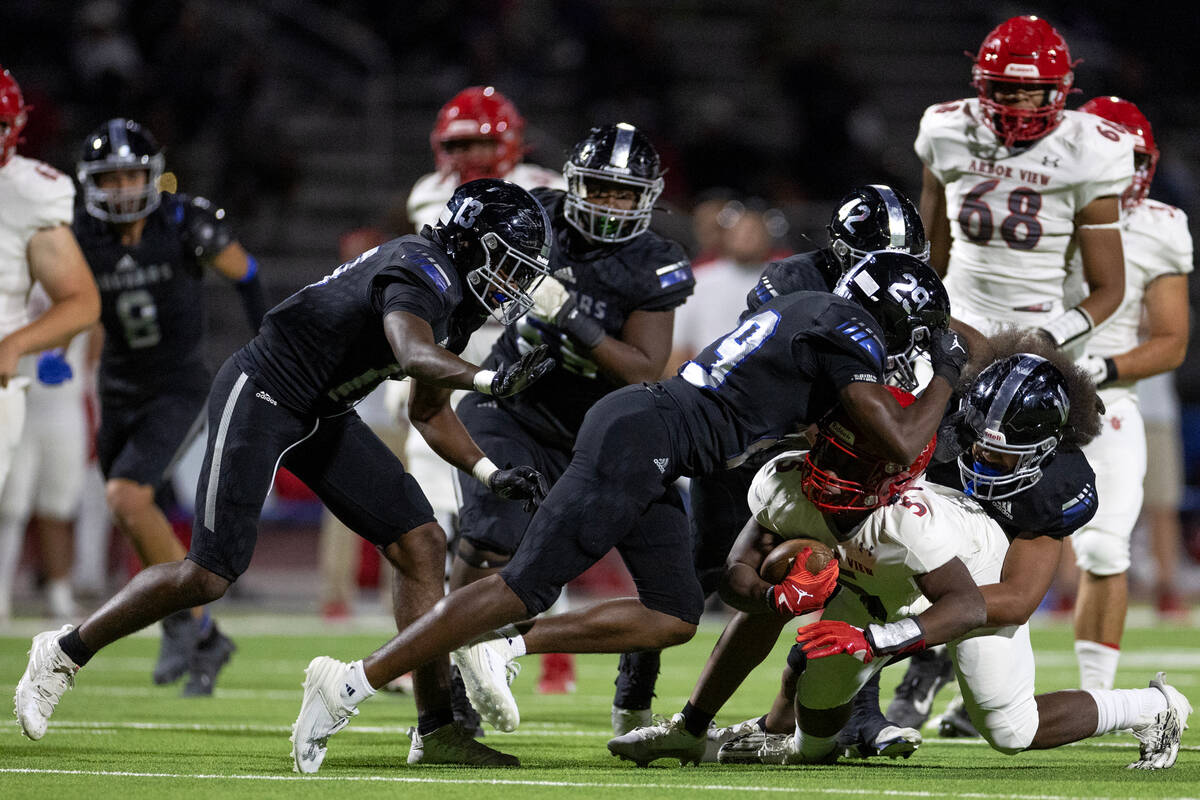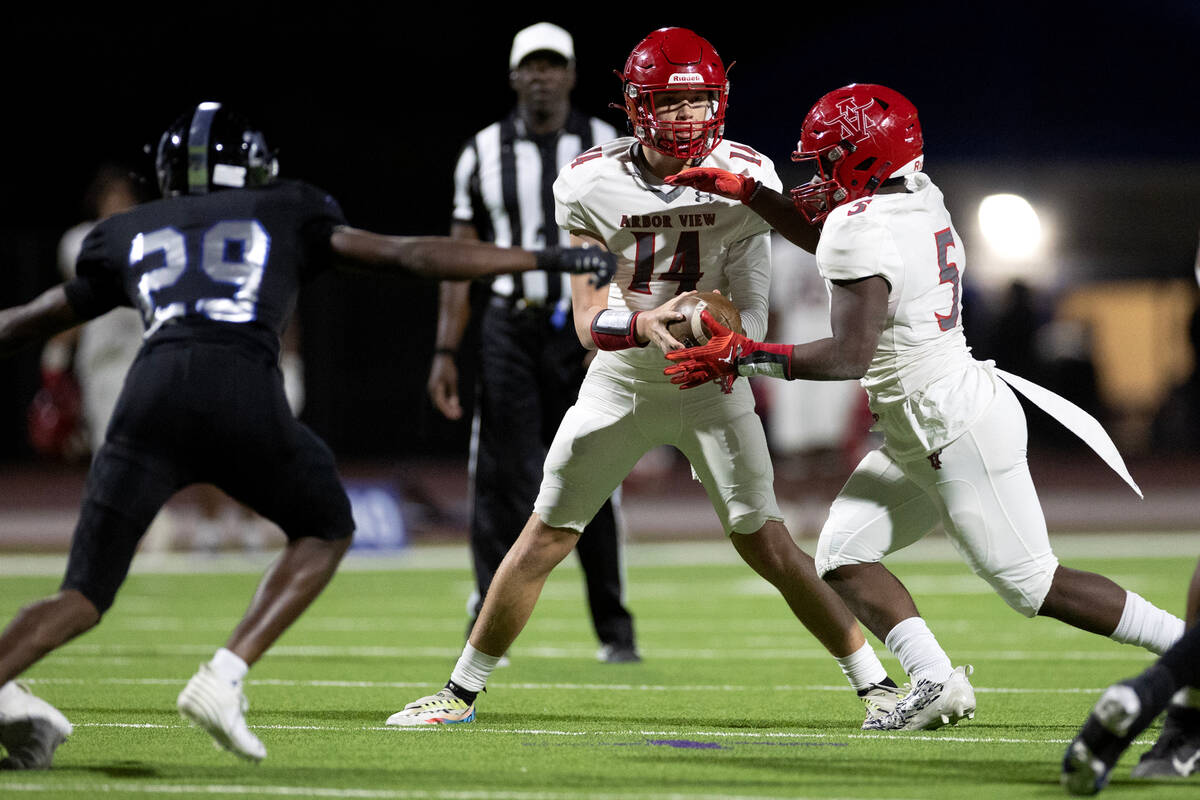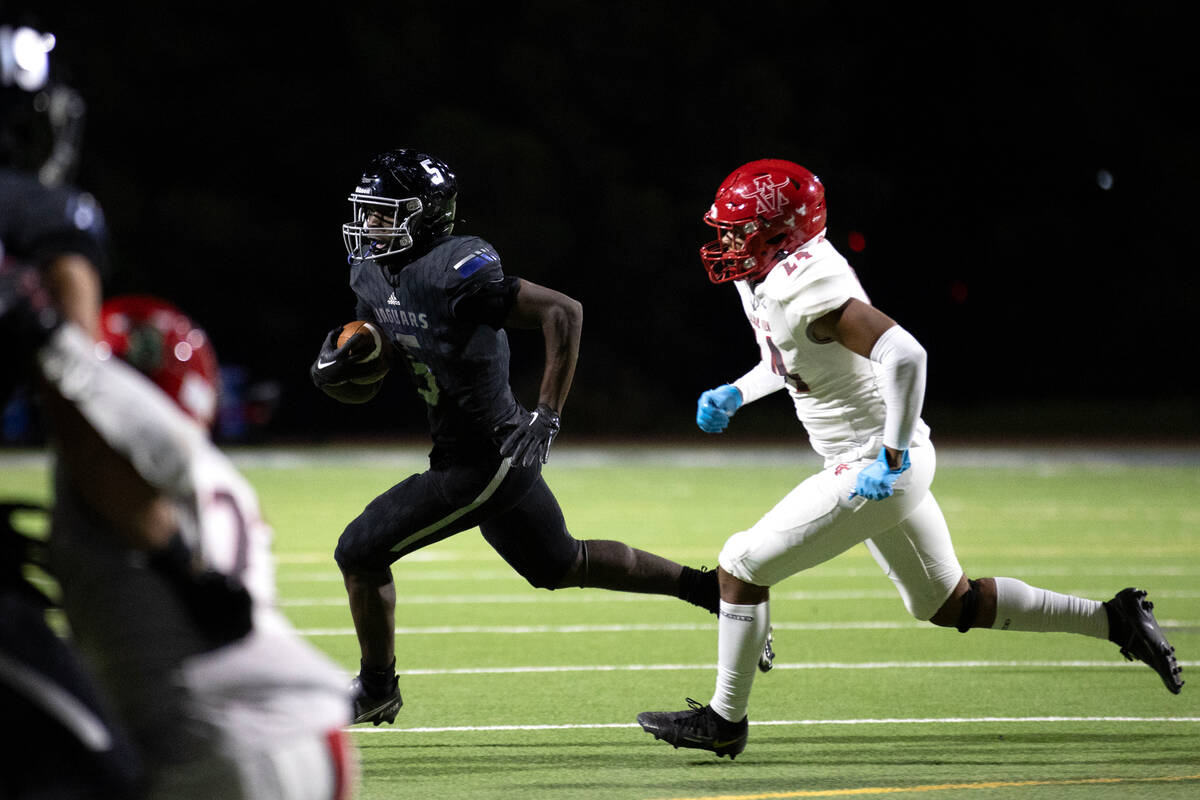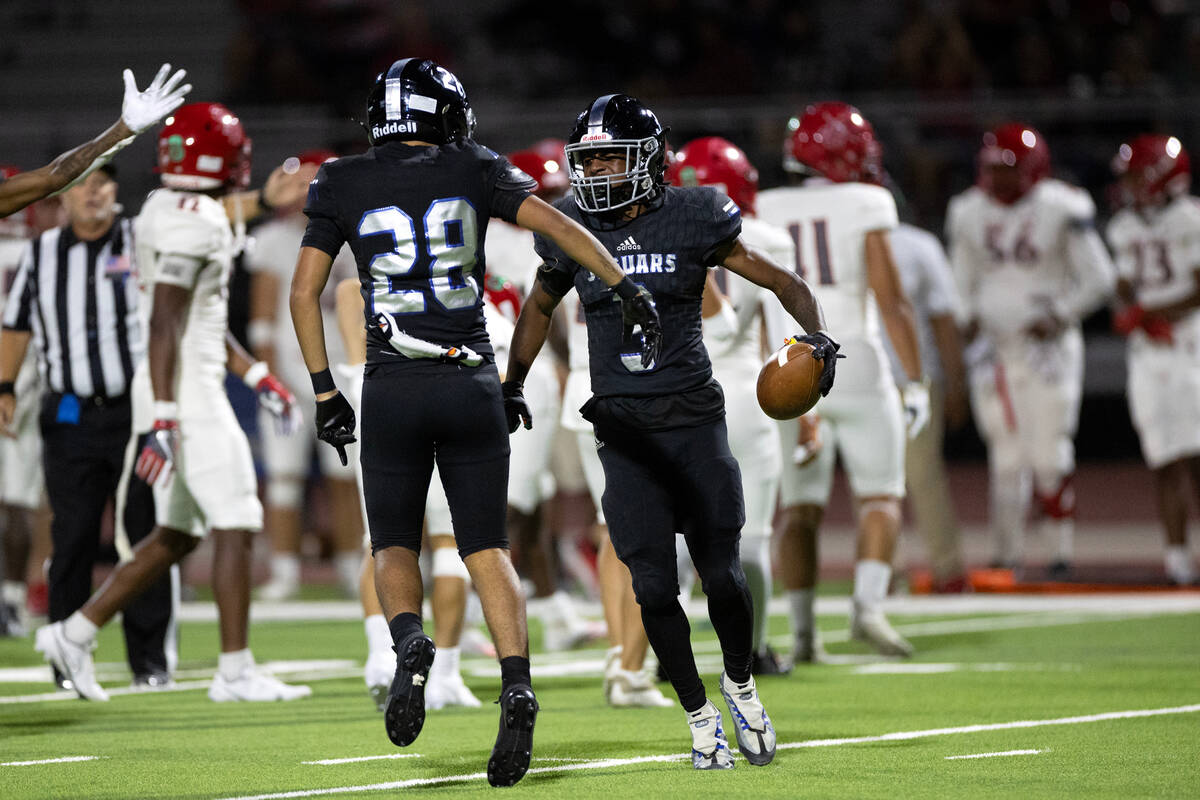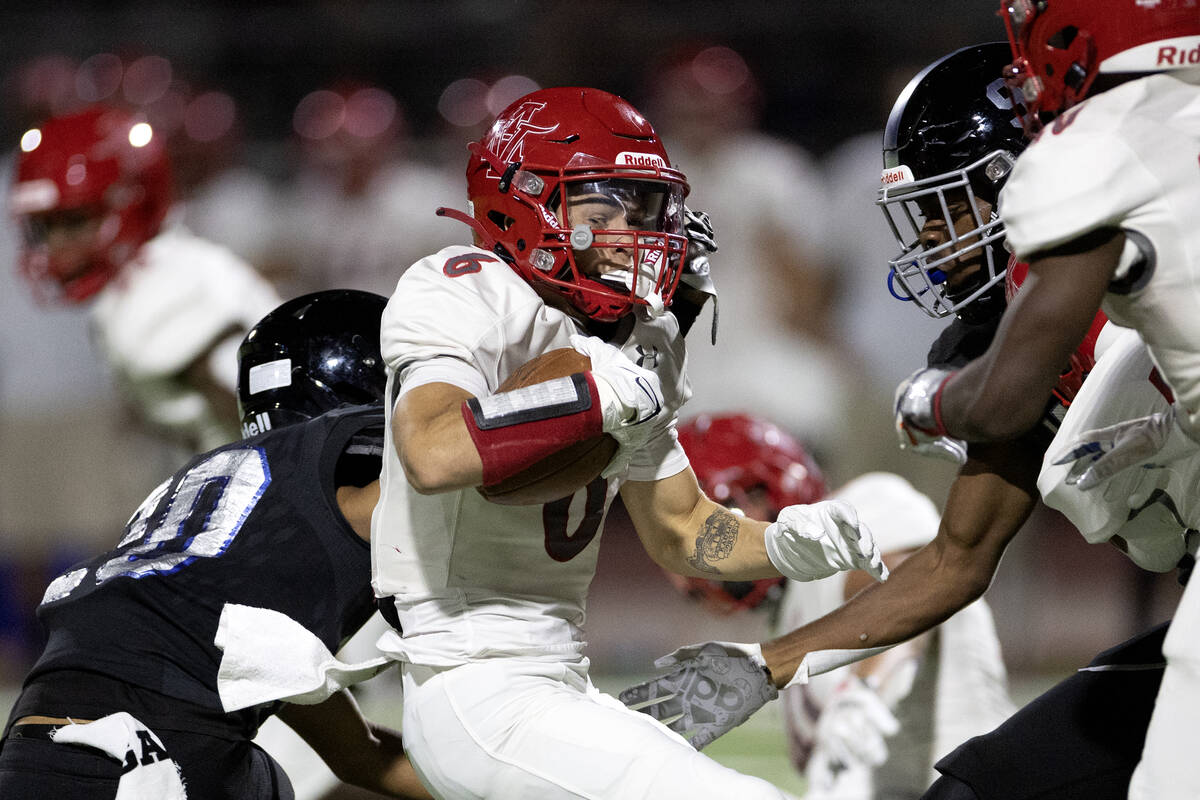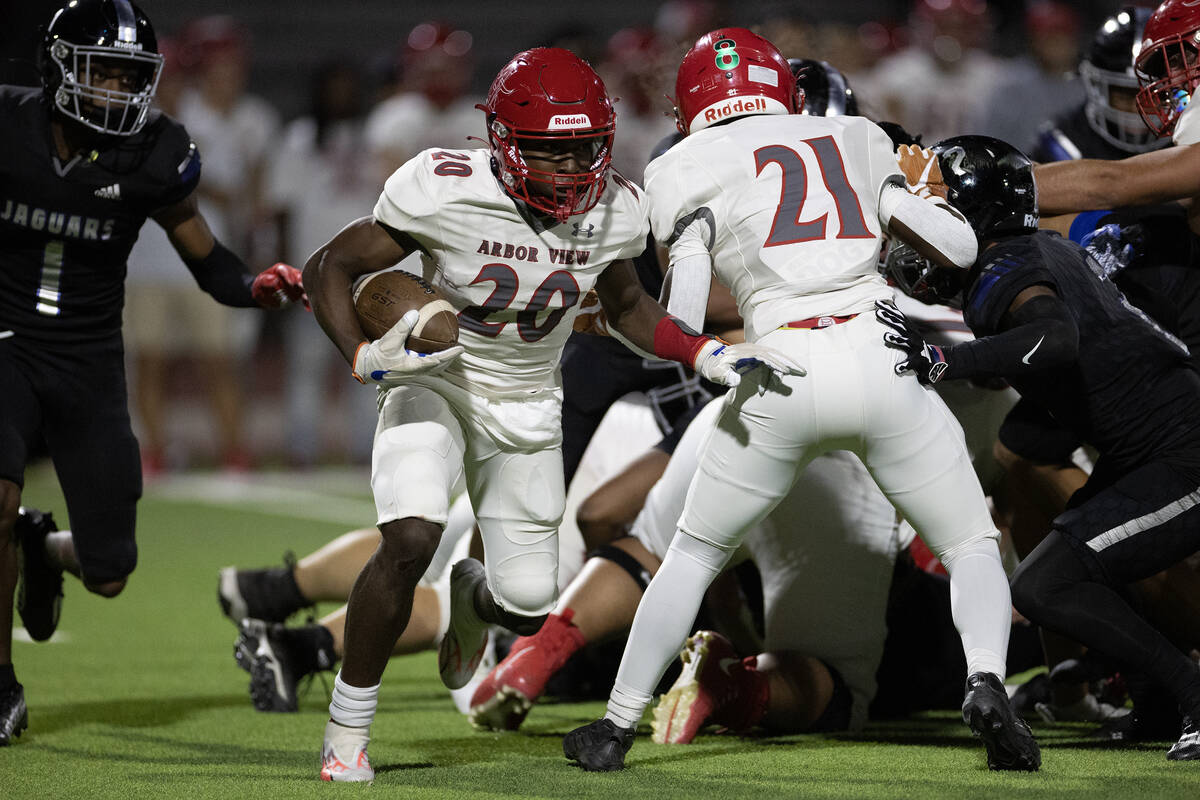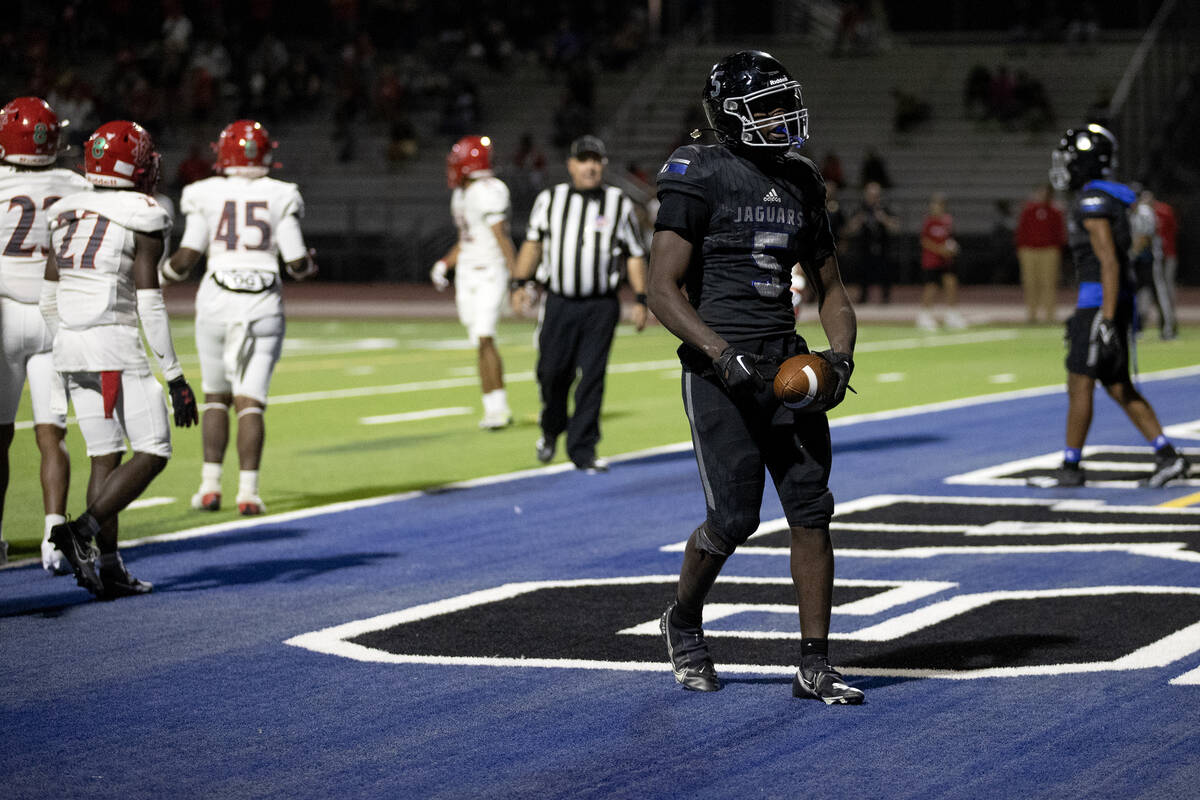 Attrition hit Desert Pines and Arbor View during the highly anticipated matchup between two of the state's top teams.
Arbor View starting quarterback Thaddeus Thatcher left in the first quarter with an injury to his throwing arm, and Desert Pines cornerback and UNLV commit Jaylen Allen went down late in the fourth quarter with a leg injury.
With the starting quarterback out, backup Alonzo Balderrama delivered. Balderrama connected with Kai Cypher on a touchdown in the second overtime to give Arbor View, No. 3 in the Review-Journal's rankings, a 28-27 road overtime win at No. 5 Desert Pines on Friday night.
Both teams scored on their possessions in the first overtime. Desert Pines (2-3, 1-2 Class 5A Division I) scored on its second possession but missed an extra point. Arbor View (3-2, 3-0) then scored and made its kick to win.
Following Allen's injury, which came after a Desert Pines fumble recovery, the Jaguars marched downfield but had a 42-yard field goal attempt blocked as regulation expired.
A fight broke out between the teams as the game ended after a highly emotional battle that included a pair of ejections in the first half.
The coaches could not be reached for comment after the game.
Allen was down at midfield for more than 40 minutes, and an ambulance was needed. No update was given for Allen's status, and he was taken to a local hospital.
After struggling to find its groove on offense in the first half while being held scoreless, the Jaguars finally got going.
Quarterback AJ Stowers connected with fellow sophomore wide receiver Massiah Mingo on four passes on the Jaguars' first drive of the second half and capped it off with a 12-yard touchdown pass to tie the game at 7.
Desert Pines running back and UNLV commit Greg Burrell was kept quiet in the first half, but he found the end zone on the Jaguars' ensuing offensive possession to give them a 14-7 lead with 5:39 left in the third quarter.
Backed up to the 2-yard line after a fourth-quarter Desert Pines punt, Arbor View's young running backs stepped up with their quarterback out. Freshman Kamareion Bell broke off a 70-yard run, and sophomore Nylen Johnson scored from 7 yards out to tie the game at 14 with 7:38 left in the fourth quarter.
Arbor View struck first on the game's opening possession while converting two fourth downs. The Aggies converted a fourth-and-3 on a 5-yard competition from Thatcher.
The freshman delivered on fourth-and-5 when he found Jayden Williams on a 38-yard touchdown pass to cap off a 12-play, 80-yard drive that took over five minutes.
Desert Pines struggled to find any rhythm on offense, going three-and-out on its first two offensive possessions. The Aggies' defense controlled the line of scrimmage as Burrell had zero net rushing yards on four first-half carries.
Thatcher went down early in the second quarter as he was hit by Desert Pines' Kenneth Goodwin Jr. after he released the ball on an incomplete screen pass. Thatcher did not return, and his right arm was in a sling.
On the ensuing punt, Arbor View linebacker Christian Thatcher, the brother of Thaddeus, got into a scuffle during the play with Goodwin. After a lengthy break, the two players were given personal fouls and ejected.
When play resumed, Desert Pines' offense found a grove. But after picking up its first two first downs of the game, Stowers was intercepted by Arbor View's Andrew Rezinas.
Desert Pines got the ball right back as Balderrama fumbled the ensuing snap. Zeshawn Martin recovered the fumble for the Jaguars, but their drive stalled out in Arbor View territory.
Jeau Vinatieri missed a 42-yard field goal before halftime, and the Aggies held a 7-0 lead at the break.
Desert Pines plays at Liberty at 6 p.m. next Friday, and Arbor View plays at Bishop Gorman at 7 p.m.
Contact Alex Wright at awright@reviewjournal.com. Follow @AlexWright1028 on X.