Bishop Gorman wrestler Joey Mazzara eyes third straight Sunset title
January 31, 2018 - 10:32 pm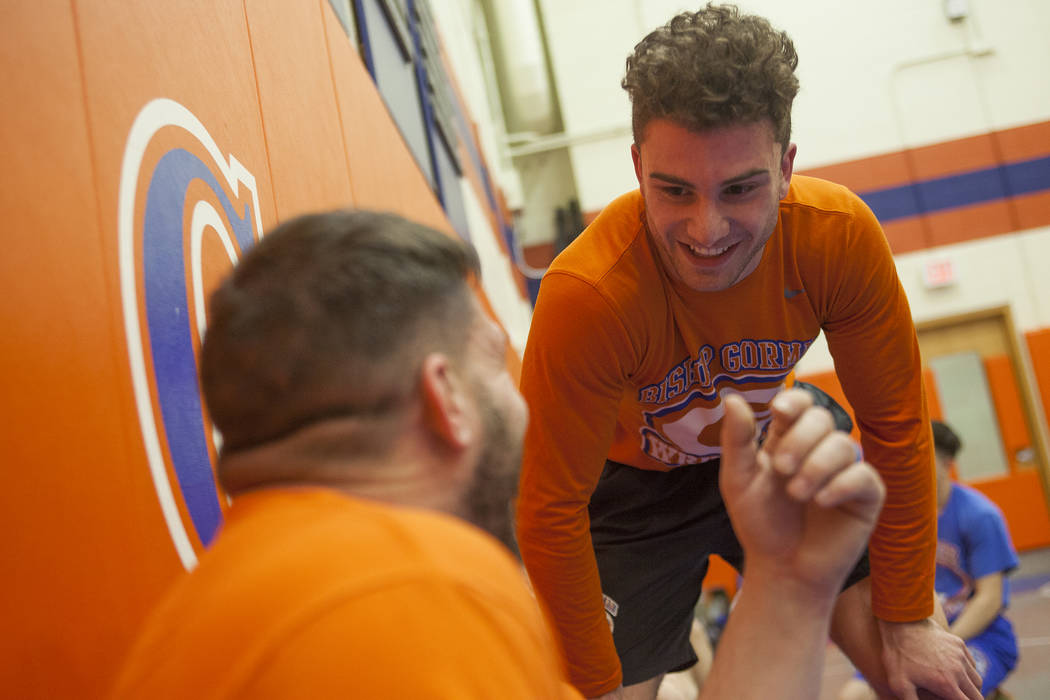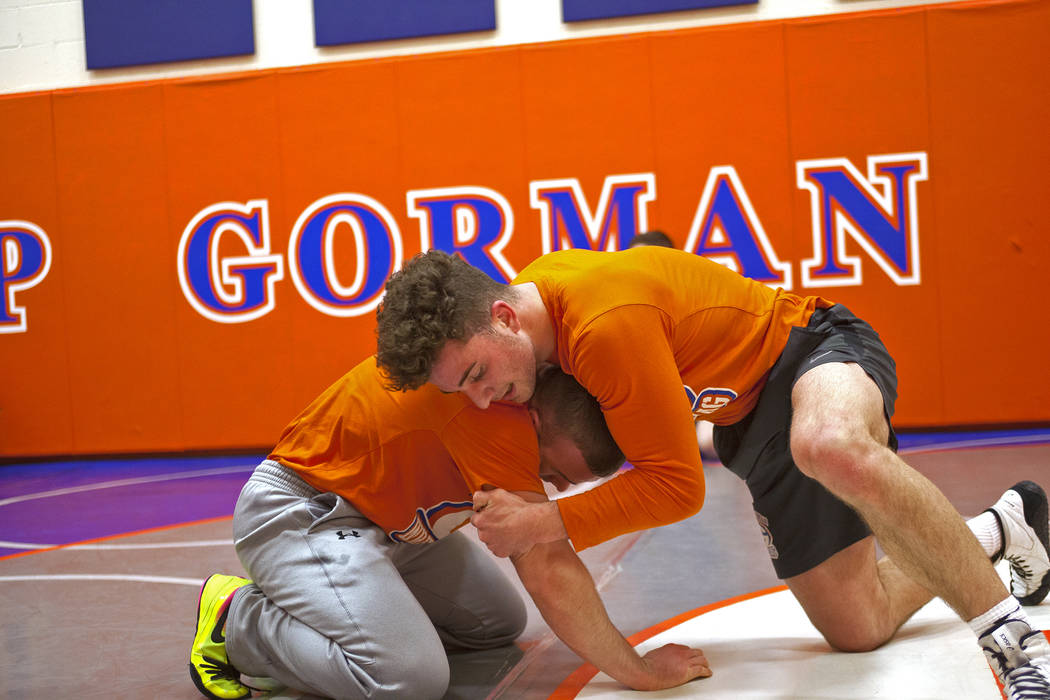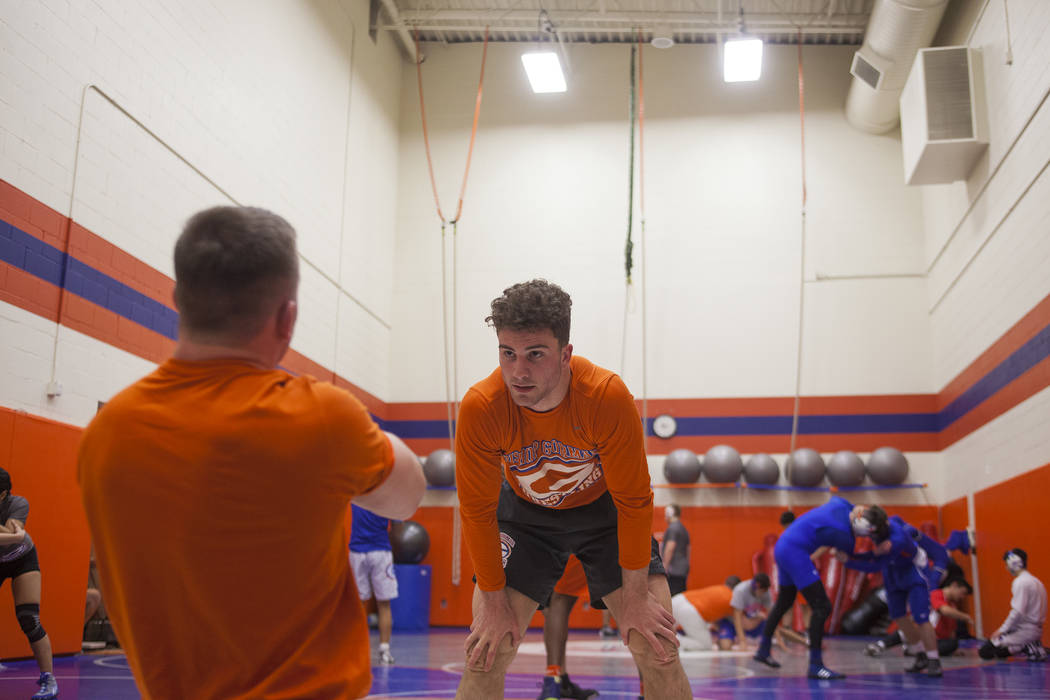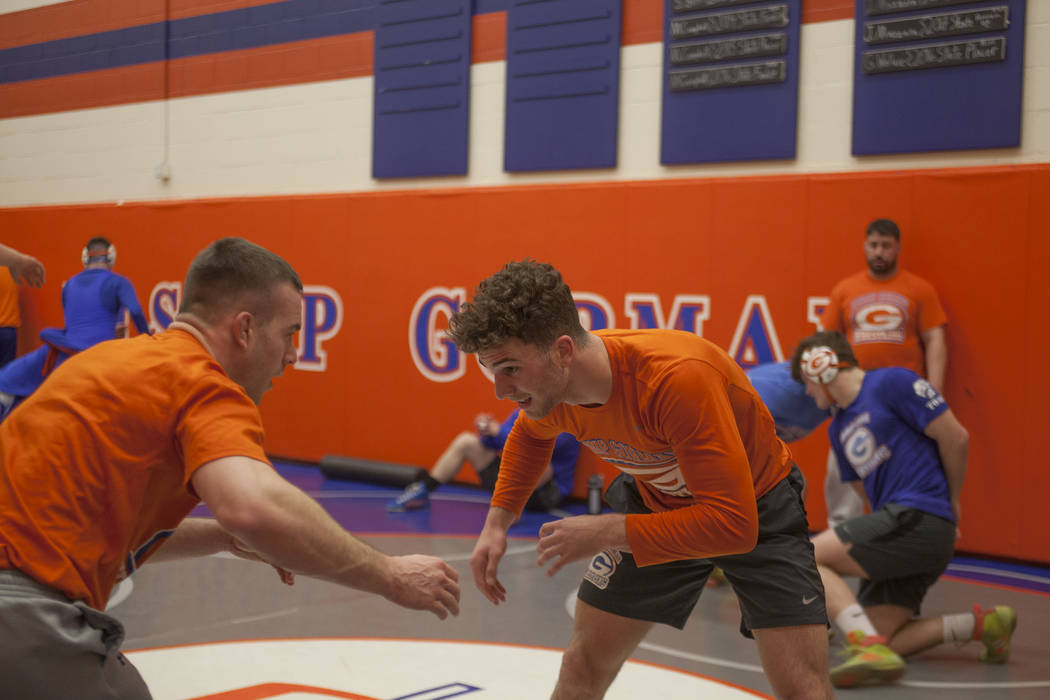 It's been a season of accolades for one of Southern Nevada's elite wrestlers.
This year, Bishop Gorman 170-pounder Joey Mazzara became the first Nevada wrestler to be a two-time winner of the Battle of the Belt tournament in California, and he was the Adidas national wrestler of the week in late January.
Next on the list? His third straight Sunset Region championship, which he will aim for when the meet starts Friday at Centennial.
"It's almost impossible not to go into these smaller tournaments after competing at such a large scale super confident," Mazzara said. "Anything can happen, and I don't like to think about my accomplishments. It's another match and another tournament."
The Sunrise Region tournament will be at Las Vegas High and the Class 3A Southern Region tournament at Western.
If he had been eligible, Mazzara might be looking for his fourth title this weekend. He was ruled ineligible his freshman year after moving to a private high school from a public middle school. He could not compete, then won the 2016 and 2017 region championships at 170 pounds. He proceeded to win state in 2016 and finished second in 2017.
Expectations are high for the three-peat.
"We already have that expectation for Joey that he's going to win this regional," Gorman coach Ricky Lundell said. "We expect him to pin everybody or tech-fall everybody."
But expectations are always high for Mazzara, and that's how he likes it. His sophomore year, he competed in the prestigious Battle for the Belt tournament in Temecula Valley, California, and wowed even himself by reaching the finals. Then something clicked in him the next year. It wasn't a surprise to him when he won it last year, nor was it when he repeated this year.
"As the years go by, you start beating more kids, and it goes from 'Wow, I can't believe I'm in the finals,' to 'I better be in the finals,' " Mazzara said. "This is where I need to be. This is the standard for me now.
"I enjoy doing things on a bigger stage, so the pressure helps me compete."
Mazzara is aware of his stature in the wrestling community, having only lost once in his career in Nevada, and any loss would makes waves.
Like a loss in the Sunset Region tournament. He is the overwhelming favorite to walk out as champion, and after that, the only high school wrestling he has left is the state tournament.
Not that it's too bittersweet for him. He is signed to wrestle at North Carolina and knows there are bigger things on the horizon.
"A lot of kids, they have a few more weeks and they're done forever. I have four or five more years," Mazzara said. "It's finish this week off, then I'll be right back in this room training for college."
Contact Justin Emerson at jemerson@reviewjournal.com or (702) 387-2944. Follow @J15Emerson on Twitter.
Region wrestling
What: Sunrise Region and Sunset Region meets
When: 3 p.m. Friday; finals at 3:30 p.m. Saturday
Where: Sunrise at Las Vegas High; Sunset at Centennial
Tickets: Adults $10, students $5, seniors (62 and older) $3, children 8 and younger free