BOYS BOWLING: Tech survives Chaparral's late comeback attempt to win 3A state title
February 10, 2017 - 8:43 pm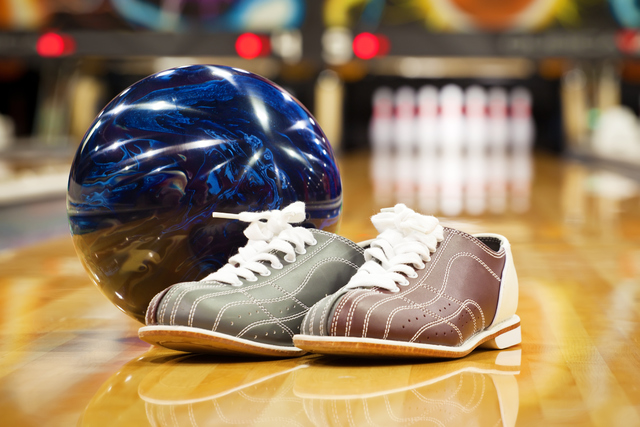 Tech's boys bowling team seemed to have the Class 3A state championship locked up heading to the final game of their series against Chaparral on Friday at The Orleans.
But Chaparral made things interesting.
The Roadrunners nearly saw a 94-pin advantage evaporate, but held on for a 7-2 win for the team's first state title since 2013.
"I knew going into that third game that they weren't going to lay down," Tech coach Randy Michalik said. "They're a great team, they're well-coached and they have some great bowlers. Luckily we just came out on top."
Chaparral came back with a vengeance and led the final game by as many as 92 pins at one point. But the Cowboys' anchor bowler, Class 3A individual champion Cerell Cardines, couldn't quite keep up the pressure. He had an opportunity to force Tech to make 10 pins in the final frame, but came up short, and the Roadrunners outscored the Cowboys 2,115-2,087.
"We got a fortunate break," Michalik said. "He threw a good shot but he just left the 10 pin and that sealed it for us right there."
In the end, Tech did not even need to throw in their final frame and took home their third boys state championship.
On the Class 4A side, Las Vegas High took home its first team state title by sweeping Arbor View 9-0 and outscoring the Aggies 2,359-2,146.
"We've been trying for four years," Las Vegas coach Stephen Gaspar said. "I have three seniors this year so it's huge for those kids to go out with that."
The Wildcats held a 21-pin lead heading into the final game of the series, but Gaspar urged his bowlers to keep it loose.
"Especially for the seniors, it was the last high school bowling game they're going to have," Gaspar said. "Just go out there, do the best we can and have a good time and see how it goes."
The team responded with its best game of the series, rolling an 818 to lock up a state championship.
"I'm just happy for the kids, that's what it's all about," Gaspar said. "It feels great."
Contact reporter Bill Slane at bslane@reviewjournal.com or 702-380-4559. Follow @bill_slane on Twitter.