GIRLS BOWLING: Boulder City ends Tech's four-year reign
February 10, 2017 - 9:01 pm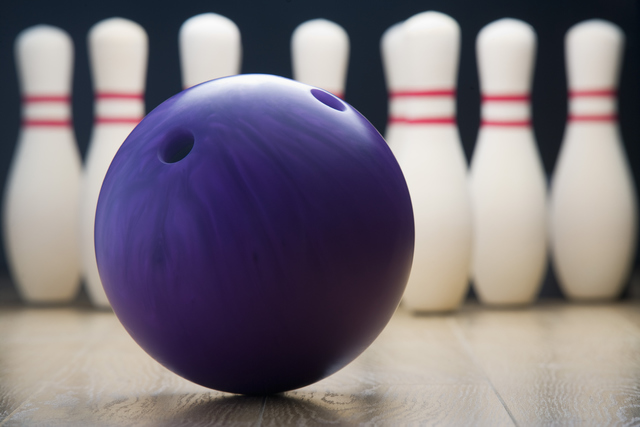 Since 2013, Tech has dominated Class 3A girls bowling, winning four consecutive state championships. Their run at the top was finally halted Friday at The Orleans.
The Roadrunners and Boulder City split the first two games of the series but Tech still led the pin count by six pins going into the final game. The Eagles were not intimated and outscored Tech by 40 pins in the final game to take home their first girls state title with a 7-2 win. Boulder City won the total pin count 1,892-1,858.
"The first game, after being down seven pins, we knew we were right there," Boulder City coach Garth Schulz said. "We pulled off a win in the second game by just one pin and we knew we had it. We were just right there."
Going into the game, it didn't seem the Eagles were thinking about the four straight titles the Roadrunners had previously won.
"We thought we could win it. That's what you're here for," Schulz said. "This year with the team we had and especially with the way they've bowled this whole week, we felt we had it."
Tech was hoping for a sweep of the boys and girls state titles, a feat they accomplished in 2013, but with the loss their sights move to next year.
"What I expect out of my girls is to get to the state final again next year," Tech coach Randy Michalik said. "Hopefully this motivates them a little bit, being knocked off the mountain. It makes them appreciate it and makes them want to get back on top again and that's our focus for next year."
Tech will be bringing back every player from this year's team into next season.
In Class 4A, Liberty claimed its first state title since 2012. This win was a little bit different for the Patriots.
After losing the first game of the series to Spring Valley, Liberty won back-to-back games to win 7-2 and outscoring the Grizzlies 1,907-1,853.
"I have a team of athletes," Liberty coach Kih Gourrier said. "They're all on (Division)-I scholarships to play softball and volleyball."
That experience in other sports helped give the Patriots the extra push they needed to clinch a state title in the final game.
"I said to them that they've dealt with pressure every year, that's what you live for," Gourrier said. "My idea to them was just to stay close between two games."
After winning the state title in 2012 the Patriots began a new search for girls for their bowling team. When some of the players on this year's team joined, the school needed to help find them shoes and bowling balls.
"We started a project three or four years ago and just said let's see what we can do," Gourrier said. "I don't even think this was the goal. This was just unbelievable. Our goal was just to be successful and obviously this is the ultimate success."
Contact reporter Bill Slane at bslane@reviewjournal.com or 702-380-4559. Follow @bill_slane on Twitter.