BOYS CROSS COUNTRY: Green Valley's Omar Rubio leads Gators to second-place finish at state
November 5, 2016 - 8:43 pm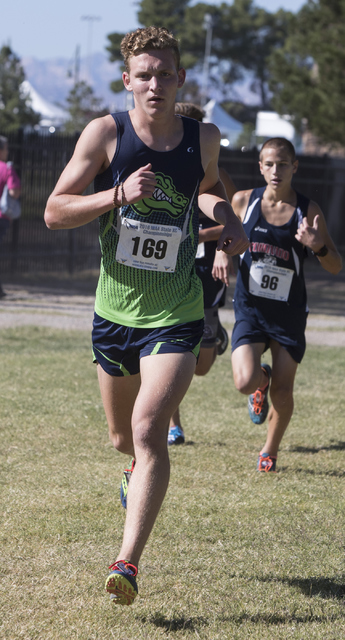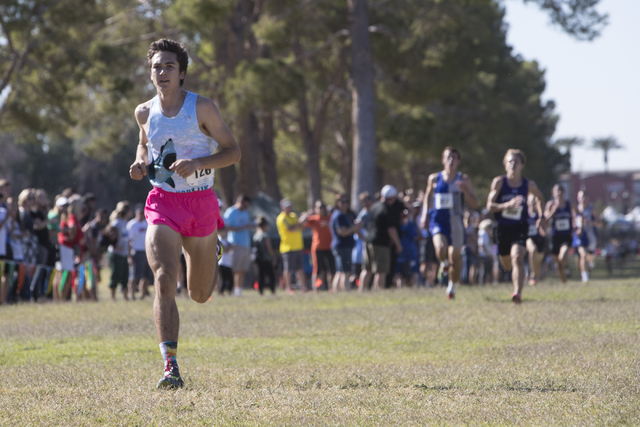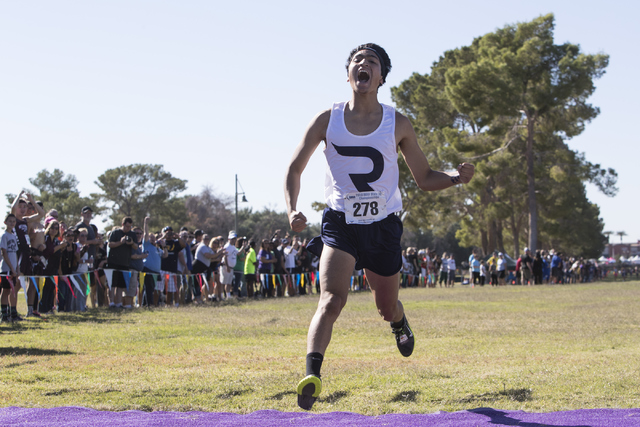 Green Valley's Omar Rubio knew he was in trouble when a cramp developed in his abdomen Friday. That cramp did not go away Saturday.
But when he was not 100 percent, Rubio still was the best in Southern Nevada.
Rubio may have finished eighth individually, but he was tops among local runners and his performance helped lift the Gators to a second-place team finish in the Class 4A state cross country meet at Craig Ranch Regional Park.
Every step of the 3-1-mile course was painful for the senior, who collapsed at the finish line and was down for 30 minutes after completing his first state championship race in 15 minutes, 48 seconds.
"(Friday) there was a stabbing pain in my right side," he said. "During the race, it felt like someone was stabbing me, and I was afraid I was going to have to bail. But I pushed through."
Northern runners dominated the top positions from the start, with Reed's Anthony Ocegueda winning in 15:12. Douglas' John Munyan finished second in 15:36, and Spanish Springs' Daniel Horner was third in 15:39.
But after Rubio, the Gators took the 17th, 22nd, 23rd and 33rd positions to finish with 88 points, 39 points behind Spanish Springs, but ahead of McQueen (99), Arbor View (106), Douglas (109) and the remainder of the field.
Though Rubio felt that he did not run his best race, he was well aware that he finished ahead of all other runners from local schools.
"It was definitely something I was going for," he said. "And it's good to help Green Valley make some noise today."
Sunset Region champion Daniel Ziems of Palo Verde finished ninth in 16:01.
CLASS 3A
Pahrump Valley's Bryce Odegard made a deal with his father before the start of Saturday's boys race.
"I told him he could put me up for adoption if I didn't win this race," the junior said. "It wasn't really an option not to win."
Odegard was able to head home with his natural parents at the end of the day, as he completed the course in 15 minutes, 56 seconds to claim the individual championship.
In a tight battle with Spring Creek's William Fallini-Haas through the first two loops of the course, Odegard knew it was time to make a move with about a half-mile to go.
"There was a hill coming up, and I was going to try to beat him over it," said Odegard, who blew past his opponent long before the hill. "But I just couldn't wait because I knew I had to go for it."
Fallini-Haas finished second in 16:11, followed by Spring Creeks' Cole Campbell (16:15) and Jonathan Ply (16:21), and Tyler Campbell of Boulder City (16:32).
Spring Creek won the team championship with 38 points, followed by Elko (68), Tech (81), Truckee (81) and Pahrump Valley (107).
CLASS 2A
Northern teams dominated the small-schools race, with Sierra Lutheran's Jared Marchegger winning in 16 minutes, 23 seconds.
North Tahoe's JC Shoonmaker claimed second in 16:27, and White Pine's Samuel Stewart finished third in 16:33, the top finish for a Southern Region runner. Lake Mead's Shay Rutledge was the top Las Vegas-area finisher, completing the course sixth in 16:51.
North Tahoe won the meet with 46 points, Lake Mead was second with 72 points, and Sierra Lutheran was third with 75 points.
Results: