Centennial boys win freshman race at Bud O'Dea Classic
October 10, 2016 - 10:05 pm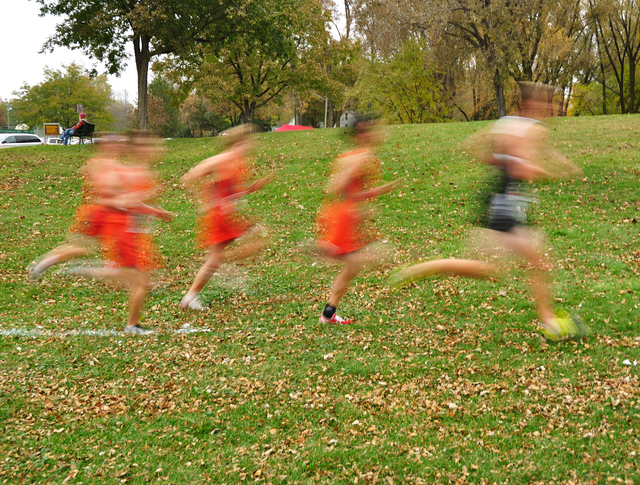 Centennial's boys cross country team had three of the top six runners on Monday to win the Bud O'Dea Classic freshman race at Desert Breeze.
Jalen Gourrier came in fourth place in 15 minutes, 0.7 seconds, just ahead of teammates Dallan Cave (15:12.5) and Tucker Raymond (15:17.5) for Centennial, which finished with 37 points.
Coronado placed second with 54 points, and was followed by Green Valley (70), Palo Verde (116) and Arbor View (149).
Foothill's Justin Neubeck won the 2.5-mile race in 14:40.9.
Coronado's John Dougherty was second in 14:52.9, and Green Valley's Ayden Patricelli was third in 14:58.8.
In the sophomore race, Palo Verde two runners finish in the top four to win the team title with 50 points.
Evelio Vergara was second in 14:32.4 for Palo Verde, and teammate Douglas Harris was fourth in 14:43.0.
Centennial's Alex Miller won the race in 14:20.8. Arbor View's Noah Ayala was third in 14:42.6, and Foothill's Lincoln Morris was fifth in 14:43.01.
The Falcons finished in second place with 104 points. Desert Oasis was third with 114 points, ahead of Durango (126) and Shadow Ridge (153).
GIRLS
Centennial's McKenzie Morgan won sophomore girls race by more than 16 seconds, covering the course in 16:33.4.
Desert Oasis' Madelyn Doerr was second in 16:49.6. Basic's Raquel Chavez was third in 17:03.6, just ahead of Green Valley's Mia Smith (17:11.3) and Foothill's Myna Buckley (17:19.9).
Palo Verde won the team title with 67 points. Arbor View was second with 91 points, Tech was third with 104 points, and Centennial and Green Valley tied for fourth place with 112 points.
In the freshman girls race, Foothill had four runners finish in the top 10 to easily win with 24 points.
Centennial was second with 61 points, and was followed by Palo Verde (67), Coronado (70) and Spring Valley (129).
Erica Schulz was Foothill's top runner, finishing in second place in 18:04.6. Teammate Amelia Norman placed fifth after completing the race in 18:28.6.
Centennial's Josephine Ruggieri won in 17:35.6.
Clark's Amanda Bennion was third in 18:05.0, and Somerset-Losee's Maranda McGuigan was fourth in 18:18.5.
Results: