Centennial's Alexis Gourrier wins third Las Vegas Invitational title
September 10, 2016 - 5:23 pm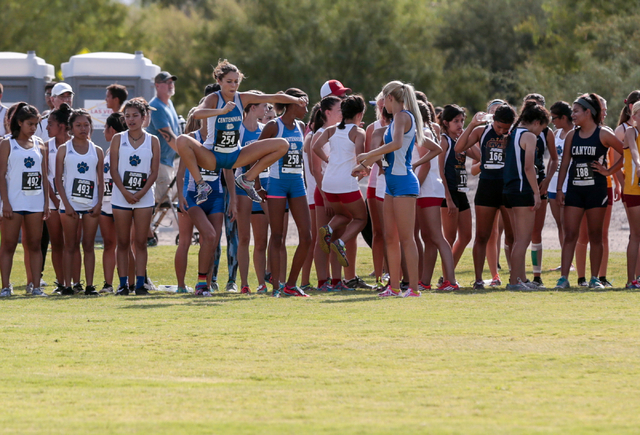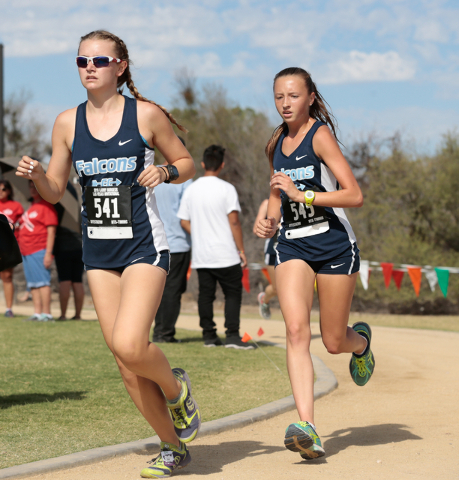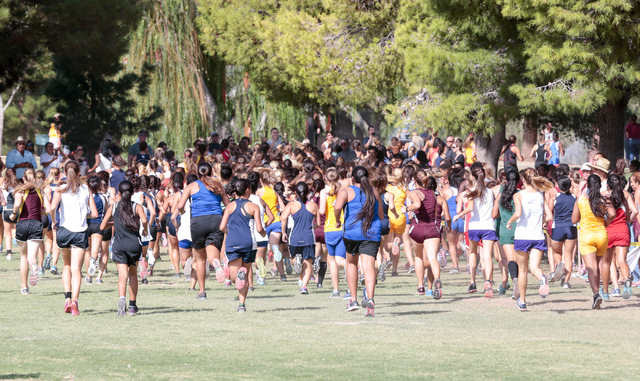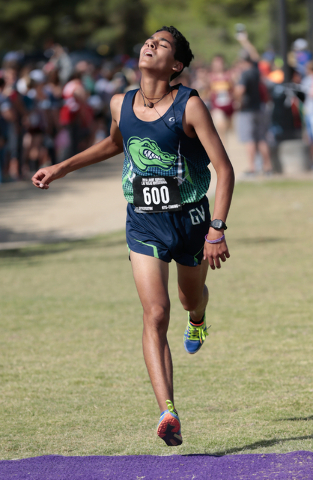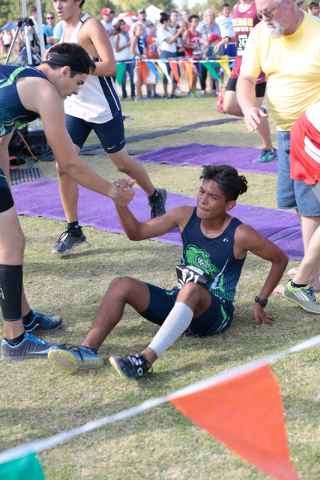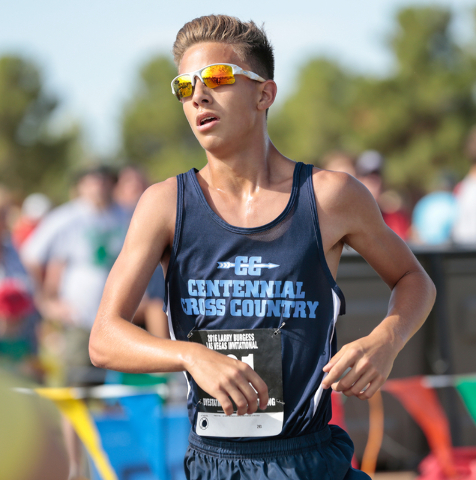 Centennial's Alexis Gourrier added another individual title to her trophy collection Saturday with a first-place finish in the large school girls race at the Larry Burgess-Las Vegas Invitational at Sunset Park.
Gourrier, who finished the 3.1-mile race in 17 minutes, 34.7 seconds, has finished first at the Las Vegas Invitational in each of her three years of high school.
Palo Verde's Emma Wahlenmaier finished second in 18:11.10, and Mic Webster of Cedar (Utah) Mic Webster was third in 18:19.6.
On Saturday, Gourrier jumped out to an early lead and never looked back. She won the Labor Day Classic last week in the same fashion. In fact, Gourrier has dominated most races in Southern Nevada since she entered the high school circuit in 2014. The one trophy that has eluded her has been the coveted individual state championship. Winning that elusive title is driving Gourrier this season.
"She's definitely working hard, she's pushing the other girls with her, and she's really focused on doing what she needs to do to have a positive outcome at the end of the season," Centennial coach Kisha Finch said. "(The state championship) has always been the goal, and she's always been one of the top contenders as everyone is looking through race results. Unfortunately, she's had some things happen and it just kind of slipped out of her hands. "
To that end, Gourrier spent the summer working on her strength to build up her endurance so she maintains her pace at the end of the race.
"I was just trying to get out and run a stress-free race, and try not to get out too fast and wear myself out," Gourrier said. "I know my pace. (Winning these races) gives me confidence, and I know if I run my race, I have a good chance of getting the time I want."
Gourrier's finish helped her team claim the team title. The Bulldogs placed four runners in the top nine. Karina Haymore was fifth (18:40.2), Kayla Roberts finished seventh (19:05.4) and Delani Dietrich placed ninth (19:08.7) for Centennial, which had 33 points. Cedar was second with 72, and Palo Verde was third with 93.
With so many talented runners, Centennial is a favorite to win a third straight team state championship. Haymore won the individual state title last season.
"Each year the target becomes bigger, and it strives each of them to push harder," Finch said. "Palo has always been on our heels, and we've always gone back and forth. It keeps the girls focused because they don't want to lose that."
In the small school girls race, Tech placed three runners in the top nine to win the team title with 39 points. Diamond Morris was fifth in 20:37.3 to lead the Roadrunners, who had 39 points. St. Paul (California) was second with 50.
Hailey Odekirk (18:44.3) of Hurricane (Utah) was the individual winner.
Green Valley's Omar Rubio won the large school boys race in 15:14.7. Durango's Frankie Bisacky (15:16.0) was second and Arbor View's Ian Jackson (15:22.3) was third.
Page (Ariz.) won the large school boys team title with 89 points. Green Valley (96) finished second, and Cedar (111) was third.
Caleb Armstrong (15:08.2) of Hurricane was first in the small school boys race, leading the Tigers to the team title with 22 points.
Pahrump Valley's Bryce Odegard (16:04.3) was second, leading the Trojans (104) to a second-place team finish.
Results: