Frankie Bisacky breaks from the pack, wins first prep invitational
September 24, 2016 - 10:11 pm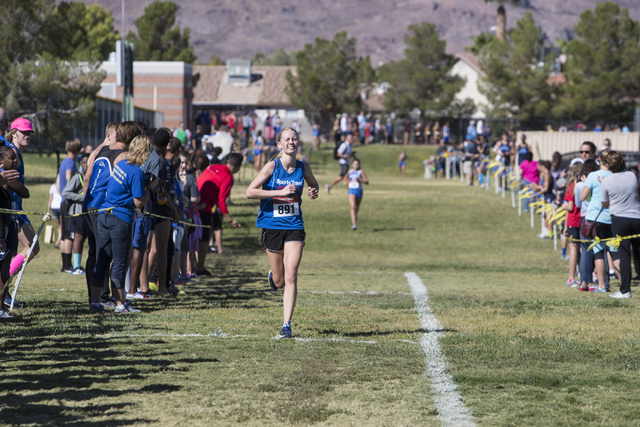 Winning that first cross country invitational race can be an elusive prize for even some of the best prep cross country runners.
On Saturday, Durango senior Frankie Bisacky finally got to experience an invite victory after winning the boys junior/senior race at the 10th annual Falcon XC Invitational at Foothill High School.
Originally in a pack of three, Bisacky broke away in the last half-mile to win on the 3.1-mile course in 16 minutes, 18.8 seconds.
"It just feels absolutely great," Bisacky said about his victory. "This was my first invite win so it is a big confidence boost for me for the rest of the year."
Silverado's Omar Aguilar-Espinoza finished second at 16:28.6, while Pahrump Valley's Bryce Odegard was third (16:34.6).
The race was a tactical and competitive one between three runners. Bisacky jumped out to the lead off the starting line, and within the first mile was joined by Odegard and Aguilar-Espinoza. The trio actually stayed together for two miles and opened a gap of 15 seconds on the rest of the field.
"When you get into a small crowd like that, it is easier to work together and build on a lead," Odegard said. "That is what we ended up doing."
Odegard tried a few surges when the course went down College Drive on the final lap. However, it was Bisacky who made the decisive surge.
"He got a bit of a lead on the backside of the course" Aguilar-Espinoza said. "When we hit the grassy area, he just extended it further. It was a good race and I felt good about the way I ran."
For Bisacky, who was a close second at the Las Vegas Invitational at Sunset Park on Sept. 10, the victory was especially satisfying and he made sure he topped the standings this time around.
"I am more of a distance runner and not a huge sprinter," Bisacky said. "I didn't know if I could out-kick the other two and I didn't want to find out. So I wanted to grab a lead before the final meters and try to hold it."
Valley's Joshua Nyberg was fourth in the race at 16:59.6. Basic's Steven Birch took fifth (17:04.9), the first of five Basic runners in the top 30. That helped Basic to claim the team win with 65 points, just edging out Coronado (67). Clark was a distant third with 129 points.
In the girls junior/senior race, Centennial junior Alexis Gourrier delivered a record-setting performance, winning in 18:29.9 to easily top the women's course record of 18:42 set by Coronado's Sara Dort in 2013.
Gourrier took the lead and was already up by half a minute after a mile. From there, Gourrier's work maintaining her tempo during the last two miles carried her to the record.
"I wanted to break the course record and I knew had to get out fast to do so," Gourrier said. "I've been working on my strength and maintaining things through the second mile and it is paying off."
She was the first of six Centennial runners in the top nine in the race, though Australia's Olivia Weston was second in 19:32 .2. Centennial junior Delani Dietrich was third (19:38.6) followed by Sierra Vista's Baileigh Sundin (19:58.6).
Centennial easily topped the women's team standings with 18 points while Shadow Ridge was second with 102 while Coronado (113) edged Foothill (119) and Faith Lutheran (121) for third.
Sam Williams of the Australia team won the boys freshmen/sophomore race in 16:47.6. Centennial sophomore Alexander Miller finished second (16:50.8) to help his team win the team standings for the race (73 points) ahead of Faith Lutheran (78).
Host Foothill won the girls freshmen/sophomore race, scoring 63 points while Centennial and Basic both had 86. Basic sophomore Raquel Chavez won the race in 19:50.8, and Sierra Vista sophomore Sarriah Brown took second (20:08.7).
Results: