Late kick gives Green Valley's Omar Rubio Lake Mead Invite win
October 8, 2016 - 4:34 pm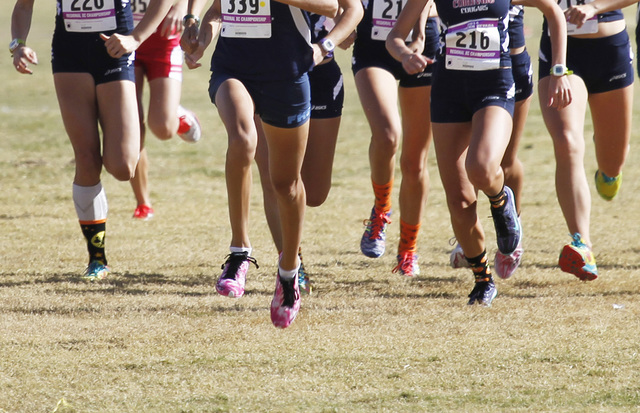 Green Valley's boys cross country team was looking for another strong result at the Lake Mead Invitational on Saturday.
The Gators got it, claiming four of the top five spots in the large school boys race to win the team title at Veterans Memorial Park.
Omar Rubio led the way, as he once again edged Arbor View's Ian Jackson at the end to win the 3.1-mile race. Rubio sprinted away in the final 300 meters to win in 16 minutes, 24.4 seconds. Jackson finished second in 16:26.9.
"I didn't get a clean start. After the opening, I was probably around 30th," Rubio said. "Coach and I have trained to get going following the first 800 meters and I needed do that today."
The race briefly began as a four-man battle for much of the first half of the race involving Rubio, Jackson, Pahrump Valley's Bryce Odegard and Durango's Frankie Bisacky.
Rubio and his Green Valley teammates actually got off slowly coming off the starting line and spent much of the first mile making up ground.
Eventually, Rubio got up to the front and started pushing a pace only Jackson could match by the race's second mile. The pair stayed that way until the end when Rubio showed a better finishing kick.
"He was on my shoulder the whole time," Rubio said. "I could feel him breathing on me."
After the top two came three Green Valley runners: Lenny Rubi (17:00.1), Milton Amezcua (17:04.5) and Dartanyon Jones (17:09.6). The trio moved into the third through fifth spots by the end of the second mile.
"They ran exactly how I wanted them to run," Green Valley coach Bud Beam said. "After they got off to slow starts, they did a good job of talking to each other and showing teamwork in getting back toward the front."
Green Valley won the meet with 40 points. Arbor View (47) was second after placing four among the top 11. Basic was third with 67 points, led by Joe Lucariello's sixth-place finish (17:16.5).
Centennial's Alexis Gourrier continued her strong season, cruising to victory in the large school girls race in 19:01.4. Centennial's Delani Dietrich (19:51) and Karina Haymore (20:08.2) finished second and third, respectively, and the Bulldogs rolled to the team title with 24 points.
A natural front runner, Gourrier took the lead early on and kept stretching her advantage for the remainder of the race.
"I just wanted to do my pace and keep pushing myself," Gourrier said. "I feel like I'm definitely better compared to a year ago. I feel a lot stronger."
All five of Centennial's scoring runners placed in the top 10.
"This course isn't going to provide fast times, so I am happy with the results," Bulldogs coach Kisha Finch said. "Alexis has been a lot more confident and consistent this year. Delani has looked stronger in practice and that is carrying over to the races. Karina usually starts a season slow, but comes on near the end. She is now starting to round into her form."
Liberty senior Skyler Free was fourth overall in 20:16.1 followed by Green Valley's Amy Amezcua (20:22.8).
Arbor View placed second in the team standings with 80 points, and Shadow Ridge was third at 102.
Odegard had the seventh-fastest boys time (17:17.8), but it was the fastest in the small school race. The large school and small school runners ran together, and the meets were scored separately.
Tech's Bruce Troncoso was second in 17:22.4, leading the Roadrunners to the small school boys title with 61 points. Pahrump was second with 65.
Tech dominated the small school girls race, taking the top four spots to finish first with 17 points. Diamond Morris led the way, placing first in 21:37.6.
Results: