Palo Verde senior chasing title, college team
November 4, 2016 - 11:17 pm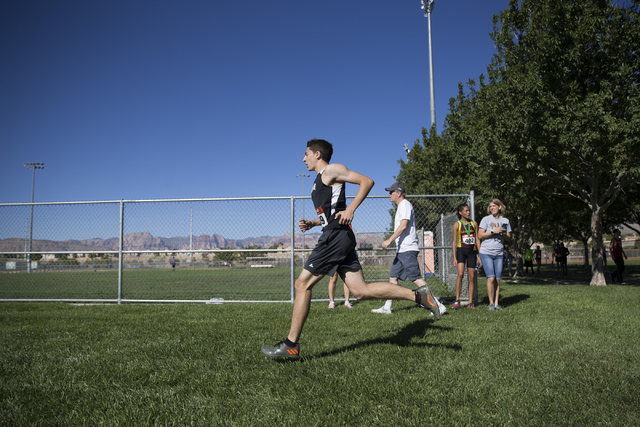 Palo Verde boys cross country coach Nick Weis used to teach physical education at Robison Middle School.
That's where he met Daniel Ziems, a sixth-grader at the time.
"He actually stood out," Weis said. "I saw that he he had potential, not only now but at the next level."
Ziems isn't a sixth-grader anymore. Now he's a senior.
And he's fulfilling all that potential.
Ziems ran a personal-record time of 15 minutes, 38 seconds — the third-best 5,000-meter time in the state this season — at last week's Sunset Region cross country championship meet to qualify for Saturday's Class 4A state meet.
He had qualified for the state meet in 2014 and 2015, too, but this year, Ziems was driven by a long-standing desire to run cross country in college.
And he pointed to that focus as the driving factor in his improved times this season.
"I always had the vision in my mind, running in college," Ziems said. "It was really important to me to cut my times down enough to get considered by some good schools. Having that in my mind and being motivated to help out my team and being an example is really what got me going."
Colleges are paying attention, and Ziems is looking into attending Rice, University of Chicago, Washington University in St. Louis, Emory and Southern California — all academic juggernauts.
"I don't know how he does it," Weis said. "He's competitive not only on the course but also in school, too."
Ziems actually attends Advanced Technologies Academy — a magnet school — where he majors in architecture.
He lives in the Palo Verde school zone, though, and he heads to the high school when he finishes school to practice with the Panthers.
Weis said Ziems' focus has made him one of the state's best runners.
"His drive is what really makes him a special runner," Weis said. "He's very smart, not only when it comes to running but with training in general."
The senior intensified his training this season and peaked with last week's personal best. But he's confident he can reach another gear Saturday.
"It felt to me like (the personal record) was one of the best successes that I've ever had because it was such a jump for me from my previous times," he said. "I think I learned a lot. It's definitely something I think I can take with me to state."