CROSS COUNTRY: Tech wins 3A titles in boys and girls
October 29, 2016 - 7:47 pm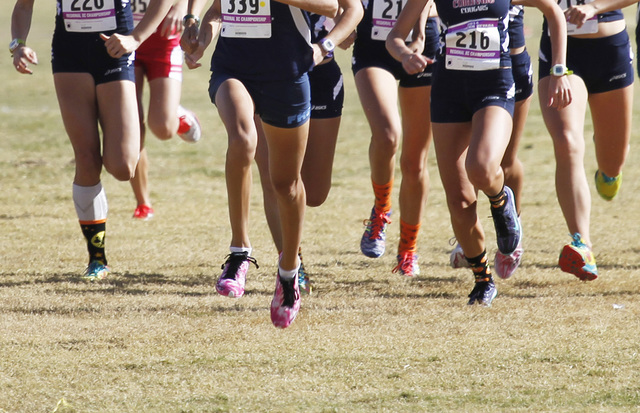 Bryce Odegard had barely finished winning the Class 3A regional cross country championship race before he shifted all of his attention to the rest of his Pahrump Valley team.
Odegard stood at the finish line and hugged all his teammates as they finished their race.
They, in turn, congratulated their leader.
Odegard finished the 3.1-mile Class 3A regional cross country championship race in a personal-record time of 16 minutes, 9 seconds to secure the individual championship on Friday afternoon.
"I was going to be disappointed if I didn't win," Odegard said. "I was shooting for a PR. It's a fast course. I've never ran here before. I knew what to expect and I just wanted to come out and run the best race I could."
Odegard's enthusiasm and cheers couldn't quite propel his team to the team championship, though. Tech fielded five of the top 15 runners, including second-place finisher Bruce Troncoso to secure the team title with 42 points.
Pahrump Valley finished second with 50 and Cheyenne finished in a distant third place with 97 points. All three teams will be heading to the state cross country meet next week.
Odegard sang his teammates' praises after the race and said the meant a lot to his success this season.
"They've always been there for me. I'll always be there for them as well," he said. "They're what drives me to get to this point. I hope they realize how much they mean to me."
Boulder City's Selinger captures 3A title as Tech wins team event
Boulder City runner Sierra Selinger opened a cold bottle of water and slowly sipped from it as she watched her competitors finish the 3A regional cross country race on Friday afternoon.
Seconds later, Selinger handed one of her teammates the bottle and consoled her through her fatigue. Selinger had just won the individual championship. And she was barely even breathing hard.
Selinger posted a time of 19 minutes, 50 seconds to win the Class 3A individual championship in a personal-record time.
She almost single-handedly helped the Eagles to the team championship, too, but Tech had six of the top 10 runners and won the team title with 26 points. Boulder City finished in second with 62 points and Desert Pines rounded out the top three with 74.
Still, Selinger was pleased with her performance.
"I was just hoping to do my best," she said. "I was with a girl from (Tech) the whole way, then a girl behind us started to pass us. I was like 'Oh, I better go with her.' "
Selinger didn't just go with her, she passed her down the stretch and edged Nayeli Perea-Barco of Desert Pines by three seconds.
"I just want to do my best again (at state)," Selinger said. "Maybe get another PR."
Aguirre helps West Wendover to 2A boys title
White Pine runner Samuel Stewart navigated Craig Ranch Park's 3.1-mile course in 17 minutes, 1.3 seconds to lock up the 2A cross country regional championship on Friday afternoon.
West Wendover's Jorge Aguirre finished second at 17:15.4, propelling West Wendover to a first-place finish with 47 points. The Meadows finished in second with 57 points. Lake Mead punched its ticket to state with 77 points.
Meadows' Hirsberg wins 2A title, leads team to championship
The Meadows' Ellen Hirsberg finished the 3.1-mile course in 20 minutes, 6 seconds to capture the 2A regional championship. Teammates Ashley Lee and Emily Herndon finished in second and third, respectively, to lead the Mustangs to the team title with 28 points.
Laughlin finished second with 61 points. Lincoln County had 64 to secure a third-place finish.
Results: