GIRLS CROSS COUNTRY: Bizarre circumstances land Centennial in second place at state
November 5, 2016 - 8:42 pm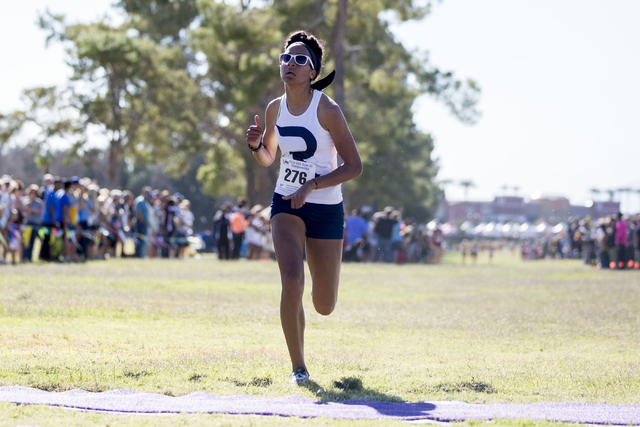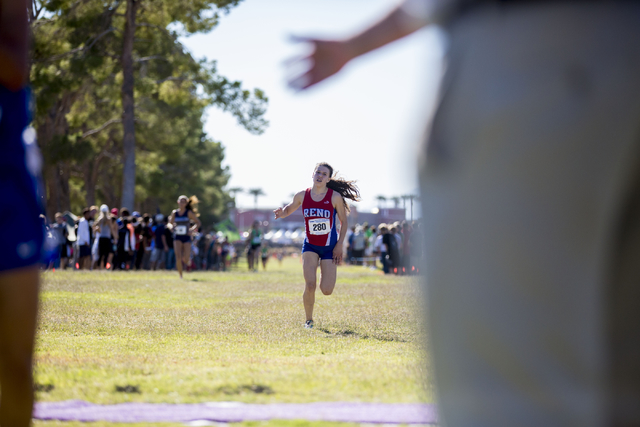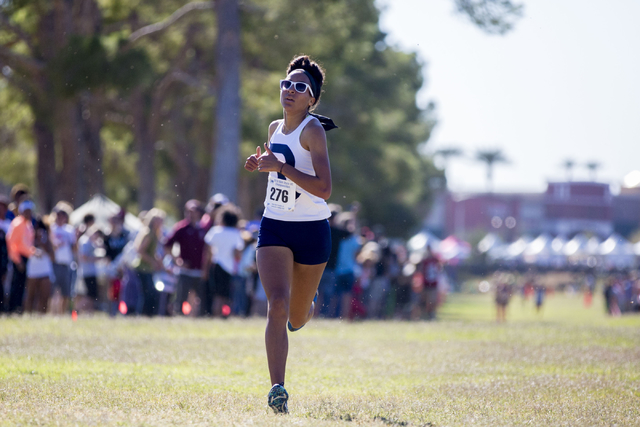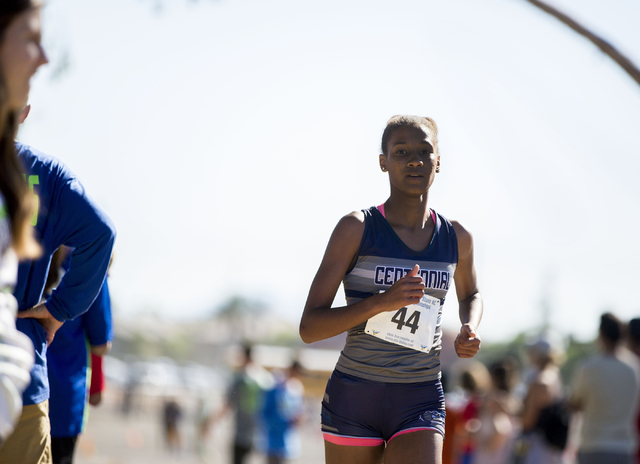 Even in her wildest, worst-case scenarios, Centennial girls cross country coach Kisha Finch could have never envisioned the events that unfolded Saturday.
The day started with promise for the heavily favored Bulldogs before spiraling into disastrous misfortune that resulted in a second-place team finish at the Class 4A state cross country meet at Craig Ranch Regional Park.
Bad luck made its first appearance when Centennial's Karina Haymore — running in the top 10 at the time — lost a shoe when another runner stepped on her heel. Haymore kicked off her second shoe and finished the last half of the 3.1-mile race in socks.
But Haymore's scoring tag was left behind with her shoes, and she was disqualified after finishing the race near the front.
"Karina's place didn't count because her chip didn't register," Finch said. "Her score would have put us in first."
Instead the Bulldogs finished second with 54 points. Reno won with 40 as a team.
But Haymore's shoe was only the second-most bizarre event of the day.
The most unlikely setback came when top Bulldogs runner Alexis Gourrier, who had not lost a race in Nevada this season, was unable to hold a quarter-mile lead in the final mile.
An hour after the race, Finch still could not explain what happened to Gourrier, who was considered invincible by most of her opponents.
"I'm not really sure what happened," Finch said. "She got a little winded in the last part of the race, and maybe panic set in."
Gourrier managed an 18th-place finish before collapsing at the finish line, but that performance was not enough to make up for Haymore's mishap.
"It's been a difficult season," said Finch, who is finishing her first year as coach. "To lose like this pours salt in the wounds. Just to lose outright might have been a little better."
Reed's Samantha King-Shaw won the race in 18 minutes, 9.2 seconds. Wooster's Gillian Ipsen placed second in 18:27.7, and Spanish Springs' Alexis Melendrez was third in 18:38.2.
Palo Verde's Emma Wahlenmaier was the top local runner, finishing the race fifth in 18:40.7.
Damonte Ranch finished third as a team, followed by Palo Verde and McQueen.
CLASS 3A
Northern schools dominated from start to finish, as Truckee's Brenna Wapstra-Scott took the individual championship in 19 minutes, 7 seconds.
Despite placing three runners in the top five, Truckee narrowly defeated Spring Creek in team points, 35-36. South Tahoe (67), Tech (104) and Desert Pines (144) rounded out the top five.
Boulder City's Sierra Selinger was the top local finisher. She finished in 20:14 to claim 11th place.
"I just wanted to do better than last year," said Selinger, who finished 15th in 2015 as a sophomore. "I also wanted to be first in the region."
Spring Creek's Rylie Lusk took second place in 19:23, and Truckee's Claire Lang-Ree was third in 19:25.
CLASS 2A
Northern teams also dominated Class 2A, with North Tahoe scoring 32 points to come out on top.
Sierra Lutheran was second (37) and The Meadows was third (86).
North Tahoe's Quinn Lehmkuhl won the individual championship in 19 minutes, 44 seconds. The Meadows' Ellen Hirsberg was the top local runner, finishing in 21:00 to take eighth.
Results: