GIRLS CROSS COUNTRY: Green Valley ends Coronado's Sunrise streak; Centennial defends Sunset crown
November 2, 2013 - 9:10 pm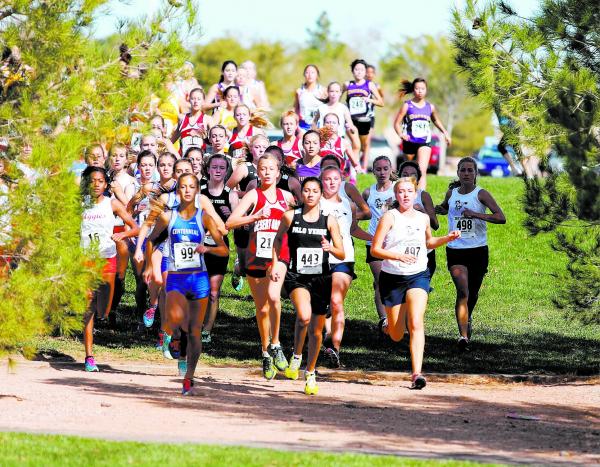 For six straight years, Green Valley's girls cross country team watched rival Coronado take home the Sunrise Region team trophy.
On Saturday, the Gators turned heartbreak into elation, albeit barely.
Placing five runners in the top 10, Green Valley finished with 32 points, one point better than Coronado, to claim the crown at Veterans' Memorial Park.
"They run for each other, run for the other six," said Green Valley coach Blaine Thompson. "The girls won by one point; the boys lost by one point. It's incredible how close the two teams are. If you add them together (boys and girls) we would have tied."
Of the top seven runners in the race, six were from the two schools.
After the first seven runners had crossed the line, Coronado had a 10-13 lead, but the Green Valley duo of Sariah Vogl and Patricia Weintgartner finished ninth and 10th to close out the Gators' scoring. They were followed by Coronado's Emma Czerwinski and Danielle Green in 11th and 12th.
The three-point deficit became a one-point win.
Foothill finished third with 64 points. The top three teams and top five individuals on non-qualifying teams advance to next week's state meet.
Coronado's Sara Dort won the 3.1-mile race in 19 minutes, 48.3 seconds. Green Valley's Sara Braverman was second in 20:30.
"I'm a little sad because it's my last race here running cross country," said Dort. "I was thinking about my team the whole time. I had a really good race at Divisional, and I want to get ready for state. Today I wanted to go out hard, run a mile-and-a-half race, and then cool it down; that's what I did."
Buoyed by a sixth-place finish by freshman Kayla Roberts, Centennial repeated as Sunset Region champion.
The Bulldogs had 35 points to Arbor View's 41. Palo Verde was third with 52.
"The girls ran great; they were phenomenal," said Centennial coach Roy Session. "Our number three today, Roberts is improving every week, getting better and better."
Sydney Badger won the race in 18:27.6, well ahead of Arbor View's Zanae Jones, who was second in 19:32.
"I'm so excited and proud of our team," said Badger. "We are definitely the hardest workers for sure. I knew what I wanted to do and I accomplished it."
Faith Lutheran captured the Division I-A Southern Region team crown with 65 points. Cheyenne (87) and Desert Pines (101) also will head to state.
Ebonique Diaz of Sunrise Mountain took off at the start and was never headed, winning by over a minute (20:48.3). Stephanie Thelander (Pahrump Valley) finished second (21:56) and Faith Lutheran teammates Hannah Pavlov (21:59.3) and Jessica Scamman (22:06) finished third and fourth.
"It's been a difficult season," said Diaz, who was third at state in 2012. "I've been sick, trying to recover from that, but I'm looking forward to state."
The Meadows dominated the Division III Southern Region meet, sweeping the top five spots. Lincoln County was second with 47 points.
The Mustangs' Jeneke Heerema defended her individual crown, winning in 20:39.3. Teammate Bailey Gosse was second in 20:49.2.
Full results:
Division I-A Southern Region meet
Division III Southern Region meet