GIRLS CROSS COUNTRY: Haymore grabs early lead, never lets go in helping Foothill to title
October 30, 2014 - 8:38 pm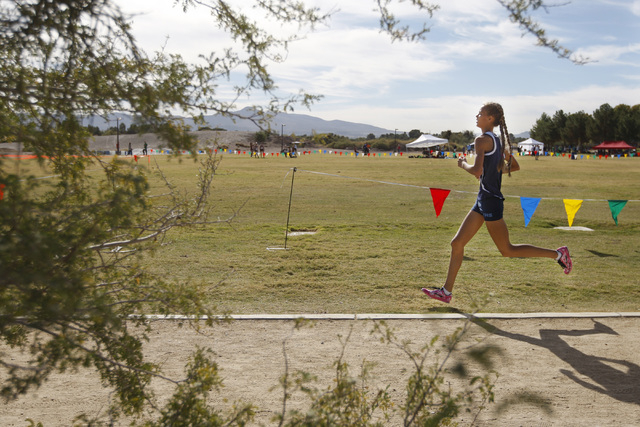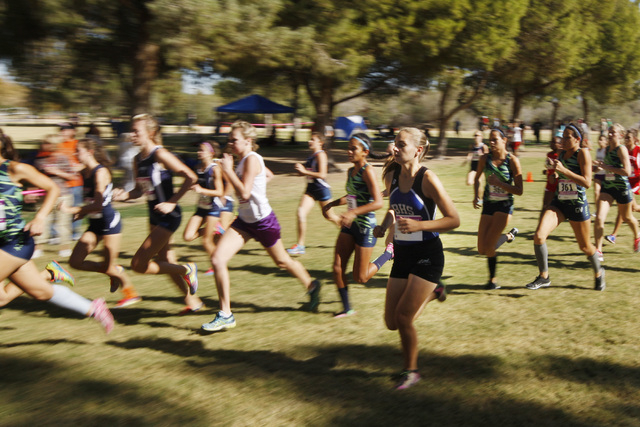 Sunrise Region girls cross country runners got a good look at Karina Haymore at the starting line Thursday.
They spent the rest of the race trying to keep up with the Foothill sophomore.
Haymore exploded off the starting line and led from wire to wire to win the Sunrise Region meet at Sunset Park. Haymore finished the 3.1-mile race in 20 minutes, 10 seconds.
"I love leading the race and staying in the front; it's a mental thing for me," Haymore said. "I feel like when I'm in front, I'm in it to win it. It was just great. I finished strong, and I ran my best."
Within a few strides of the start of the race, Haymore was the rabbit the other runners had to try to catch. She had a four-second lead just 500 meters into the race and never let off the gas.
"She is the true definition of a cross country runner," Foothill coach Natalie Thomas said. "She loves running. She is focused every day, works hard every day. She is a front-runner, and she has always been."
Liberty's Skyler Free took second in 20:27.4. Green Valley's Amy Amezcua was third in 20:39.9.
Haymore, who won last week's Southwest League meet, also helped the Falcons win their first region title as a team since 2006.
Foothill had 35 points. Green Valley was second with 48, and Coronado took third with 61. The top three teams and top five individuals not on a qualifying team advance to the state meet on Nov. 8 at Sunset Park.
"Our girls have worked really hard all season, and Coronado has been first, first, first every race," Haymore said. "We all set our goals this race, and we wanted it really bad. I feel like if you want it bad enough, you'll work hard to get it."
The Falcons had arguably their best day of the year, placing five runners in the top 11. No other school had more than three finishers in that group.
"The girls expected to be in this position," Thomas said. "We've been progressing beautifully all season. We've been knocking on Coronado's door the last three races. Green Valley stepped it up today, and so did we. We came to compete."
SUNSET REGION
Alexis Gourrier has been running on injured shins for most of the second half of the season.
One would never know it from watching the Centennial freshman compete, that is if she had much competition.
Gourrier opened up an early lead, kept widening it and set a course record, winning the Sunset Region meet in 19:10.3.
"I just pushed through the pain," Gourrier said. "I just don't think about it when I'm running. I kept my focus."
Gourrier, though, made it look easy, building a 10-second lead before the two-mile mark and never being seriously threatened.
The closest competition came from teammate Kayla Roberts, who was second in 19:23.9. Both runners helped the Bulldogs to their fourth straight Sunset title.
"It helps with the team, and it helps those two," Centennial coach Roy Sessions said of the big lead for Gourrier and Roberts. "Put Alexis out there by herself as a freshman, and she's on an island, which she's not equipped to do. When Kayla is close by, it gives her a comfort zone. If she's alone, she's not sure how fast to go, but I kept telling her Kayla was there, so she was able to relax."
Palo Verde's Samantha Reintjes was third individually in 19:43.9.
Centennial had five of the top 10 finishers in the race and finished with 27 points. Palo Verde, which had four of the top nine runners, came in second with 43 points. Shadow Ridge took third with 93.
"When we're healthy, we can compete with anybody," Sessions said. "We've had some injuries, and I was a little worried because we had a few girls who were sick the last couple of days. I'm very happy with how they ran today."
DIVISION I-A SOUTHERN REGION
Del Sol junior Ingrid Zarate had a shadow following her during the entire Division I-A Southern Region race.
If she moved left, Boulder City's Jessica Embro did the same, only about a stride behind. If Zarate picked up her pace, Embro kept up.
In the final 200 meters, Zarate finally found just enough breathing room to clinch the victory.
Zarate became the first Del Sol girl to win a region cross country meet, finishing first in 20:29.
"I just didn't let her get in front of me," Zarate said. "It feels amazing. It feels like I'm doing something right."
Embro was second in 20:31.3, and teammate Sierra Selinger was third in 20:53.9. The Eagles won a close team competition, scoring 60 points to Tech's 67 and Faith Lutheran's 68.
"We had good performances from most of the girls," Boulder City coach Canaan Petersen said. "I'm really proud of them."
Embro stayed almost within arm's reach of Zarate for the first three miles of the race, but the Del Sol runner had the slightly stronger finishing kick after the runners came around the final curve and got within sight of the finish line.
"I felt like I was a dying a little bit," Zarate said.
DIVISION III SOUTHERN REGION
Ellen Hirsberg started a parade of runners from The Meadows to cross the finish line in the Division III girls race, winning in 20:18.9.
The freshman was followed by three teammates as the Mustangs took the top five spots and easily won the team competition with 15 points. Delaney Gosse finished second (20:22.7), Jeneke Heerema third (21:19), Bailey Gosse fourth (21:50) and Krista Thompson fifth (22:01.7).
Lincoln County's Madison Mathews broke the string of Mustang runners, placing sixth in 23:58.1. The Lynx were second in team standings with 69 points.
Summaries: