Late surge gives Claire Rawlins win at Falcon Invitational
September 29, 2018 - 2:38 pm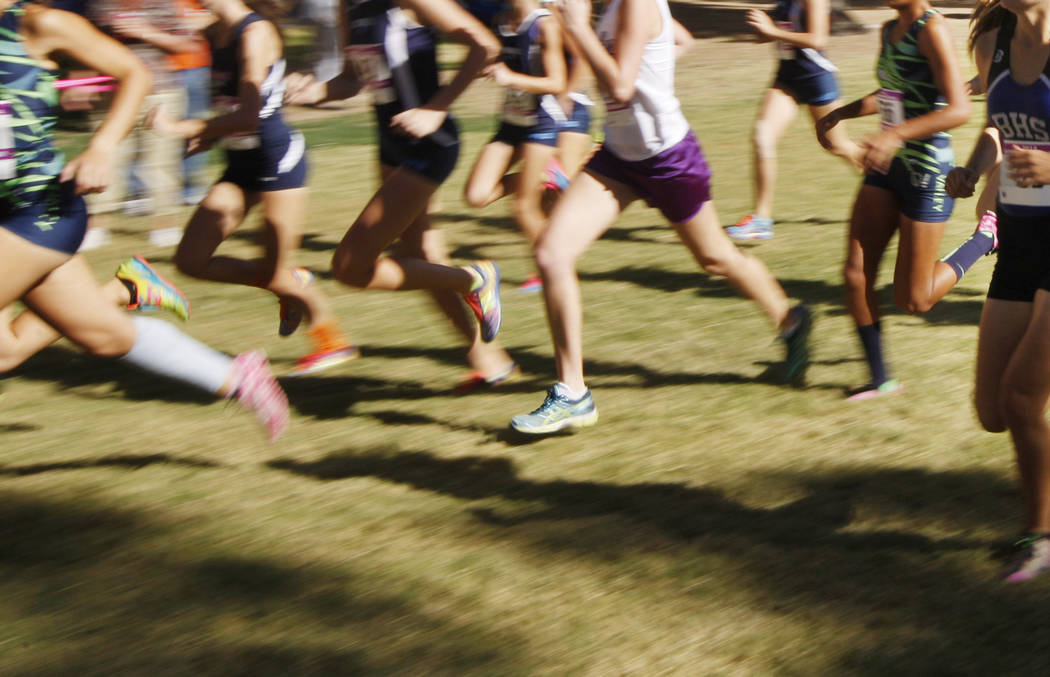 For much of the fall season, it seemed Claire Rawlins was trying to catch up to the top prep runners in Southern Nevada.
Now the junior from Coronado may have gotten there after final surge carried her to victory in the junior-senior girls race of the Falcon Invitational at Foothill on Saturday.
Rawlins trailed Basic's Raquel Chavez for much of the race, but stayed within striking distance to the end. She then raced past Chavez and held off Sierra Vista's Sarriah Brown to win the 3.1-mile race in 19 minutes, 16 seconds.
Brown was second in 19:21.4, and Chavez took third in 19:25.7 .
In the junior-senior boys race, Valley junior Christian Franklin also used a strong surge the last half mile to win his second major meet race in as many weeks, crossing the finish line in 16:17.4. Desert Oasis senior Conner Nicholas was second in 16:33.8.
Some of the top runners and teams were either at meets out of state or were taking the weekend off, but that gave a chance for others to step forward. Rawlins was one who did so.
Early on in the junior-senior girls race, Faith Lutheran's Alexi Johnson led a group of five through the first quarter mile. Though it was a race for upperclassmen, Cimarron-Memorial freshman Olivia Garcia was among the front group along with Johnson, Brown, Chavez, and Rawlins.
At the close of the first loop, Chavez surged to the front and eventually built up a good-sized lead of 25 meters. However, Rawlins and Brown kept her within their sights.
By the third mile, Rawlins started closing the gap and passed Chavez a few meters before the final turn into the homestretch, although Brown was always only a few meters behind her. From there, Rawlins was able to kick to the finish line for her first large-meet win.
"I knew I had enough to make a move near the end," Rawlins said. "I just had to stay on my pace and stay somewhat close to Raquel."
Rawlins conceded she felt some pressure in trying to chase down Chavez while staying ahead of Brown.
"It was kind of scary near the end," Rawlins said. "At that point, there is so much cheering and noise, you can no longer hear behind you and you don't dare look around. I just had to keep pushing forward all the way to the finish line."
Garcia finished fourth overall in 20:07.5 followed by Johnson (20:44.2). Foothill topped the team standings with 36 points after getting four runners into the top 15 paced by Mya Buckley's seventh-place finish.
Coronado was second with 47 points, and Valley was third with 89.
The boys race started out with a pack of four — Nicholas, Franklin, Faith Lutheran's Aiden Baughan and Foothill's Justin Neubeck — in the lead. Nicholas eventually moved to the front, but Franklin was on his shoulder for most of the race with Baughan right behind.
Franklin then started to move ahead with a quarter mile to go and still had enough race to the finish line ahead of Nicholas.
"I felt good the entire time,"Franklin said. "I'm starting to get into a groove with these greater distances. It was a matter of pacing myself and then turning to my kick when I feel the other runners weakening."
Baughan was third in 16:44.8 with a hard-charging Landon Morrison of Desert Oasis in fourth (16:46.7).
With two in the top four, Desert Oasis easily took first in the team standings with 44 points. Coronado was a distant second with 118 followed by Valley with 149.
Team Australia's Harry Sharp won the boys freshman-sophomore race in 17:03.2 followed by Moapa Valley sophomore Preston Humes (17:21.0). Australia was first in the team standings with 32 points and Foothill took second with 78.
In the girls freshman-sophomore race, Desert Oasis sophomore Jacey Woods won in 20:21.3. Coronado's Erin Shannon was second 20:38.7 followed by Sierra Vista's Shailay Pearson (20:42.5). The team from Australia scored 52 points to finish first while Coronado edged Faith Lutheran 70-72 for second.
Results: