Desert Oasis flag football plays on for fallen teammate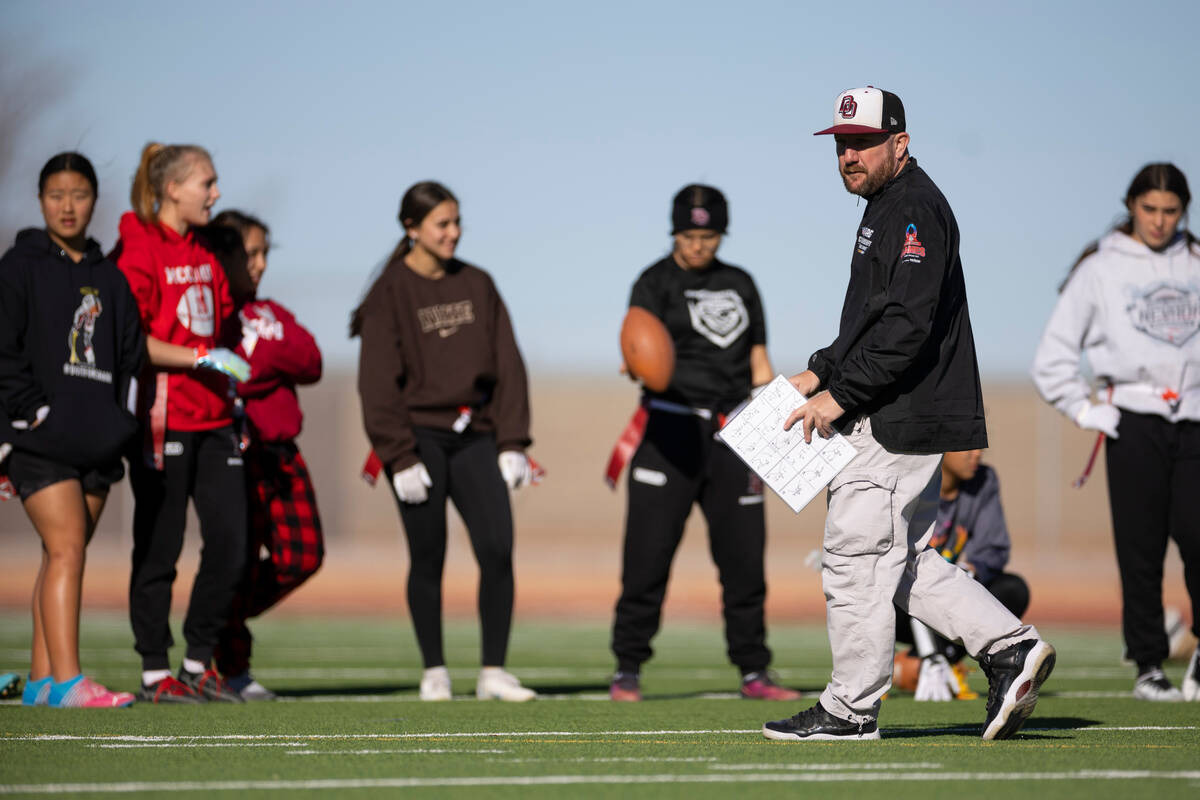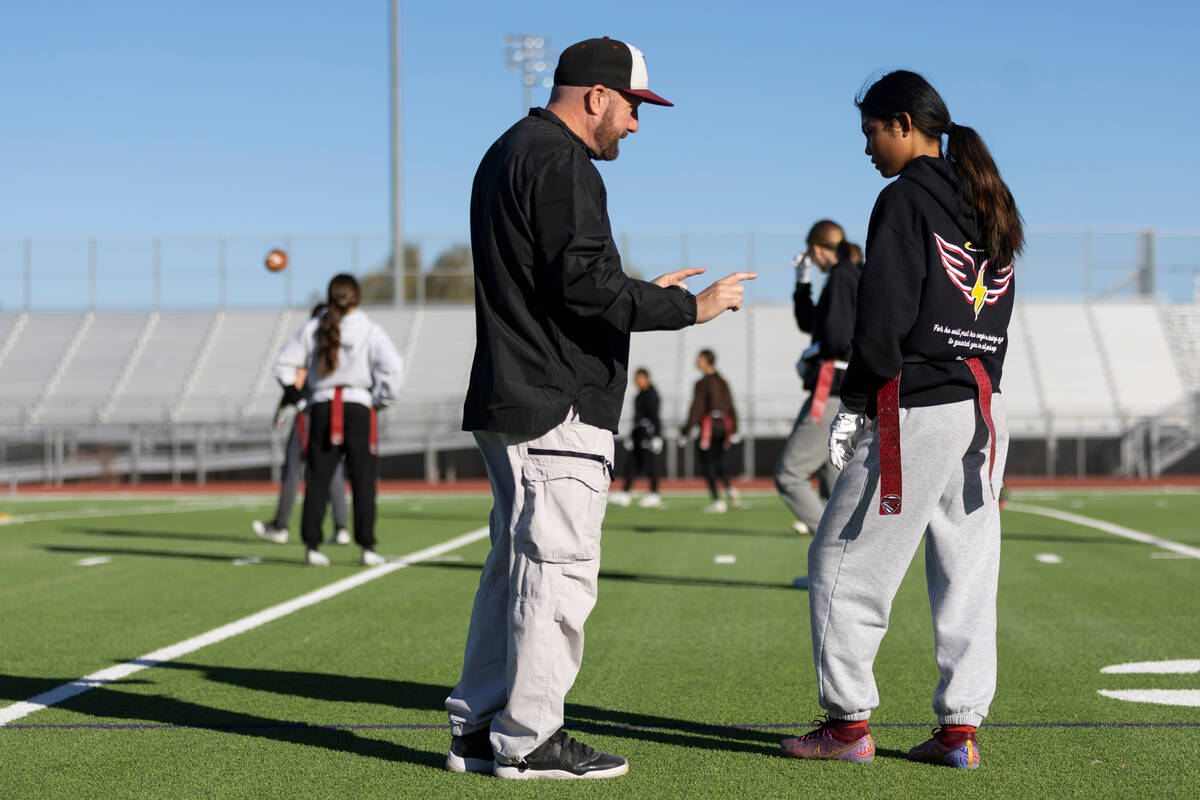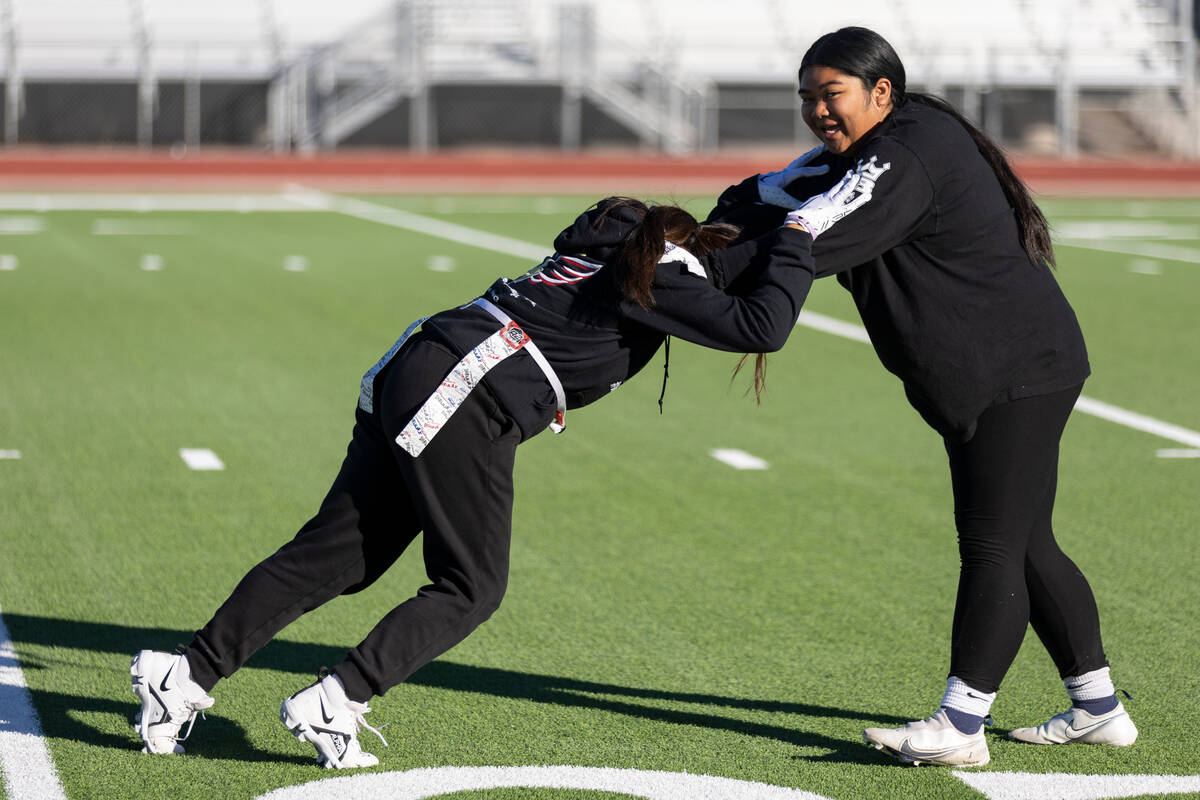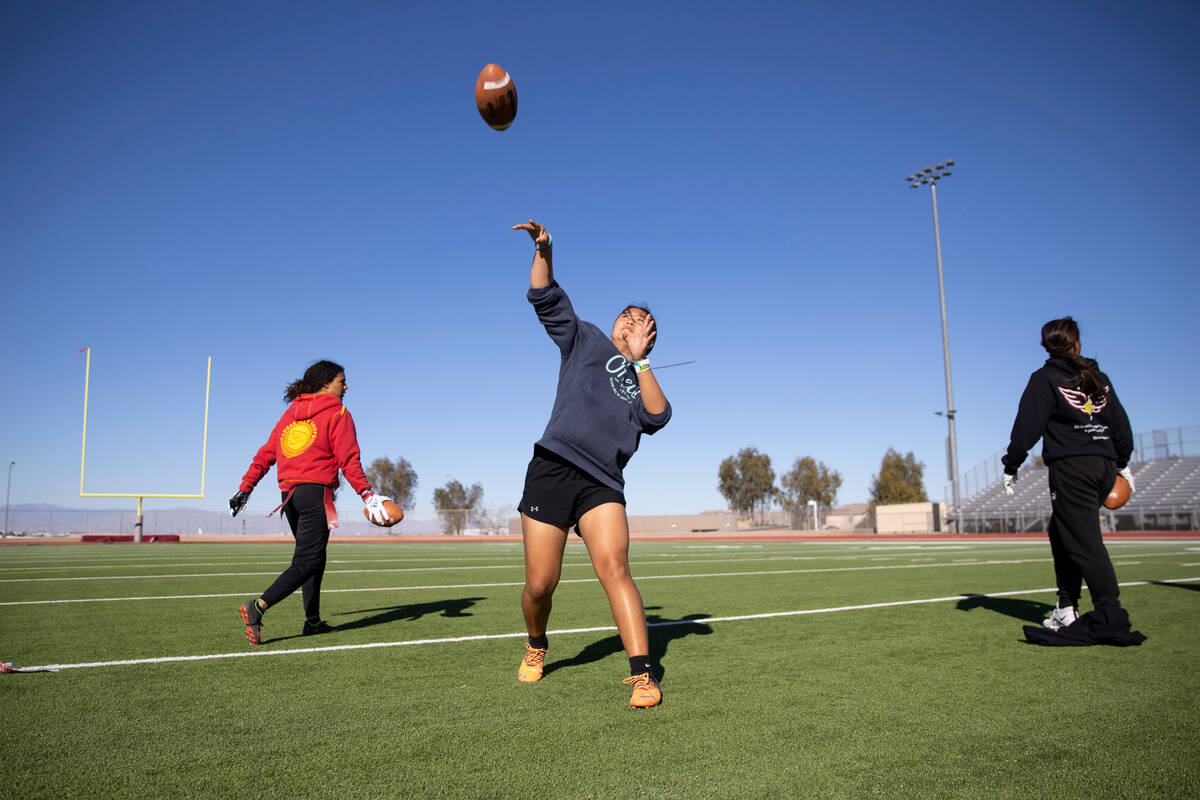 There's a message made out of red cups along the chain-link fence in front of the bleachers at the Desert Oasis High School football field.
"Do it 4 Shari."
"Shari" is Ashari Hughes, a Desert Oasis flag football player who died after going into cardiac arrest during a game Jan. 5. The message serves as a reminder for the Diamondbacks of their bigger purpose this season.
"Knowing that we're doing this for her has given us a lot of strength, because I think some people would drop it," senior linebacker Eve Fife said. "It's a sad time and some would give up, but she would want us to win. We're doing this for her."
Hughes' teammates have honored her the best way they know how, by putting together a dominant season.
Desert Oasis finished the regular season 20-2 and outscored its opponents 632-214. The Diamondbacks are the No. 1 seed from the Class 4A Mountain League, and they will host Durango in a state quarterfinal at 3:30 p.m. Monday. The state championship game is 6 p.m. Friday at the Raiders' headquarters in Henderson.
"To see the way that they've really formed such a unique bond surrounding a tragedy, it's brought them all together in a way that I've never had in a team before," coach Todd Thomson said.
The playoffs, and even the idea of playing at all, seemed like an afterthought over a month ago as the team went through an unthinkable tragedy.
Getting back on the field was an important step in helping handle the waves of emotion the players felt. They said the best way to honor Hughes was by pursuing their preseason goal of winning a championship.
"Hopefully we can win state," senior wide receiver Devon Patmon said. "We all know it's for her. Every play, every drive, every win."
No 'rulebook'
Thomson said his players were ready to return before he was. But it wasn't an easy process.
There was the initial shock of her death. Most of the team was physically at school the next day, but they weren't there mentally and emotionally, Thomson said.
The team room, located in one of the school's portable buildings, became a safe space where teammates and students could express their feelings.
In the time when there weren't any games being played, Thomson stressed to the players that the decision to return to play was up to them.
"I told them there's no timetable. There isn't a rulebook for this. It's whatever you guys want to do," Thomson said."We have a job to do as coaches, and our job is to take care of the players, whether that's on or off the field. Our job doesn't change."
He credits his senior captains for helping keep an open dialogue on the mood of the team, and the rest of the team for being comfortable to open up to the coaches.
"Any of us could come to him with anything, and there's a lot of trust there," Fife said of the team's relationship with Thomson. "He's built up a really strong relationship with everybody."
Fife said the first step of processing the tragedy was acknowledging it was going to be a difficult process. As one of the captains, her focus was to help lift everyone up and make sure the players supported one another.
Patmon, another captain, admitted she was stressed out as they weighed the decisions to come back to play. She said after some hesitation, she realized that getting back on the field was what was best for the team.
When the Diamondbacks returned to the field Jan. 11, they put forth a dominant showing in a 46-13 home win over Canyon Springs in a highly emotional game where they retired Hughes' number.
"We knew not to give up," Patmon said. "We know that we're doing it for (Hughes), and if we look back and we just give up on ourselves and we give up on each other, then it's like we gave up on her."
'Unbreakable bond'
The Diamondbacks start off every game by chanting Hughes' name. It's one last reminder before the game starts for the players to give it their all for their fallen teammate.
The aspiration of winning a state championship has the Diamondbacks excited, but Thomson said there are some mixed feelings.
"A lot of girls don't want the season to end because of everything they've been through," Thomson said. "Being around each other has been one of the things that's enabled us to hold it all together.
"There's that sense that we don't want the season to come to an end."
Throughout this season, Thomson said he was amazed at how strong his players are. He said he was proud to be their coach as they displayed the type of character he preaches in his life lessons that are bigger than football.
Fife said the bond the team has created has played a pivotal role in the Diamondbacks' success. Patmon agrees.
"If we didn't have that bond with one another, we're not making it far," Patmon said. "We've learned to just come together and stick together. Now that we've been able to stick together we've gotten as far as we've gone."
Thomson describes himself as a laid-back coach. He said keeping things loose has helped the players get through it. With the high stakes of a state tournament on the horizon, his focus is making the journey enjoyable.
Thomson has reminded his players that as the season comes to an end, they will have an "unbreakable bond" for life as they carry on Hughes' legacy.
"To see the way that they've handled this tragedy, the strength that they've done it with, they're already winners," Thomson said. "They've proven they're going to win in life. To me, that's more important than any state championship."
Contact Alex Wright at awright@reviewjournal.com. Follow @AlexWright1028 on Twitter.