Durango Fall Classic features elite girls volleyball teams
September 12, 2017 - 5:18 pm
Updated September 12, 2017 - 5:57 pm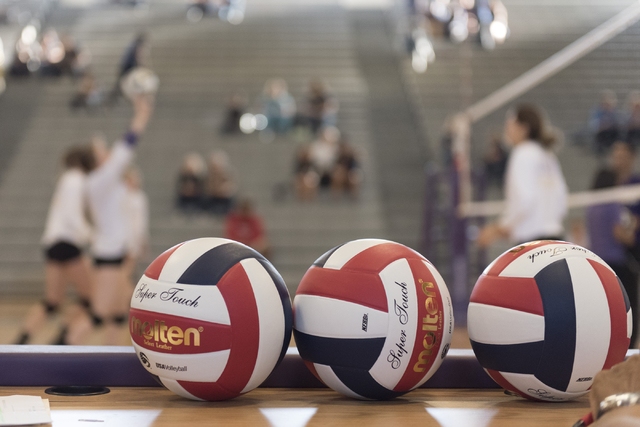 The highlight of the season for Durango doubles as the focal point of high school girls volleyball across the country.
And it's in Las Vegas.
And it's this weekend.
The Trailblazers are preparing to host the 23rd annual Durango Fall Classic on Friday and Saturday.
The tournament, founded by former Durango coach Bob Kelly, is sponsored by Nike and features some of the premier teams from around the U.S., as well as some of the best teams from Las Vegas.
"The younger girls, they get to watch the highest level of competition. For many of them, it's the first time they're exposed to anything like this," Durango coach Amy Schlauder said. "For our varsity team, they live for it. They talk about it all season long, because they get to play some of these girls that are going to these really big (Division I) universities that they've only read about online or followed on Instagram."
Teams from California, Washington, Kentucky, Idaho, Arizona, Utah, New York, Hawaii and Georgia will be playing in town this weekend.
Local programs Shadow Ridge, Centennial, Arbor View, Faith Lutheran, Foothill, Coronado and Palo Verde will be participating, too.
Shadow Ridge coach Karissa Guthrie said she's excited to play out-of-state programs and added that the tournament generates healthy exposure for the sport in Las Vegas.
"It's definitely huge," Guthrie said. "When we have tournaments like this … it just makes it better for the kids in the community to grow and love the sport."
Green Valley, Coronado and Palo Verde will join Durango as host sites, and Schlauder said Trailblazers B-team and junior varsity players will help work the event both days.
Granted, it's work they're excited to do.
"It's something that they love to host," Schlauder said. "They love that our name is in the tournament and that we can represent our school in that way."
Palo Verde boys soccer cracks top 25
Palo Verde's boys soccer team checked in at No. 22 in the USA Today/United Coaches Super 25 national poll.
Coach Garry Shackley said he expects the Panthers (10-0) to be targeted by other teams in wake of their national attention.
"We've made a great start to the season, but there's only one way to go from here, and that'd be down. I don't mean it as a negative thing, but if we get an overinflated opinion of ourselves, we'll quickly find that it all goes wrong," he said. "When you're at the top like that … every game gets harder."
Strawther adds three more offers
Liberty wing Julian Strawther is emerging as the next elite high school basketball talent in Las Vegas.
The five-star sophomore announced scholarship offers from Gonzaga, Virginia Tech and DePaul on Monday night.
Strawther blossomed into a prized national recruit after a strong AAU season with California United, and has offers from blue-bloods such as Arizona and UCLA.
Recent commitments
Legacy's Emma Singleton signed with McPherson (Kan.) College for soccer.
Contact reporter Sam Gordon at sgordon@reviewjournal.com. Follow @BySamGordon on Twitter.