FIELDER'S CHOICES: Handicapping the field for NIAA director
December 8, 2014 - 8:39 pm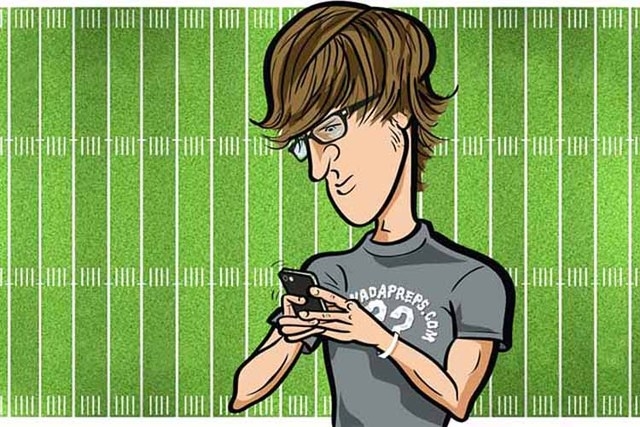 There were two burning questions I heard this weekend in Reno, Hawthorne, Tonopah and Beatty on my way back from the state championship football game.
One: Do you want fries with that? Duh. Of course.
And two: Who will take over for Eddie Bonine as the executive director of the Nevada Interscholastic Activities Association?
Bonine, as you may have read here first, has agreed to take the same spot in Louisiana.
Good for him. Didn't know he spoke Cajun. Knew he likes gumbo, though. The mental picture of him shrimpin' in the bayou is too good to pass up.
After a red-hot finish to a season of setting lines on football games, who better than to handicap the field but me?
Candidates, with a brief bio, and odds of getting hired by the NIAA's Board of Control are below.
We'll start with a darkhorse candidate.
Me. I've already been asked if I would be interested in the job. I believe, though, the board is looking for someone with at least a master's degree.
I'm in my seventh year of high school and can barely spell interscholastic, which probably disqualifies me from the job. But I have watched The Masters, so there is hope. And it's not like the Board of Control routinely makes good decisions. Odds: 1 million to 1. (I'm in the running.)
Tony Sanchez. If he hasn't already accepted the UNLV job, maybe Bishop Gorman's football coach could look into this one.
Is there a better leader than Sanchez, who has his team's practices detailed to the second and is always in control?
He might have to take a pay cut, though. And could you imagine the uproar from the Gorman haters? He's better off staying where he is.
Best jobs, in order: 1) Gorman football coach; 2) NIAA executive director; 3) Roadkill taste-tester; 4) UNLV football coach. Odds: 1,000,001 to 1. (Sorry, Coach).
Bobby Hauck. The former UNLV football coach seems like a personable guy, and the NIAA could use one of those as its executive director.
Hauck may want to relax for a while, but he will want to work again at some point. The Reno people will love him because he was always kind enough to allow UNR to win.
Overheard at a basketball game: Centennial was ready to offer Hauck its open swimming coach position.
The threat of a chlorine-induced headache will keep Hauck away from high school sports. Odds: Off the board.
Dana White. The head of the Ultimate Fighting Championship is tight with Station Casinos president Lorenzo Fertitta, and Fertitta's company is the title sponsor of the NIAA.
Imagine the possibilities. If someone appeals an NIAA decision, they fight it out in the octagon on pay per view.
Mixed martial arts suddenly becomes a sanctioned sport. Hmm.
It might be hard to track down White in Rio de Janeiro or Mexico City for a board meeting, though. Odds: Same as my chance of winning at Red Rock, 2 million to 1.
Freddie Banks. Banks led Canyon Springs' boys basketball team to a state runnerup finish last year.
Now he's coaching both the Pioneers' boys and girls teams. I'm sure Banks has 10 minutes of spare time each week. What's one more job? Odds: Only a full-court buzzer-beater away.
Ray Mathis. The Clark County School District's executive athletic director is the former president of the Board of Control and still is a member of the board.
Mathis, though, is near retirement and might be more interested in picking up his 9-iron at the end of this school year than spending more days in an office. Odds: Never rule it out, but don't bet your house.
Pedro Martinez. No, not the former Red Sox pitcher. The former Washoe County superintendent. He was run out of that job earlier this year.
Some people in the north didn't like him, which puts him in the same spot as Bonine. Odds: Equally as good as the former Red Sox pitcher.
Now for some real candidates, with the caveat that my guess is as good as yours if any of these people are interested: CCSD athletic director Pam Sloan, former Virgin Valley and Chaparral principal Dave Wilson, former Green Valley principal Jeff Horn, current NIAA Southern Coordinator Bob Northridge, former Board of Control president Bob Sullivan and Washoe County athletics coordinator Brian Rothe.
Some other names likely will emerge soon, too. Stay tuned.