Fight, injuries mar Arbor View-Desert Pines 2OT thriller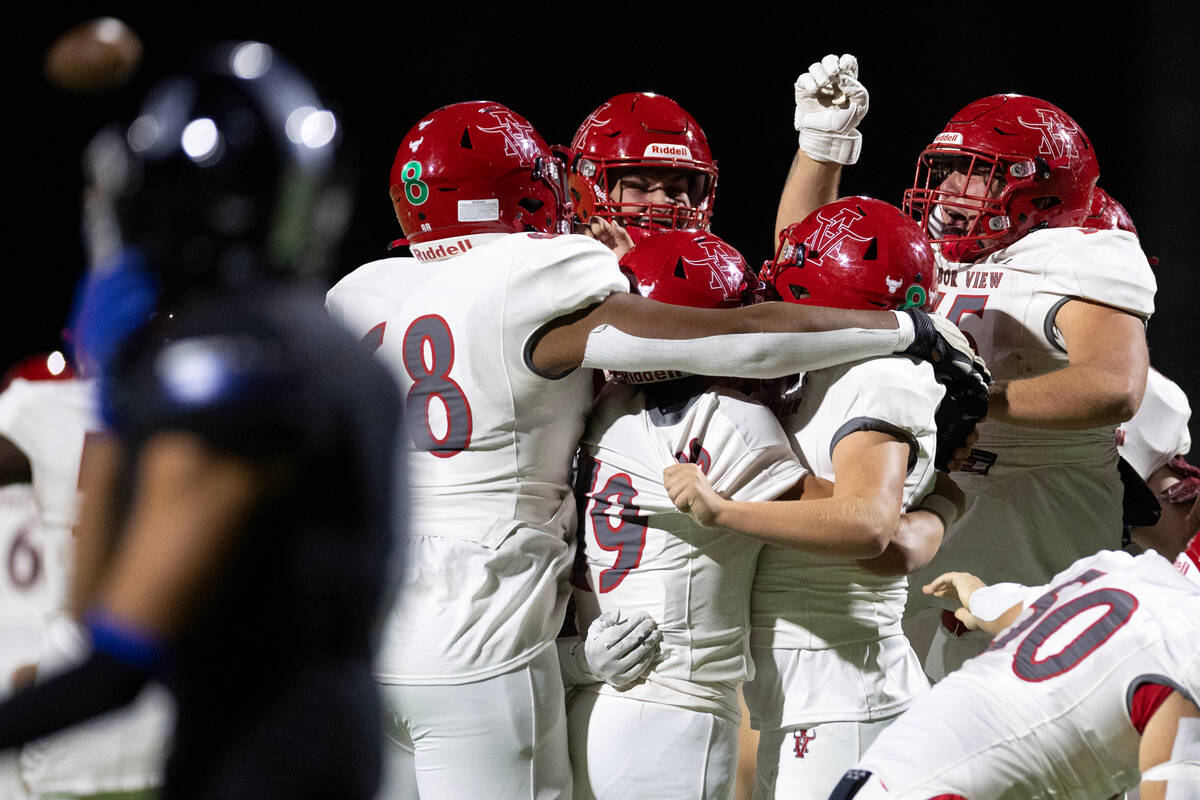 Down its starting quarterback and the state's top linebacker recruit, Arbor View rallied to pull off a 28-27 double overtime victory at Desert Pines on Friday night.
The Aggies' jubilation after a thrilling victory quickly ceased when emotions from a hard-fought, physical game boiled over, and a fight between the teams broke out after the final play.
Police officers rushed the field as the fight carried to the Arbor View sidelines. Both teams quickly cleared the field after the fight was broken up.
Arbor View and Desert Pines have been instructed to submit any videos they have of the postgame altercation and provide statements from their coaches. The incident will be reviewed by the Nevada Interscholastic Activities Association, which will determine any punishments as a result of the altercation.
"We're going to provide what's being asked, and that's where we're at right now," Arbor View coach Matt Gerber said Saturday. "I don't know what's going to happen going forward. That's going to be for people above me to look at the stuff we provide and make a decision."
The fight overshadowed a thrilling game between two of the state's top teams, and so did a pair of serious injuries to each team.
Arbor View freshman quarterback Thaddeus Thatcher suffered a broken collarbone when he was hit after attempting a pass early in the second quarter. Gerber said Thatcher would be out six to eight weeks, which likely means Thatcher's season is over.
Thatcher's injury sparked another incident as top linebacker recruit Christian Thatcher, the brother of Thaddeus, and Desert Pines linebacker Kenneth Goodwin Jr. got into a scuffle on a punt following the injury to Thaddeus. Both players were ejected.
Desert Pines senior cornerback and UNLV commit Jaylen Allen suffered a serious leg injury late in the fourth quarter. The game was delayed for nearly 40 minutes while Allen was being attended to. An ambulance was called, and Allen was taken off in a stretcher to a local hospital.
As of Saturday, there is no update on Allen's injury.
On the field, the Aggies faced a 14-7 deficit early in the fourth quarter, and their young running backs provided a much-needed spark. Freshman Kamareion Bell had a 70-yard run, and sophomore Nylen Johnson capped off a drive that started at the Aggies' 2-yard line with a 7-yard touchdown run to tie the game at 14.
After the Aggies blocked Desert Pines' game-winning field goal attempt as regulation expired, backup quarterback Alonzo Balderrama threw touchdown passes in each of the overtime periods to seal the win.
Both teams scored in the first overtime, but Desert Pines missed its extra point attempt following its touchdown in the second overtime. Arbor View kicker Jean Vinatieri, who missed a 42-yard field goal before halftime, converted the game-winning extra point.
"They battled. They didn't give up," Gerber said. "Different kids had to step up. There were a lot of injuries in the game, and we were using kids that hadn't gotten a lot of (playing) time, and they stepped up."
Things won't get easier for either team. The Jaguars play at Liberty at 6 p.m. Friday, and the Aggies play at Bishop Gorman at 7 p.m. with first place in Class 5A Division I on the line.
"It's Gorman week. If you can't get up for this game, I don't know why we're doing this," Gerber said. "It's tough, coming off an emotional win and you worry about a letdown. How do you stop that? You try to keep everything consistent and focus on what you can do day to day to get better every day."
Last season, Gorman rolled to a 63-0 regular-season win at Arbor View.
"We got to get the kids up to speed," Gerber said. "There's going to be some kids playing in new spots. … Going up against Gorman, the No. 2 team in the nation, we'll have our hands full."
In other games, Silverado hosts Shadow Ridge at 6 p.m. in a rematch of the last two 4A state title games, both won by the Skyhawks. Silverado also won a regular-season meeting in 2021. Coronado, which defeated Shadow Ridge 28-14, plays at 5A Division III co-leader Palo Verde at 6 p.m.
Contact Alex Wright at awright@reviewjournal.com. Follow @AlexWright1028 on X.
Week 6 football scores
Thursday
Palo Verde 40, Desert Oasis 7
Pahranagat Valley 60, Spring Mountain 0
Friday
Arbor View 28, Desert Pines 27 (2OT)
Basic 45, Durango 20
Beatty 56, Word of Life 0
Bishop Gorman 55, Silverado 0
Cadence 66, Valley 36
Centennial 27, Bonanza 14
Chaparral 32, Eldorado 18
Cheyenne 22, Rancho 21
Cimarron-Memorial 30, Mojave 23
Coronado 28, Shadow Ridge 14
Faith Lutheran 10, Sierra Vista 0
Indian Springs 44, Laughlin 30
Legacy 27, Clark 10
Liberty 41, Cathedral Catholic (Calif.) 7
Mater East 36, Pahrump Valley 30
Moapa Valley 42, Boulder City 9
Round Mountain 60, Beaver Dam 12
SLAM Academy 35, Democracy Prep 22
Sunrise Mountain 28, Del Sol 14
Somerset-Losee 42, Western 0
Virgin Valley 59, The Meadows 19
Week 7 high school football schedule
All games at 6 p.m. unless otherwise noted
Thursday
Rancho at Centennial, 7 p.m.
Round Mountain at Spring Mountain, 7 p.m.
Friday
Desert Pines at Liberty
Shadow Ridge at Silverado
Coronado at Palo Verde
Foothill at Sierra Vista
Basic at Las Vegas
Durango at Basic
Spring Valley at Legacy
Clark at Cimarron-Memorial
Somerset-Losee at Cheyenne
Del Sol at Canyon Springs
Mojave at Bonanza
Sunrise Mountain at Eldorado
Chaparral at Valley
Cadence at Western
Word of Life at Sandy Valley
Arbor View at Bishop Gorman, 7 p.m.
SLAM Academy at The Meadows, 7 p.m.
Pahrump Valley at Democracy Prep, 7 p.m.
Moapa Valley at Mater East, 7 p.m.
Boulder City at Virgin Valley, 7 p.m.
Lincoln County at Lake Mead Academy, 7 p.m.
Needles at GV Christian, 7 p.m.
Pahranagat Valley at Beaver Dam, 7 p.m.
Beatty at Tonopah, 7 p.m.