3A FLAG FOOTBALL: Angela Hammond rushes Cheyenne into state title game
February 21, 2017 - 11:42 pm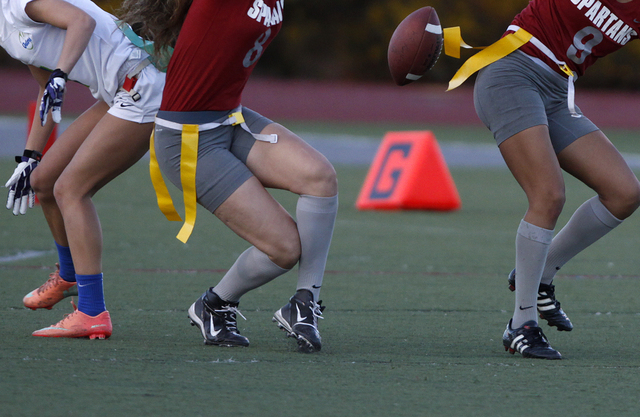 Angela Hammond rushed for 237 yards and two touchdowns Tuesday to power the Cheyenne flag football team to a 19-6 home victory over Tech in the Class 3A state semifinals.
The Desert Shields (11-5) will face Virgin Valley (18-3) in the state championship at 4 p.m. Wednesday at Cimarron-Memorial.
E'leseana Patterson rushed for 68 yards and threw for 127 yards for the Desert Shields.
Cheyenne scored 12 points in the first half while holding Tech (13-7) scoreless. Kiantera Neal hand a big hand in that, making a team-leading five tackles and recording two sacks.
Virgin Valley 31, Del Sol 7 — At Mesquite, Katie Zuniga rushed for two touchdowns to lift the Bulldogs over the Dragons in the Class 3A state semifinals.
Kallie Graves was 8-for-22 passing for 155 yards and two touchdowns for the Bulldogs. The junior also rushed for a score.
Zuniga finished with 49 yards rushing, and Elizabeth DeLeon had 58 yards rushing for Virgin Valley, which led only 7-0 at halftime.
Markell Ludvigson had two interceptions of the Del Sol (9-11) quarterback.
Box scores: