Caitlin Shannon runs wild as Coronado caps unbeaten season
February 22, 2018 - 10:06 pm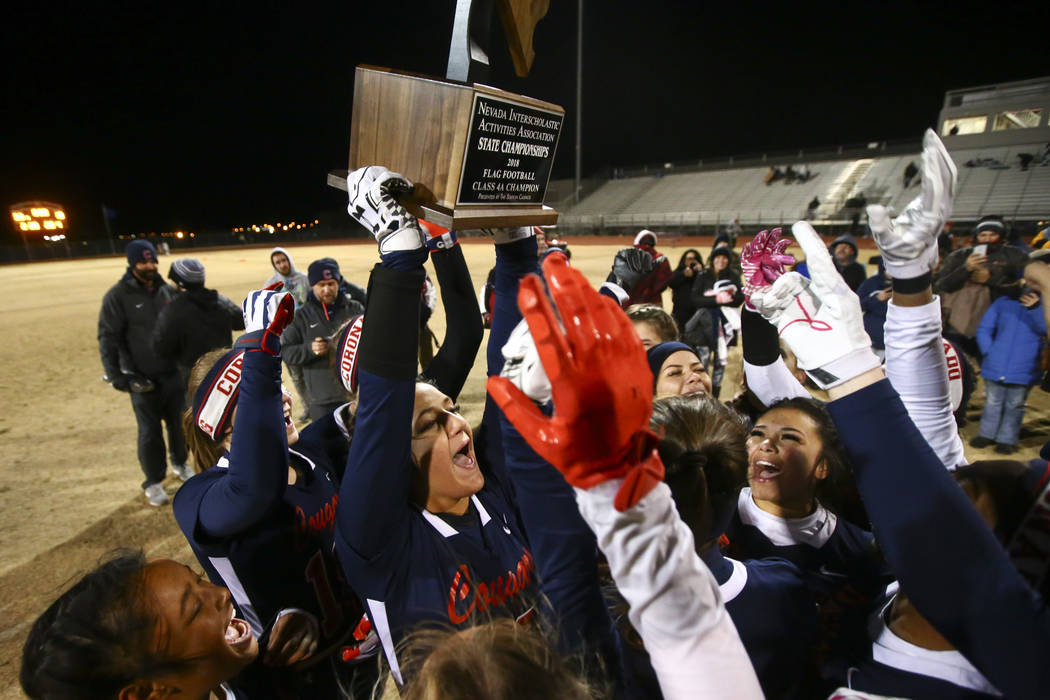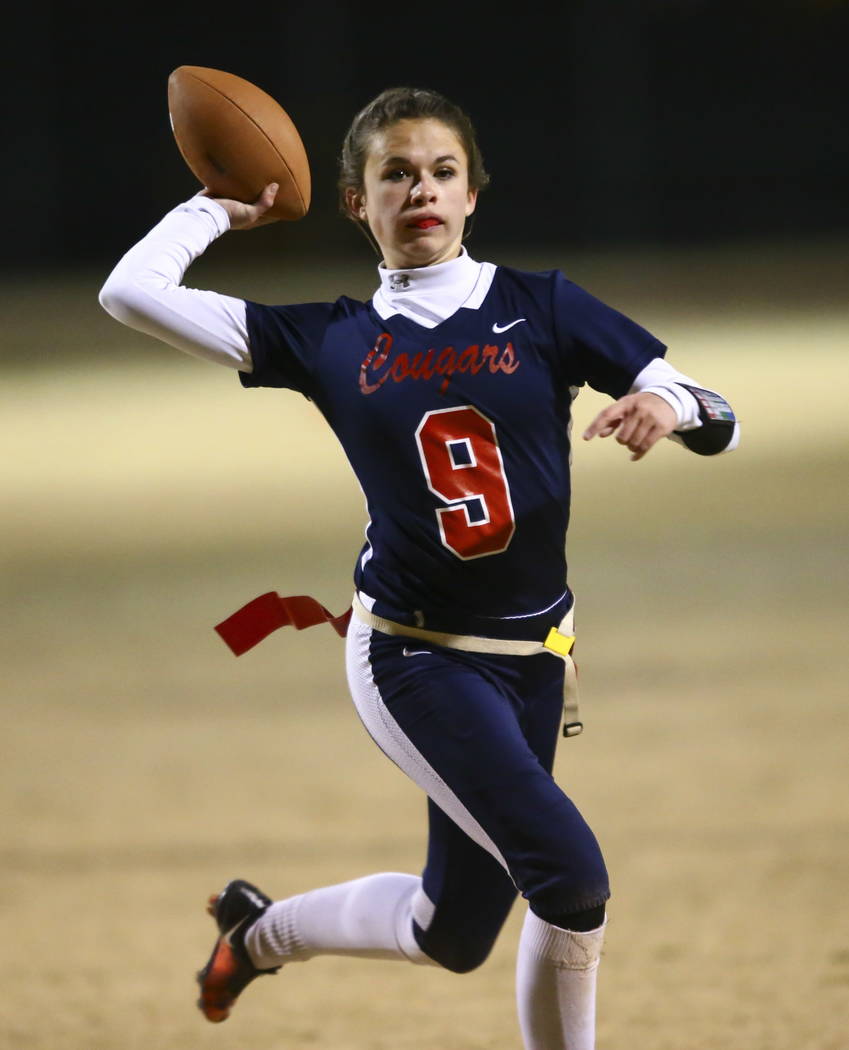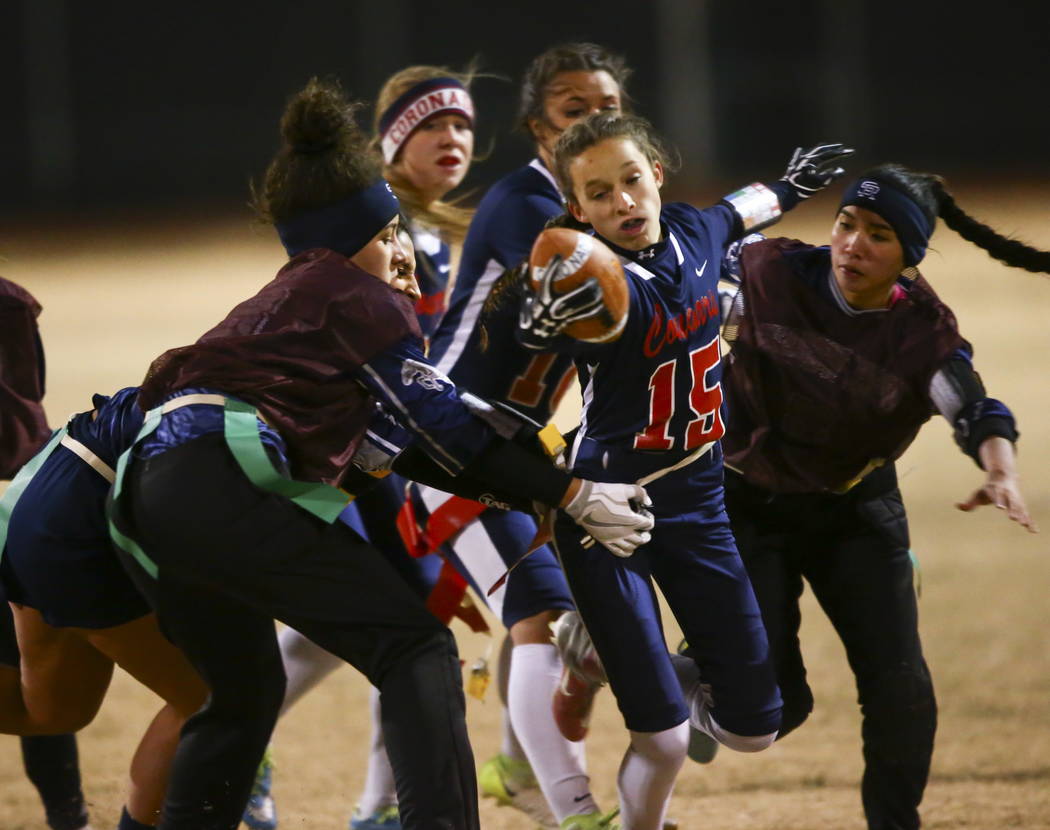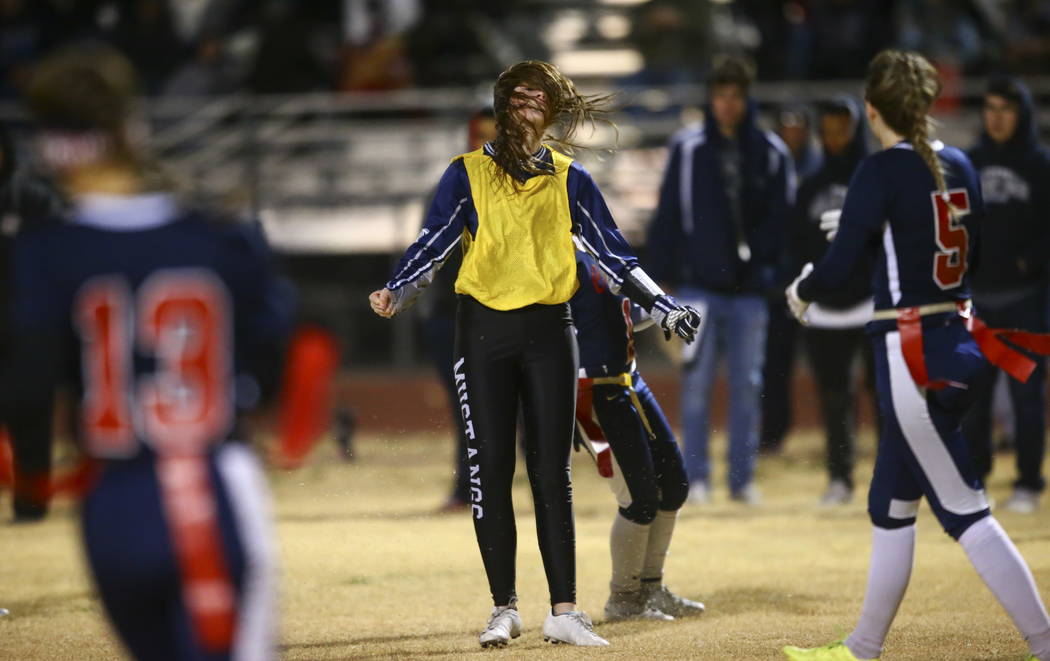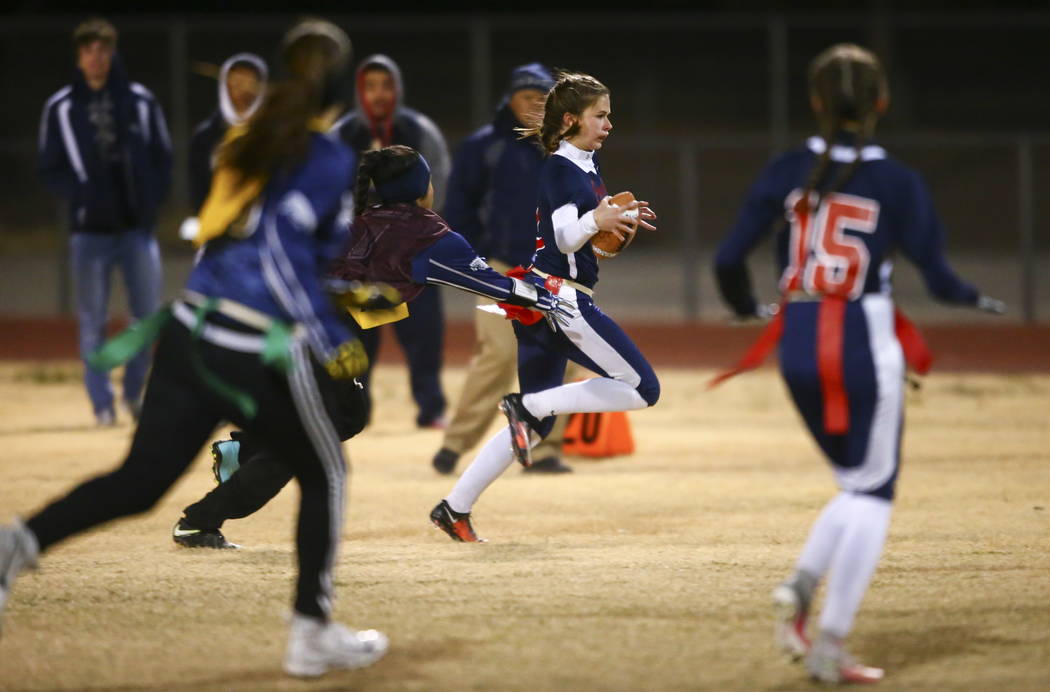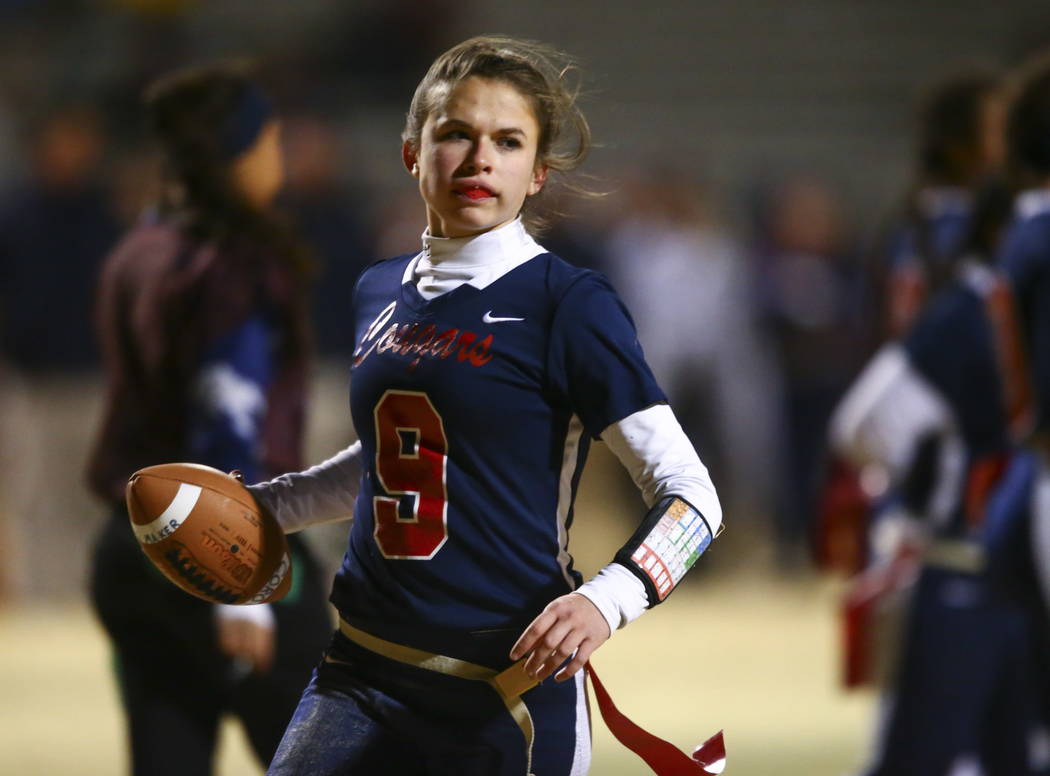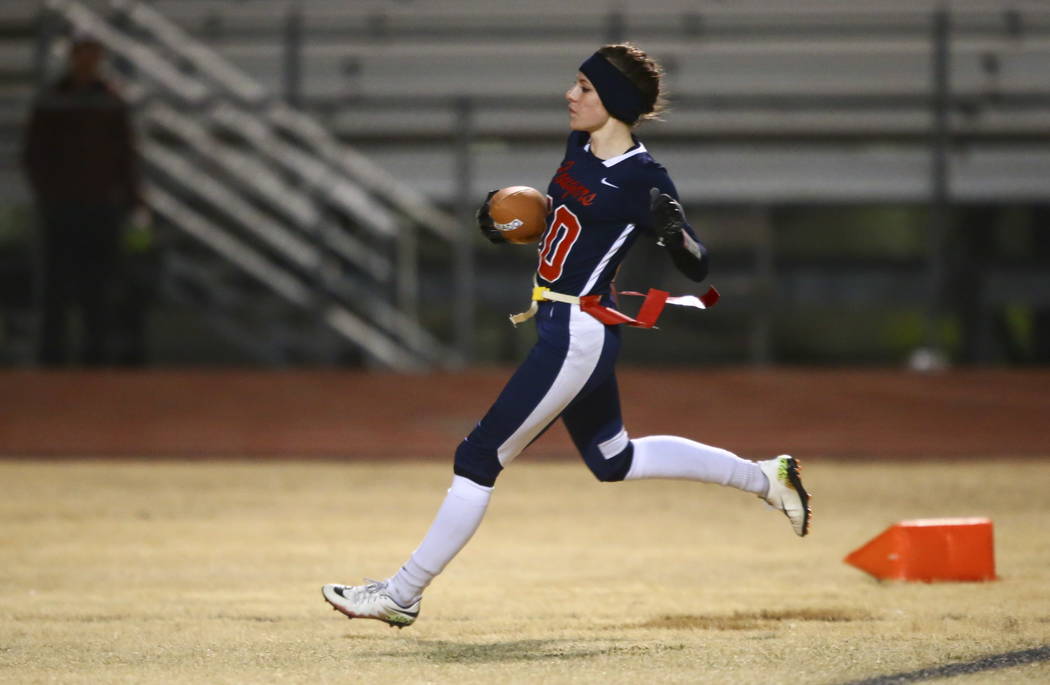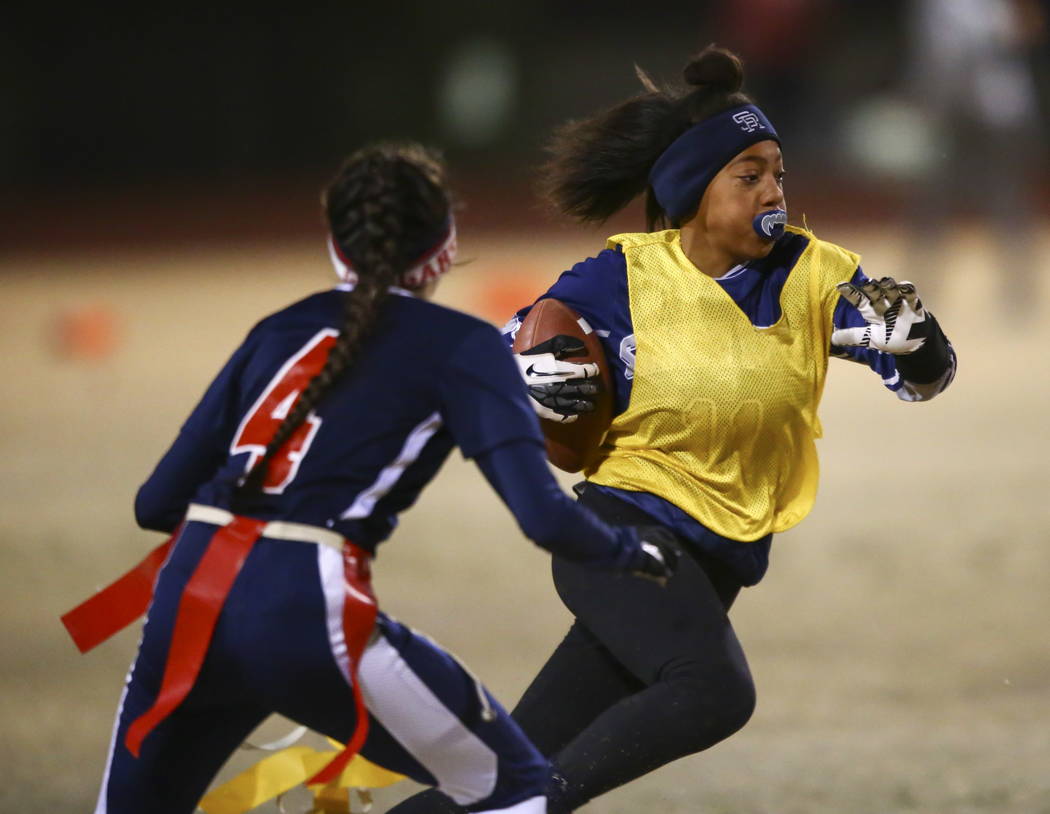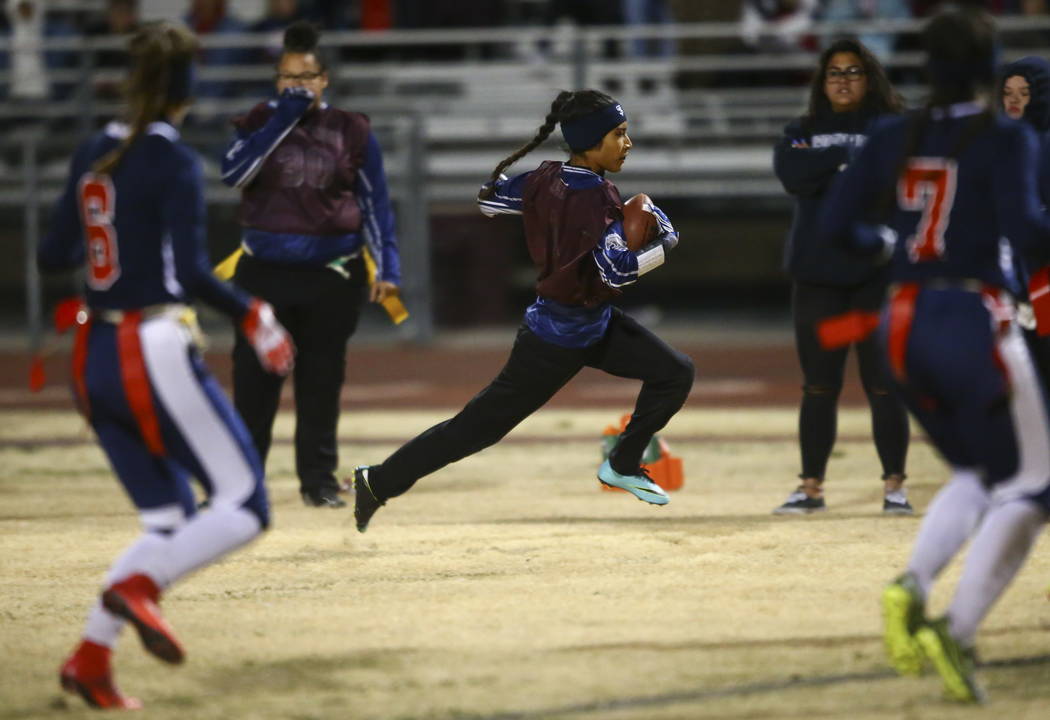 Wind gusts up to 20 mph in the valley on Thursday night turned Coronado junior quarterback Caitlin Shannon into a runner during the Class 4A state flag football championship game.
She dominated anyway.
Shannon ran for 123 yards and four touchdowns and passed for an additional score to lift the unbeaten Cougars to a 33-18 victory over Shadow Ridge — and their first state championship — at Cimmaron-Memorial High School.
Several Coronado players fought back tears of joy during a midfield celebration where an Nevada Interscholastic Activities Association official presented the championship trophy.
Coach Rusty Andersen joked that his team would break it amid the excitement.
They didn't.
"This is awesome," Andersen said after his team's 22nd victory. "The weather was unreal … I said 'No excuses tonight. We're getting it done. I don't want to hear how cold you are. I don't want to hear anything else. This is about business.' They brought it today."
And all season.
The Cougars (22-0), who lost to Cimarron-Memorial in the Class 4A state championship game a year ago, were adamant they'd return behind Shannon, an all-state pick and one of the best players in Las Vegas.
She responded by dissecting defenses for 4,010 yards and 73 touchdown passes as Coronado rolled through the regular season, the Sunrise Region and the Mustangs (17-6).
"We did it this time," Shannon said. "This season, we had it from the start. We were just thinking about this the whole time."
Shadow Ridge superstar senior running back Jordan Ford ran for a 60-yard touchdown on the first play of the game Thursdsay. But Shannon responded by leading a long methodical scoring drive.
Then she led another one. And another one.
"I was kind of shaky on my throws," she said. "I had to convince myself to do it sometimes. Running, I was more comfortable and I stuck with that. It was fun."
Ford ran for 220 yards and three scores to finish the season with 4,550 yards and 57 touchdowns — both state records. But the Mustangs couldn't catch Shannon and the Cougars.
"I told (Shannon) to embrace this moment and take this game over," Andersen said. "That's exactly what she did. It's awesome."
Contact reporter Sam Gordon at sgordon@reviewjournal.com. Follow @BySamGordon on Twitter.
Box score: