Class 3A: Team effort lifts Del Sol to first state title
February 25, 2019 - 9:23 pm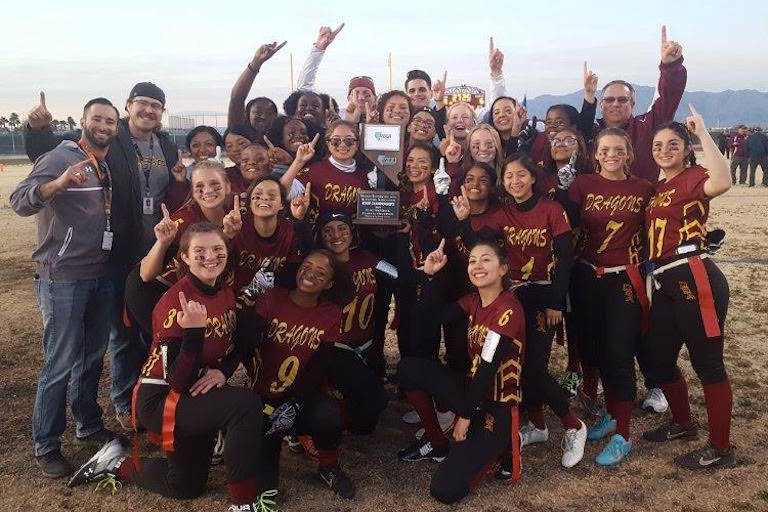 Del Sol coach Lucas Campbell knew it would take a strong performance from one girl to spark his Dragons against Virgin Valley in the Class 3A state flag football championship Monday at Cimarron-Memorial.
Ignited by senior quarterback Stephanie Tewart, he got a team effort.
Tewart tossed two touchdown passes to Janeth Varela to help the Dragons to a 19-6 win over the Bulldogs and the program's first state title.
Tewart completed 11 of 26 passes for 168 yards and ran for 76 yards on 13 carries.
"Steph has been playing great all year," Campbell said. "She's really a throwing quarterback, but she's become super savvy, can run the ball. Her play in 3A has been unmatched, and she's the best quarterback we've ever had. She's really maintained great composure back there and she has great chemistry with her receivers."
Valerie Perez ran for 76 yards on 13 carries and had two receptions for 84 yards to help bolster the offense.
Del Sol (20-4) also played well defensively, forcing the Bulldogs (20-4) to punt after three plays on eight of their 13 drives. The other five ended with a touchdown, three interceptions, and one that concluded the first half.
"At practice we always go hard because we say we practice like we play, and if we can't turn it on and turn it all the way up at practice, we're not gonna do it in the game," said Varela, who also had two interceptions.
Tewart's maturity showed on the game's opening drive, as she shrugged off an incomplete pass and hit Shelby Martin for a 25-yard strike on the game's second play. After Kassandra Medina-Bernal ran for 4 yards, Tewart finished the drive by connecting with Varela for a 15-yard touchdown to give Del Sol a 6-0 lead.
Mariah Barajas' 2-yard TD run extended the Dragons' lead late in the second quarter, but Virgin Valley answered on a broken play, when quarterback Ally Wright looked over the middle and found Macee Bundy for a 57-yard catch-and-run score to cut the lead to 12-6.
The Bulldogs stopped Del Sol on its next possession and looked to pull even, but Arnelle Jones intercepted Wright and gave the Dragons the ball back on Virgin Valley's 5-yard line with 40 seconds left in the half.
Tewart and Varela hooked up for their second touchdown of the game with eight seconds left in the half.
"We just have great team bonding in general," Tewart said. "We always hang out together, we have classes together, we just all hang out. We're just friends on and off the field. So, I'm able to trust my teammates and my center, knowing that I can get my blocks and have time to just do what I can do."
Box score: