Class 4A: Deborah Grant rushes Green Valley to championship
February 25, 2019 - 9:55 pm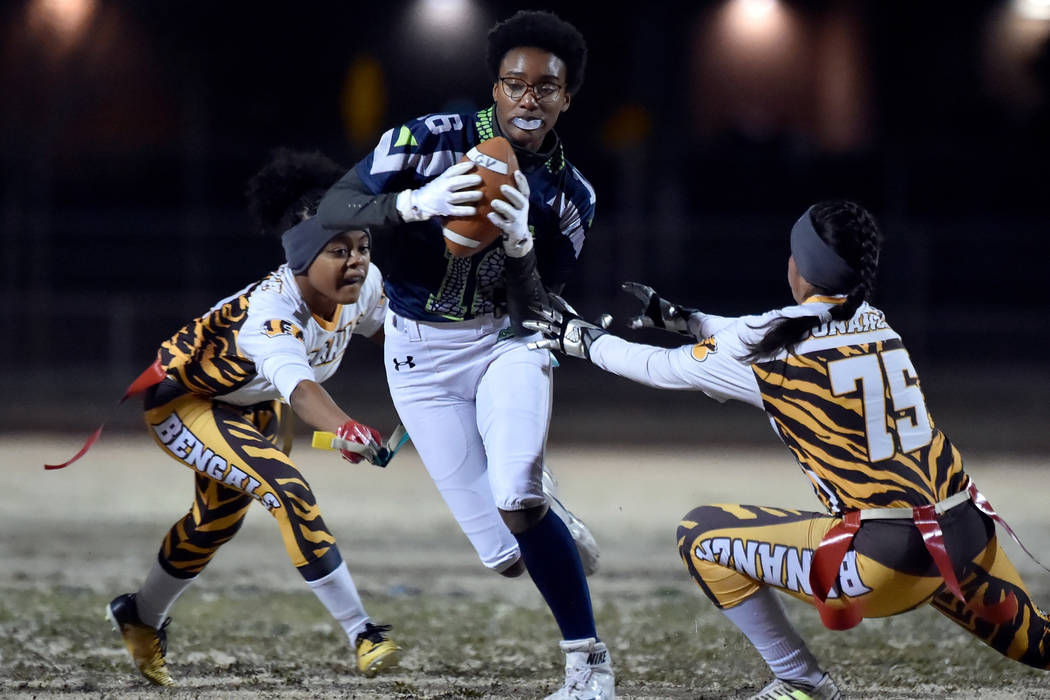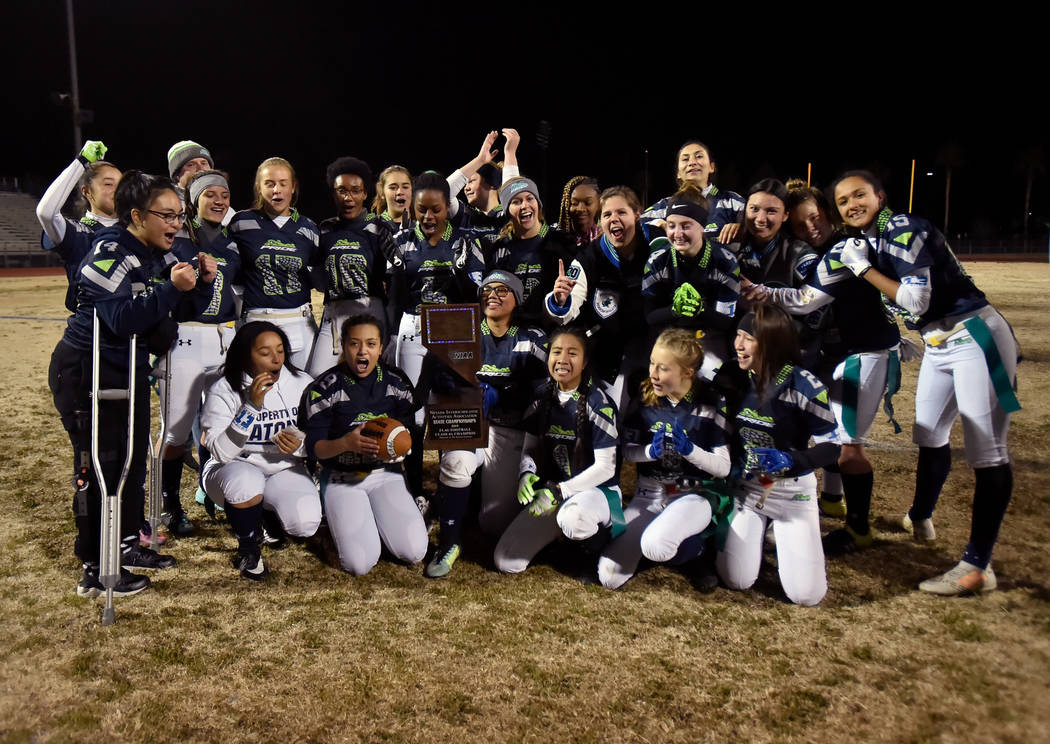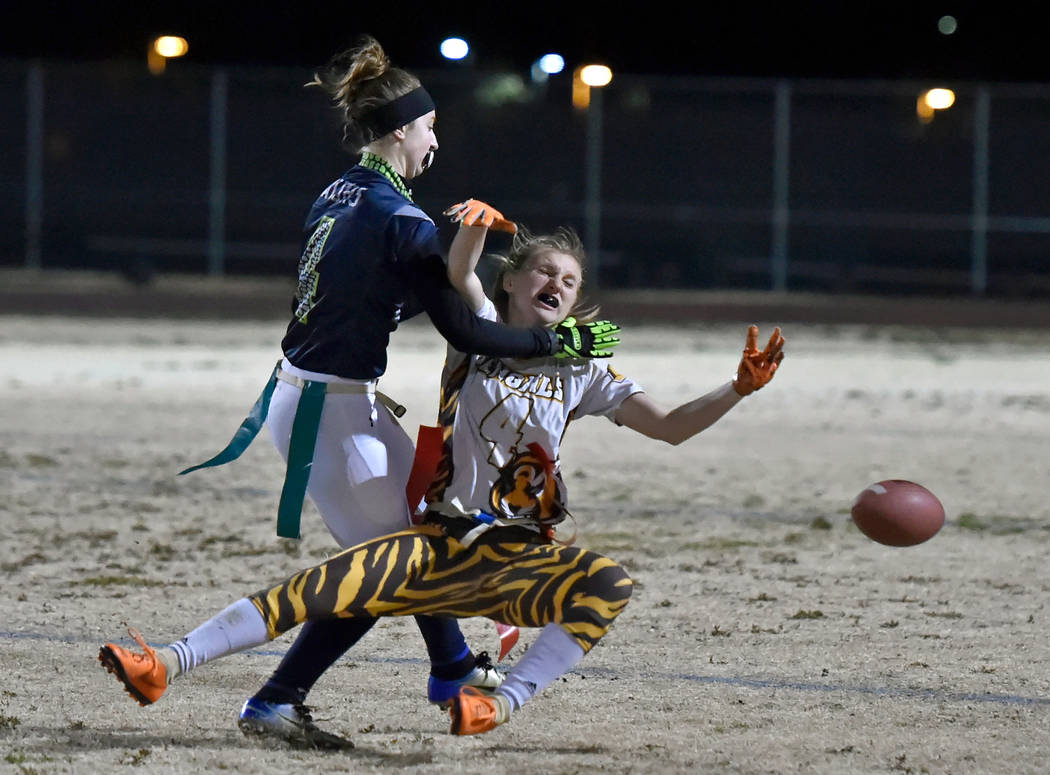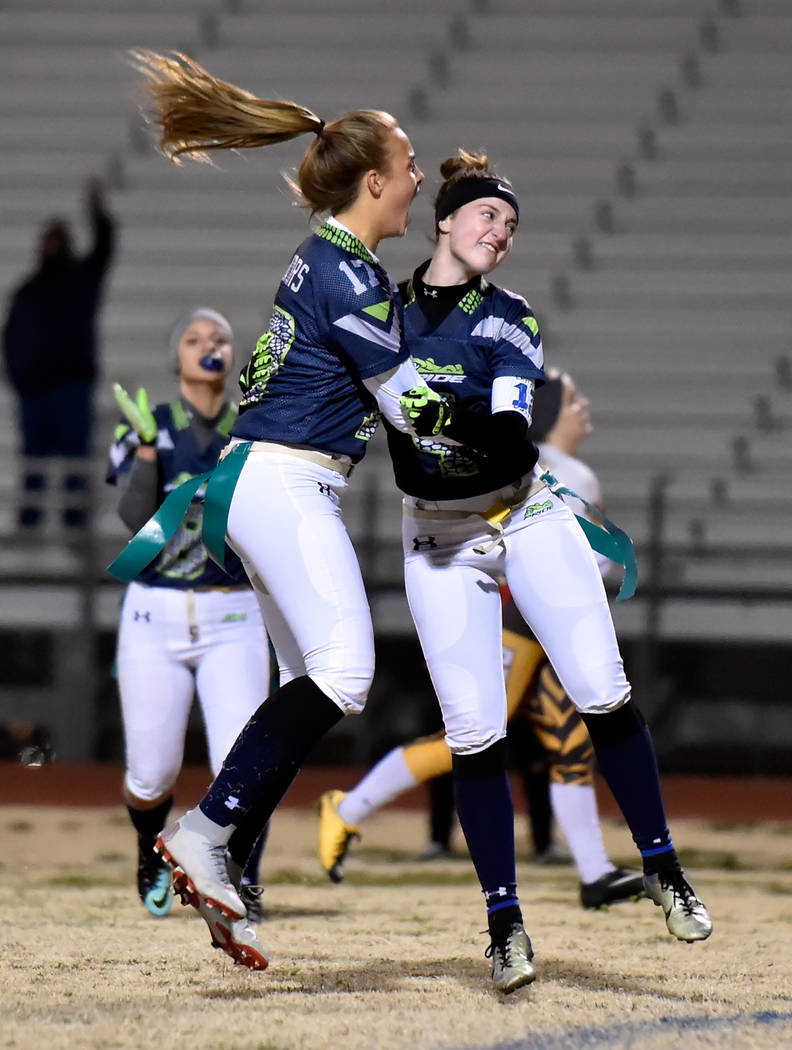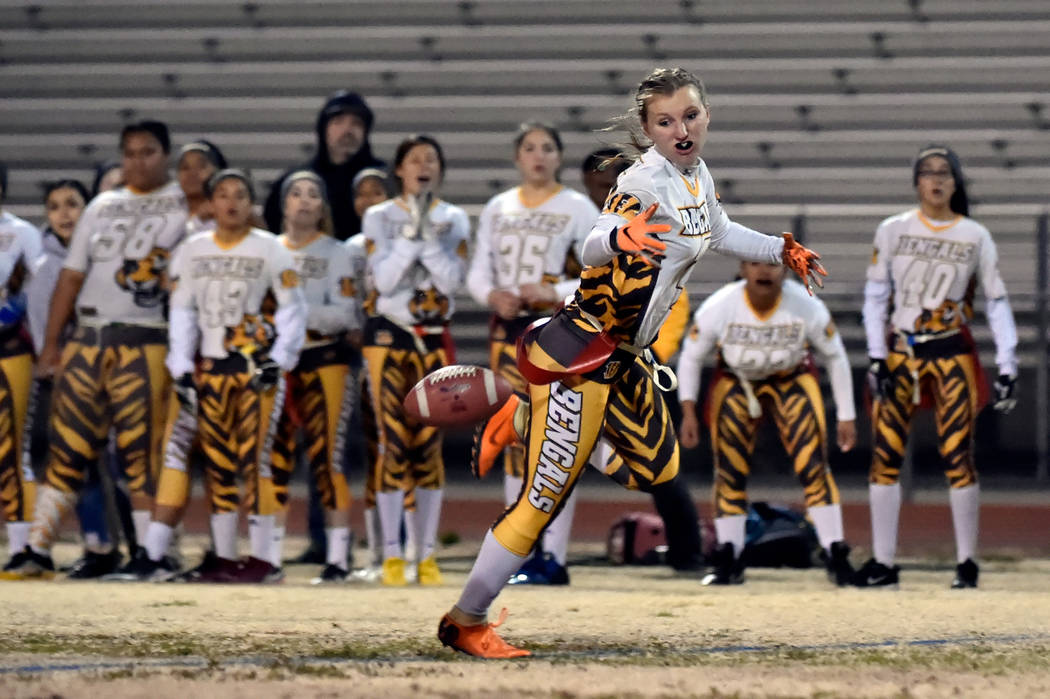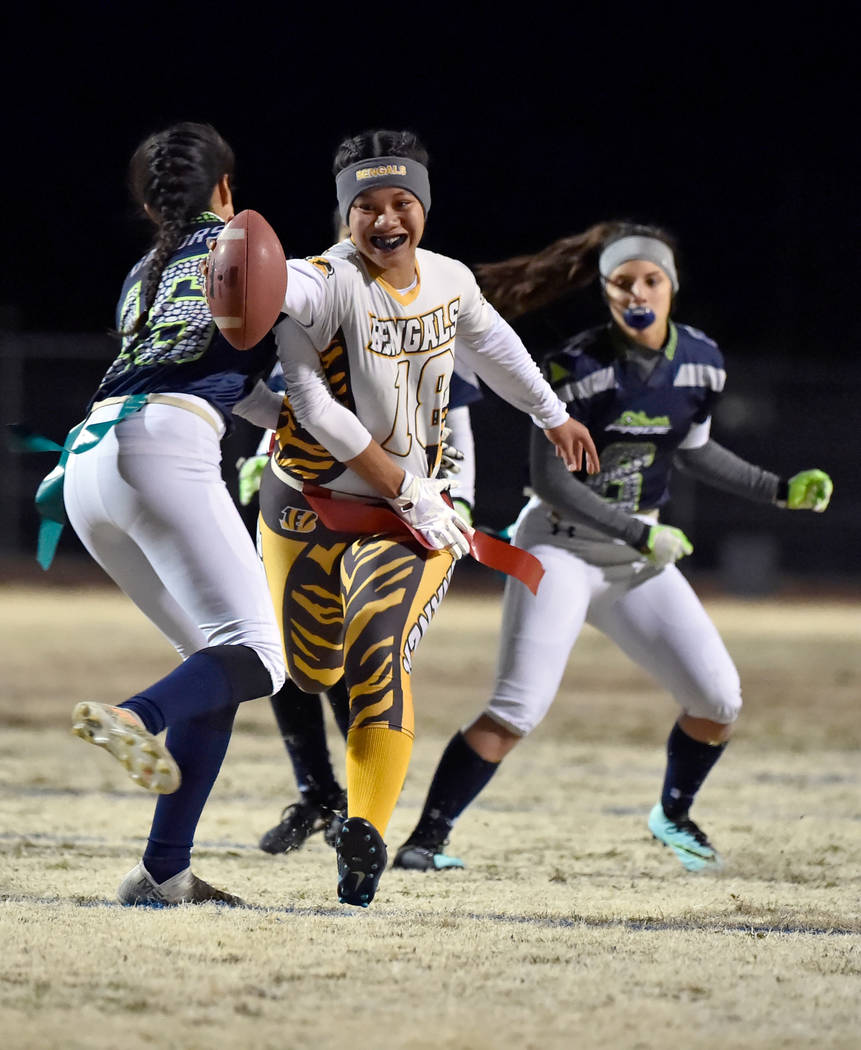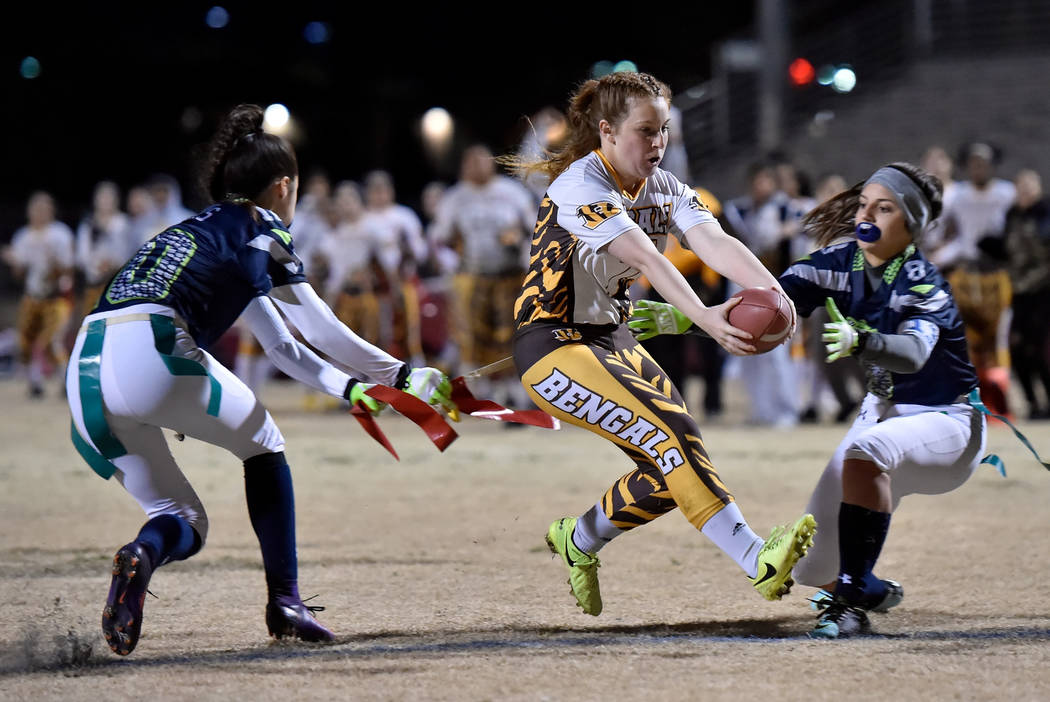 Deborah Grant put Green Valley's flag football team in position to win a Class 4A state title Monday.
Gators coach David Torrez's gutsy call, and Jennifer Haberstock's toss to Jazlyn Camacho gave the Gators the win.
After Grant ran 38 yards for a touchdown to bring the Gators to within a point in the final minute, Haberstock hit Camacho on a crossing route for the 2-point conversion as Green Valley rallied for a 14-13 win over Bonanza in the Class 4A state championship game at Cimarron-Memorial.
"We have a history of going for two," Torrez said. "To quote Herm Edwards, 'You play to win the game.' We might not get another chance to win it, so let's go try right now. And luckily coach (Kellen) Bush drew up a great play and isolated Jaz in the middle. Jen made a good throw and Jaz made a great catch."
The first 45 minutes of Monday's game belonged to Bonanza, but the final 15 minutes belonged to Grant.
Grant ran for 189 yards and two touchdowns on 18 carries, scoring on runs of 55 and 38 yards.
"This is awesome," Grant said. "I started when I was a sophomore and we didn't win, but I'm glad that we got to win the state championship for my senior year. A lot of good memories."
After struggling on offense for most of the game, the Gators (27-2) finally got on track with just more than 12 minutes remaining.
Grant lined up at quarterback on the left hash mark while the rest of the offense lined up on the right hash, along with most of Bonanza's defense. Grant took the shotgun snap, and then had two girls to beat as she streaked down the sideline on a 55-yard run that tied the game at 6-6.
"Deborah Grant is one of the fastest girls I've ever seen touch a football in this sport, and I've been doing it for seven years," Torrez said. "We figured that if we could do some sort of trick where we isolate her by herself and see the look we get. I like our chances of throwing her up against two girls in open space. It paid off tonight."
After struggling since their first possession, the Bengals (17-10) got a spark when Ashley Vasquez intercepted a pass to set the Bengals up with a first down at the Gators 25-yard line.
Four plays later, Bonanza's Charlene Beck scored on a 7-yard touchdown run, then quarterback Cindylou Rasiang ran in the 1-point conversion to give the Bengals a 13-6 lead with two minutes remaining.
Grant then ran for 60 yards on four carries in the final drive, capped off by a 38-yard touchdown run to cut the lead to 13-12.
"We take a lot of pride in our program," Torrez said. "We like to think we do things the right way. It definitely feels good to get that championship under our belt. It's a great feeling and everything I expected it to be."
Rasiang threw for 191 yards, and ran for 60 yards and a touchdown on 11 carries for Bonanza.
Box score: