Desert Oasis wins flag football title for fallen teammate
Updated February 20, 2023 - 7:30 pm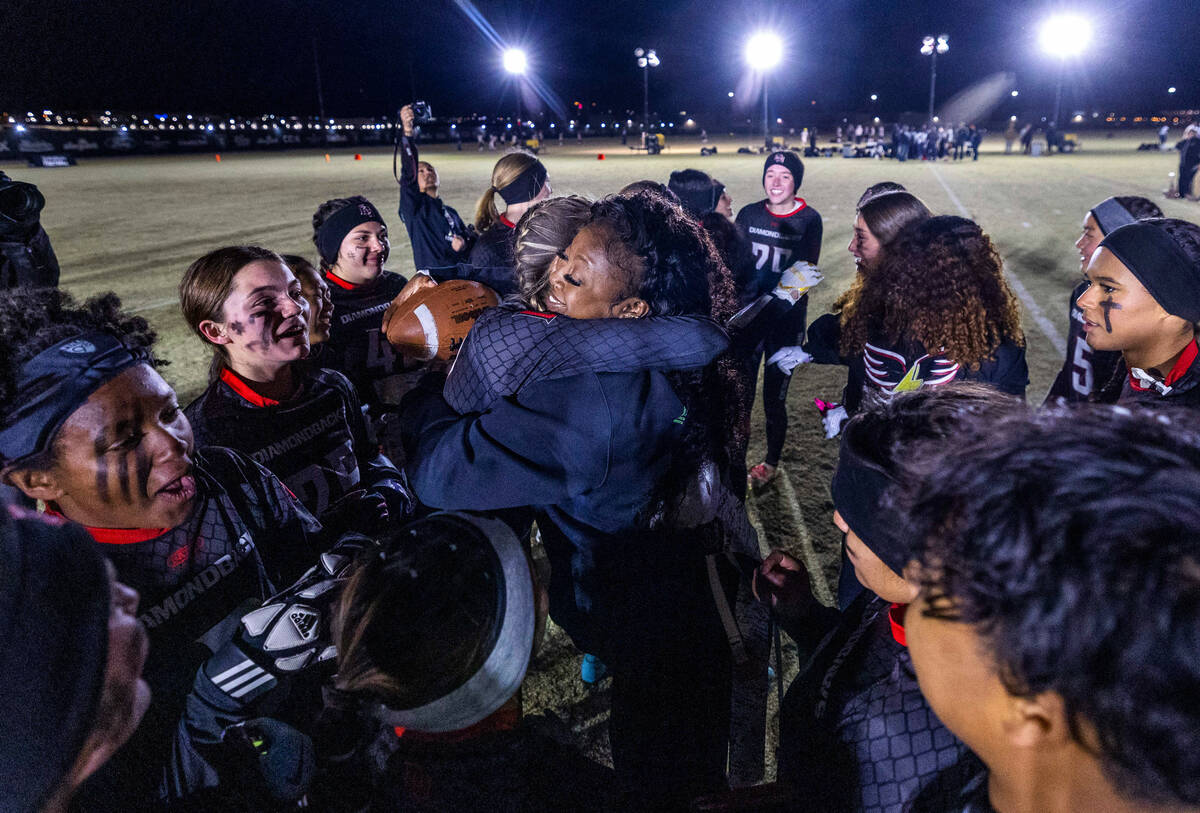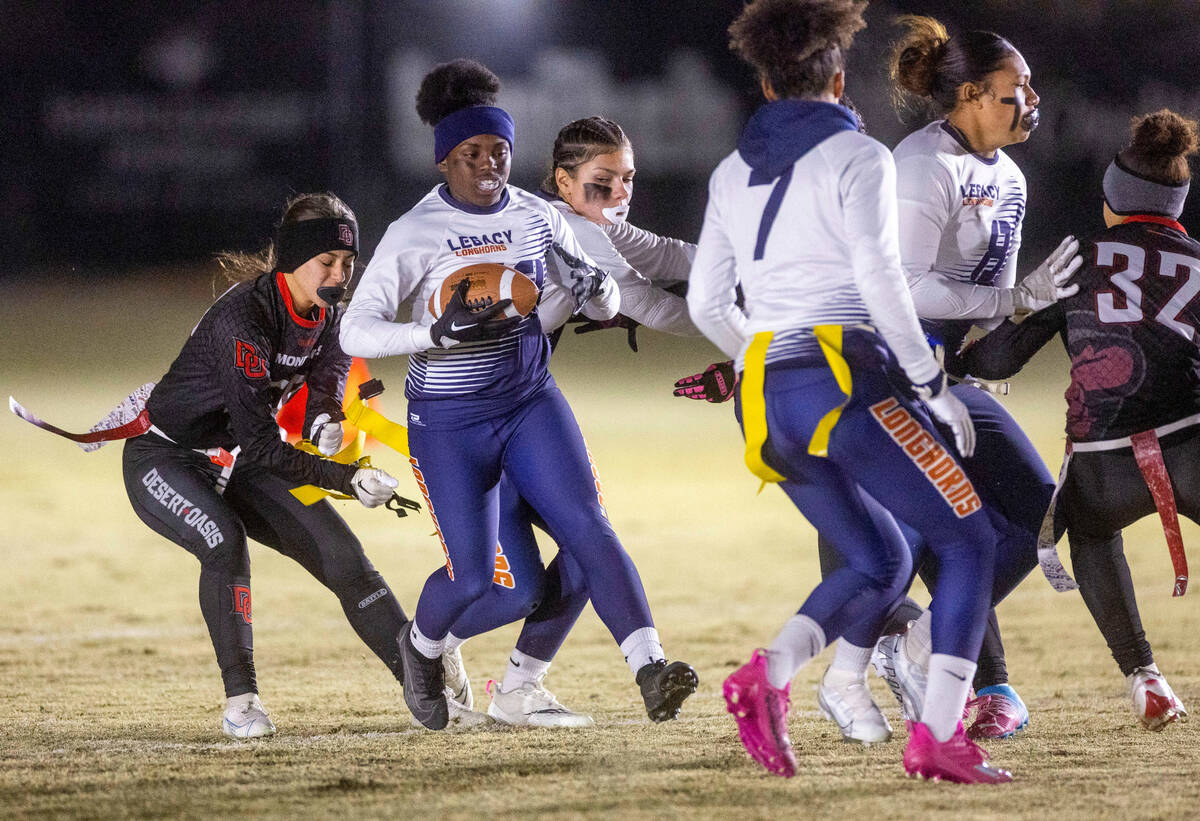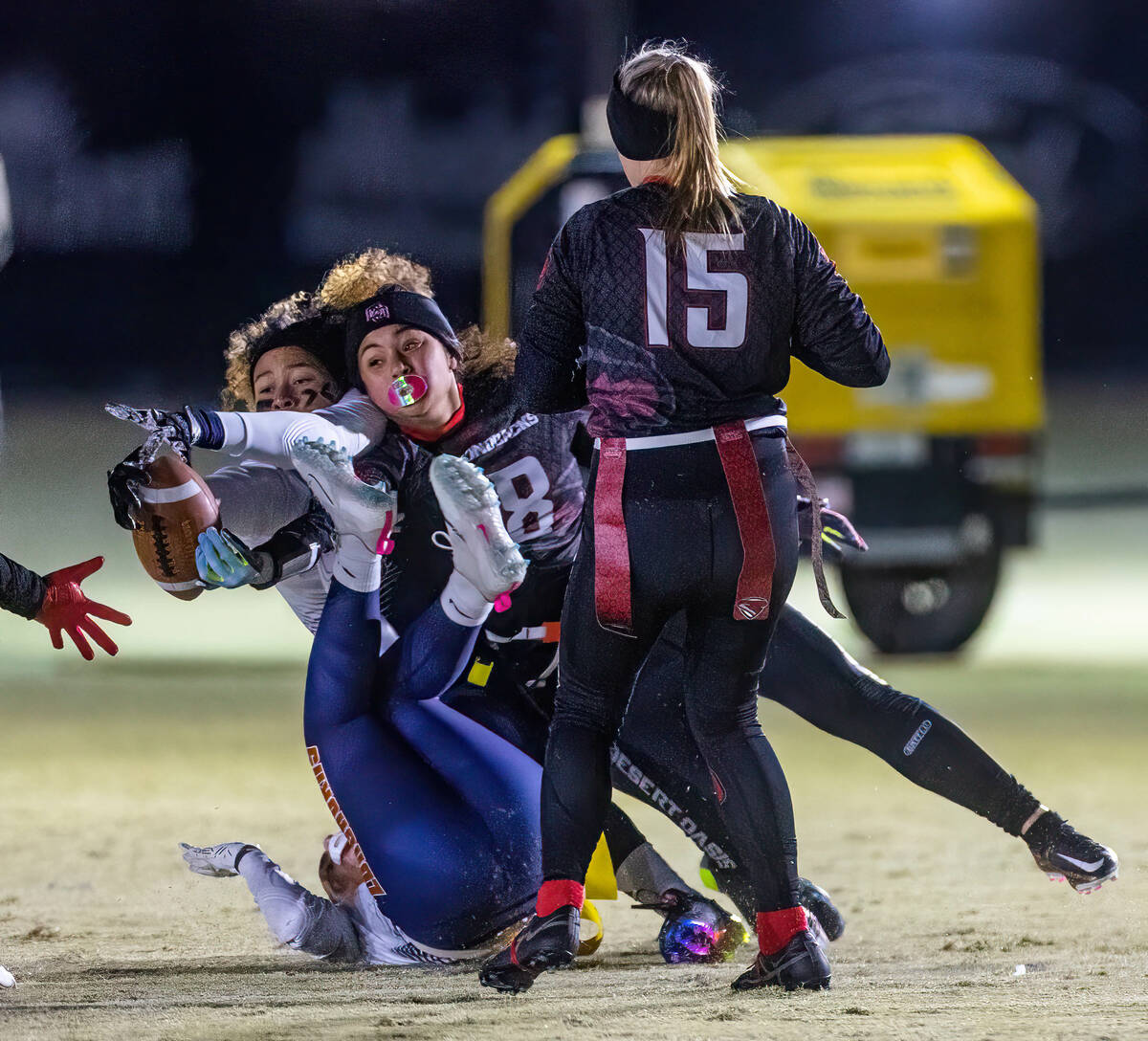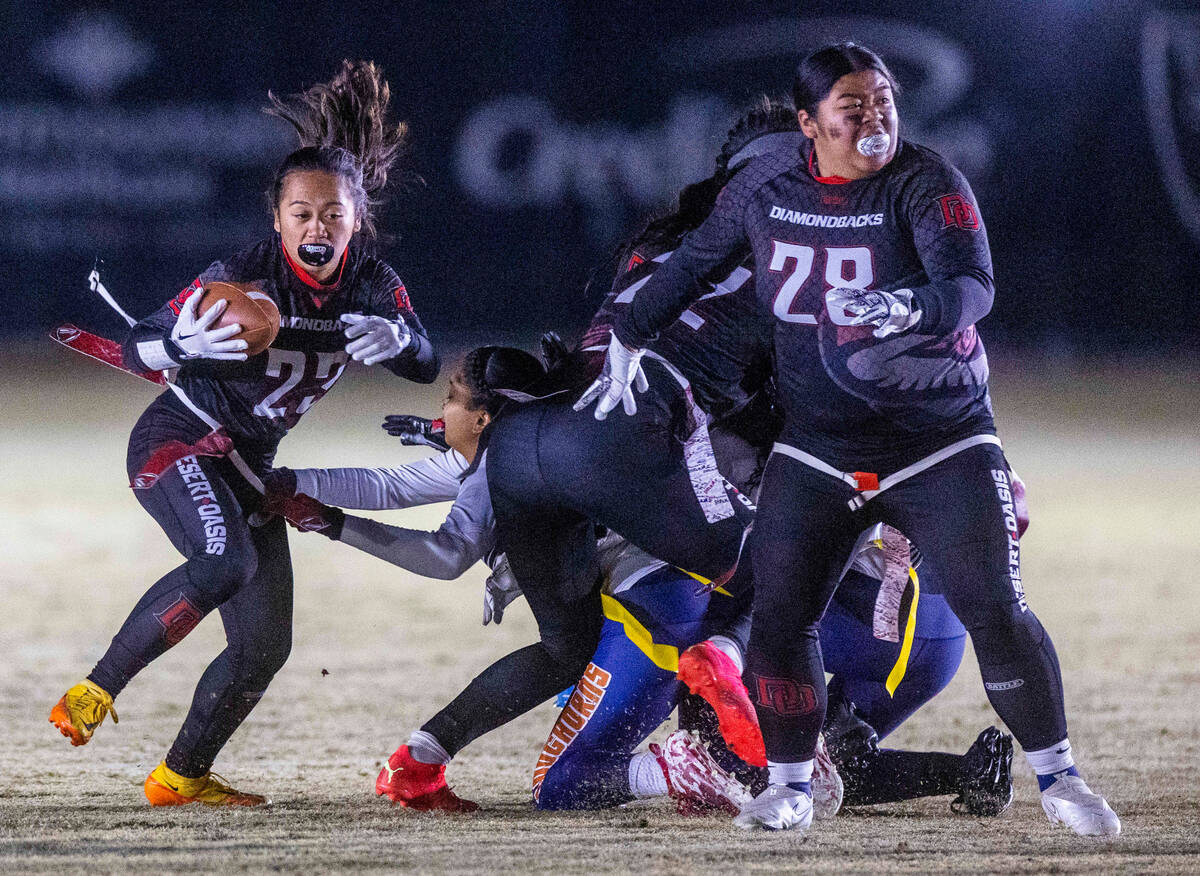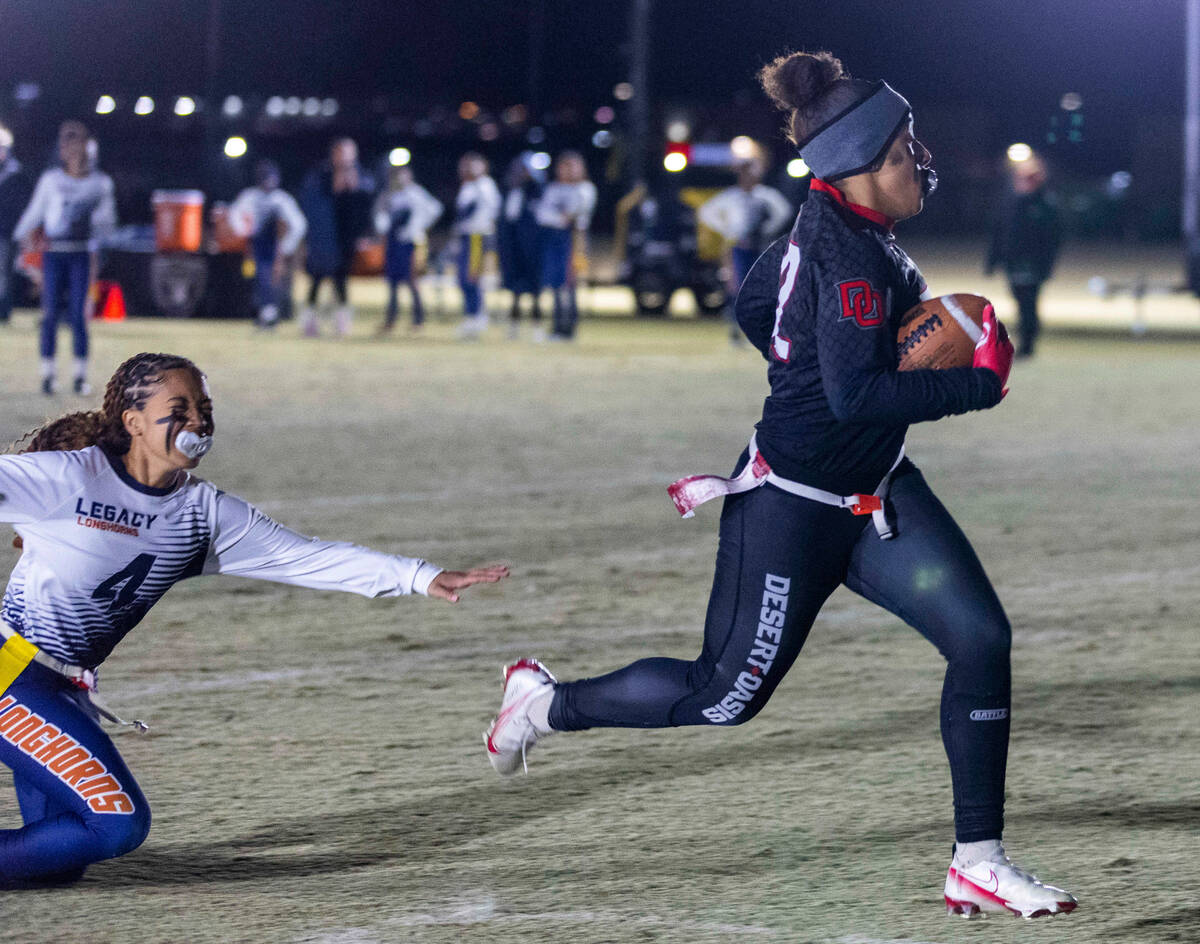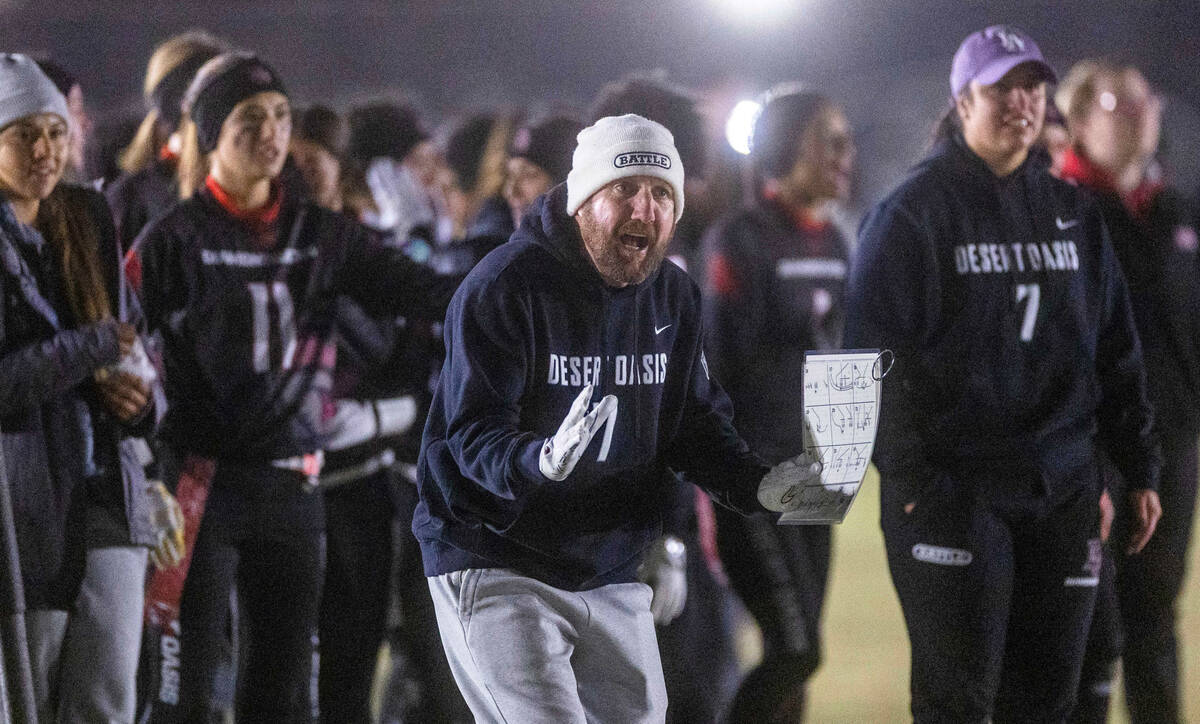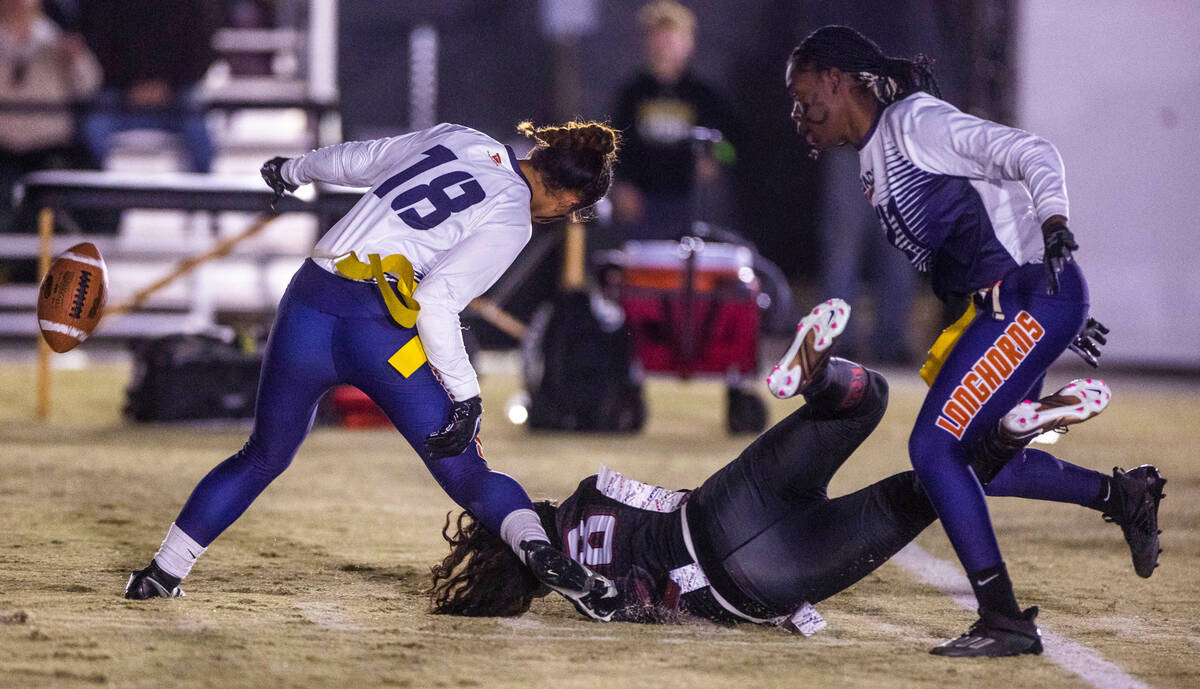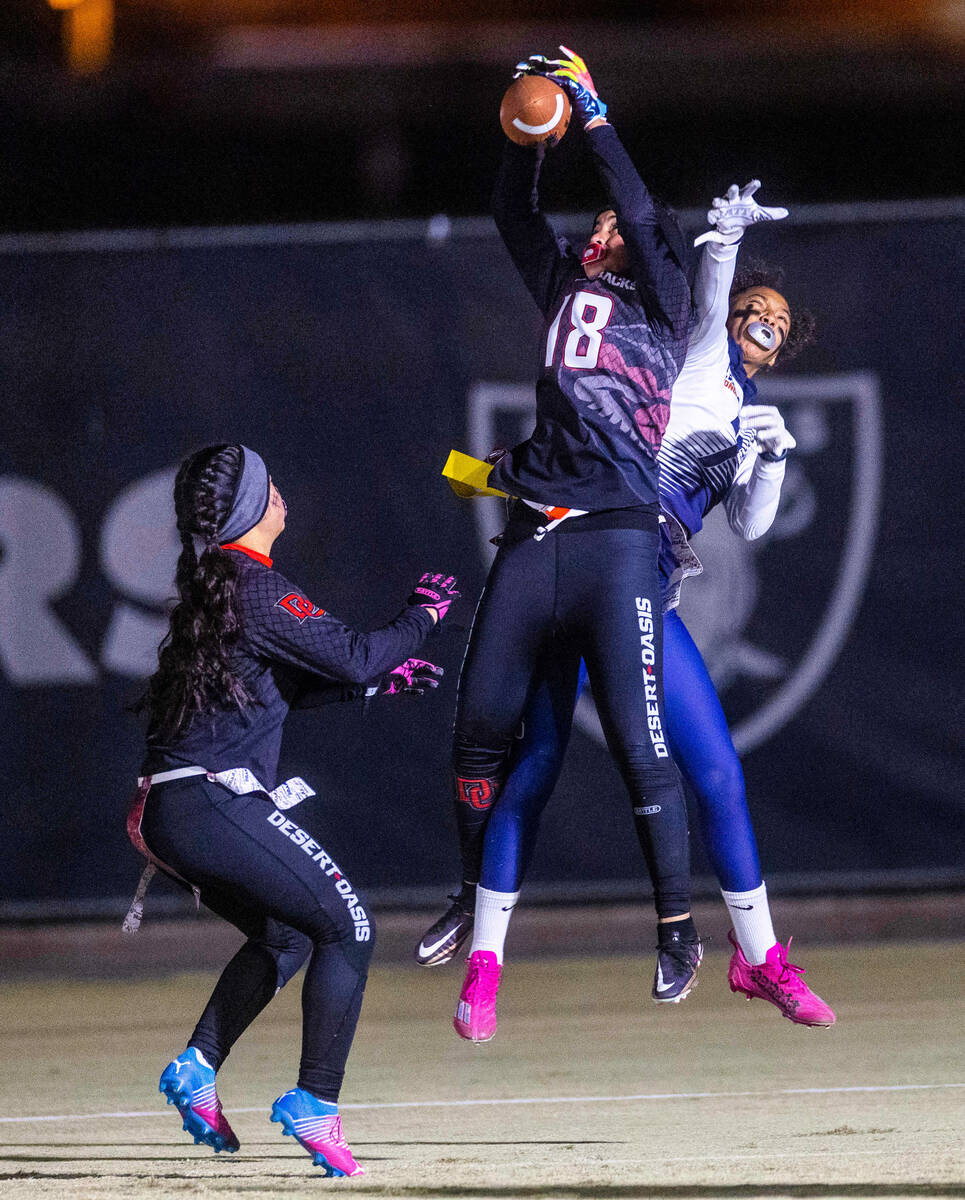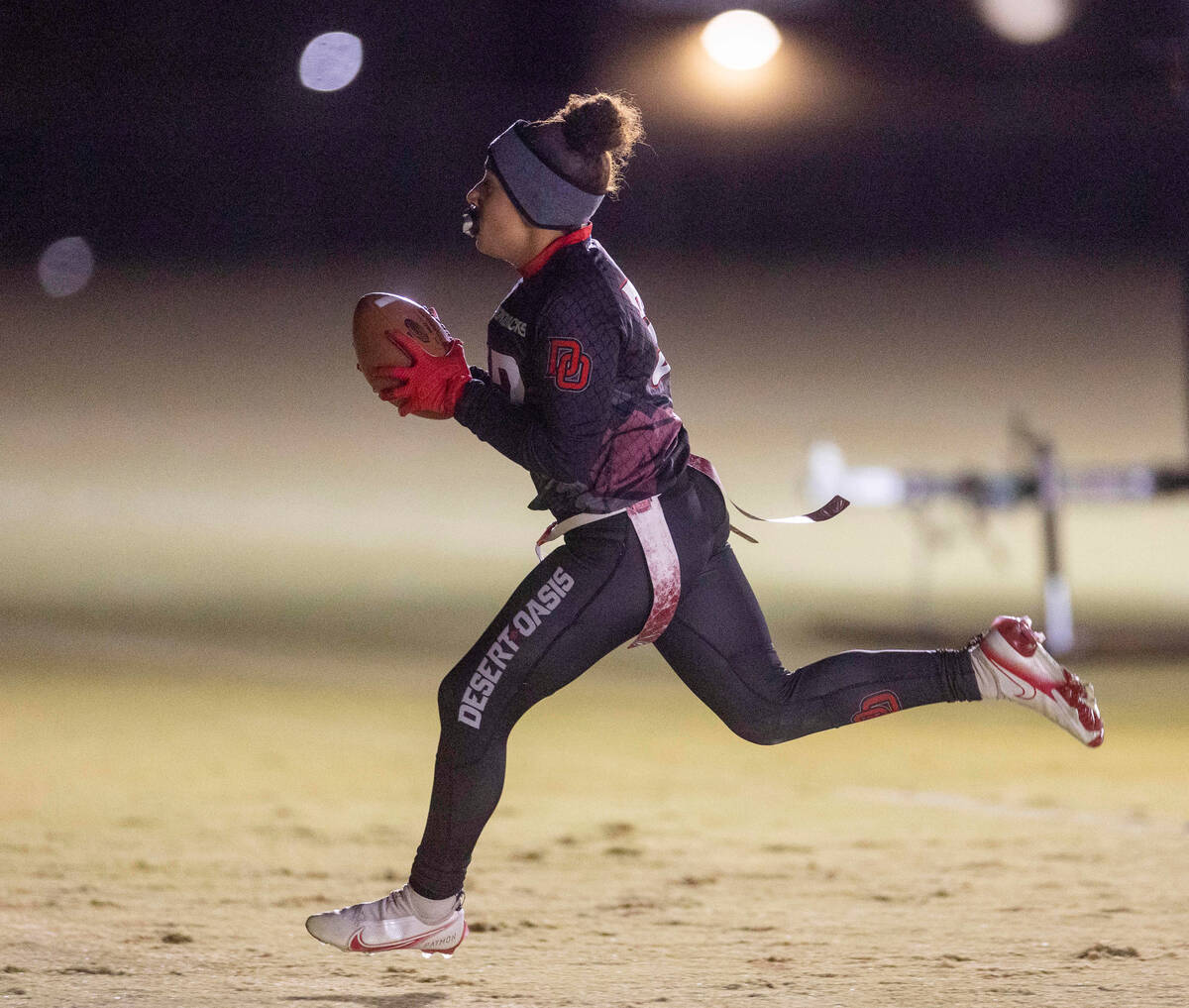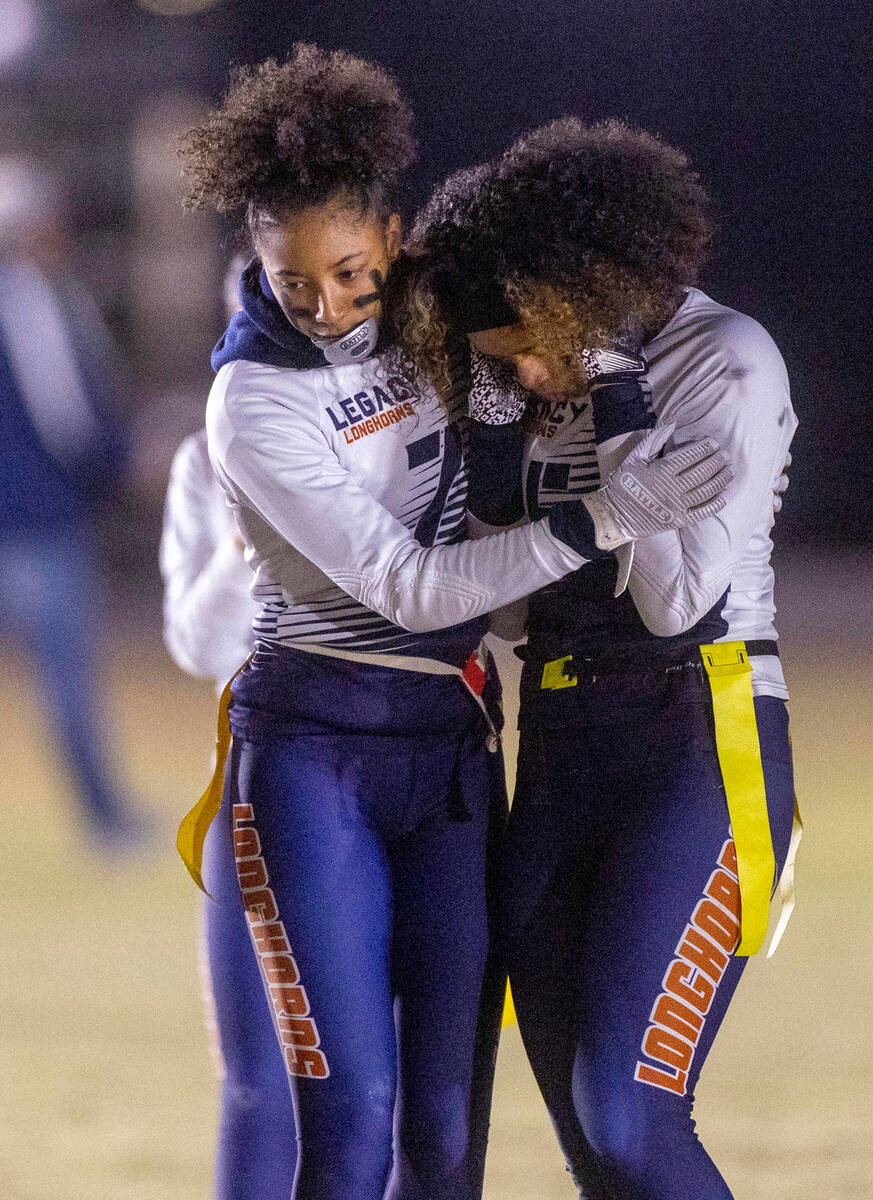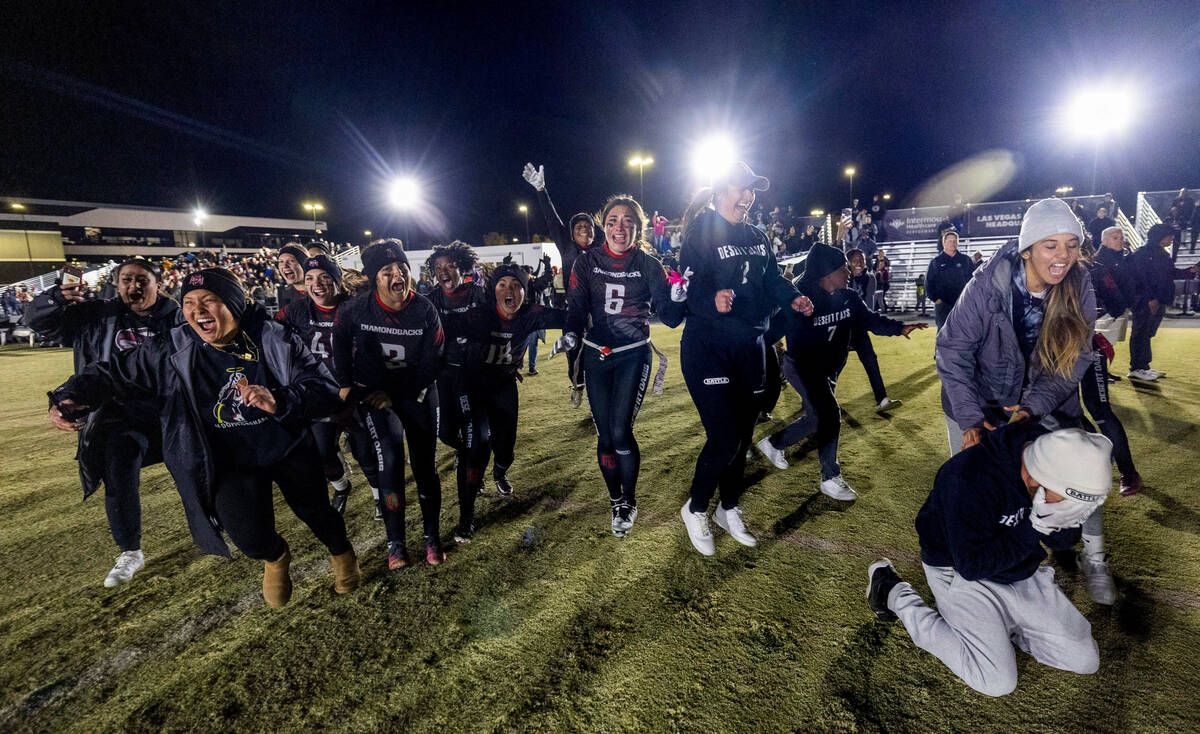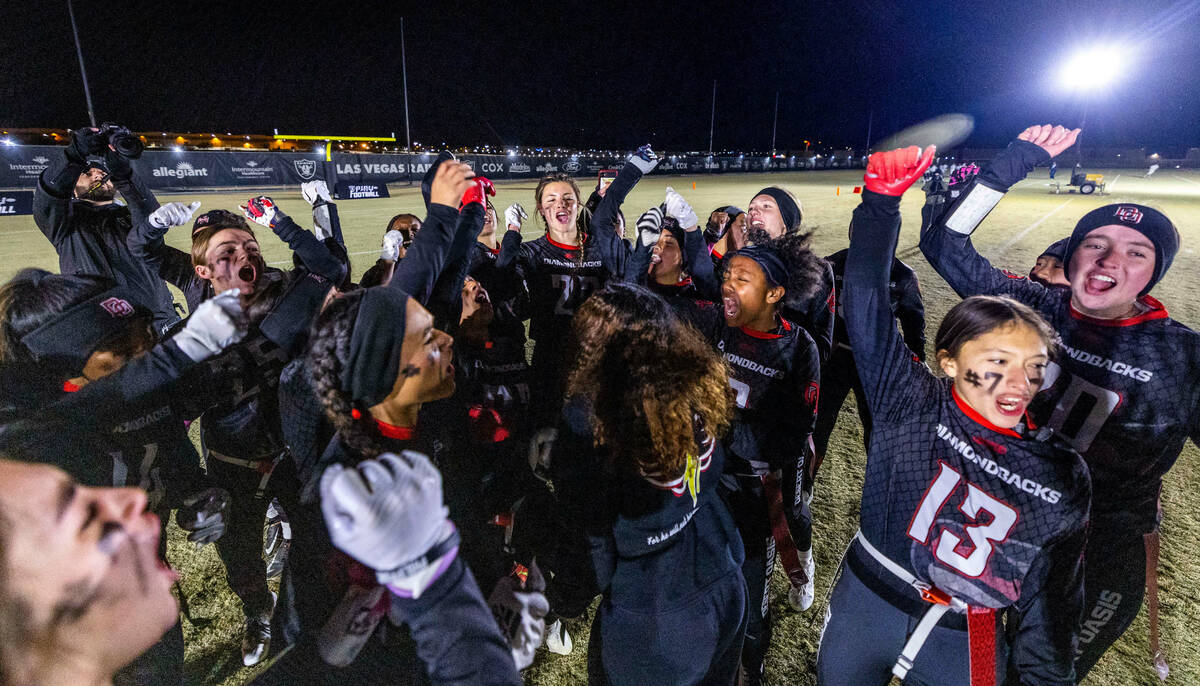 Every second felt like a minute for Desert Oasis coach Todd Thomson as the clock kept running during Friday night's Class 4A flag football state championship game.
When the clock finally hit zero, all the emotions from a challenging season hit him at once.
After losing teammate Ashari Hughes, who died after going into cardiac arrest during a game Jan. 5, Desert Oasis capped a dominant season by winning the 4A state championship 28-6 over Legacy at the Raiders' headquarters in Henderson.
Thomson became overwhelmed with emotion, falling to his knees, as his players exploded off the sideline to celebrate winning the title for their teammate. As the players hoisted the state championship trophy following a 23-2 season, they chanted Hughes' name.
"This season has been for her. For Ashari. For Ashari's family," said Thomson, who was wearing a hoodie with Hughes' name and No. 7 jersey on it.
"We went through it as coaches, as teammates, as sisters. But we have the luxury, through all of this, to be around each other and to have a distraction of football to kind of lean on each other."
Desert Oasis players wrote the number seven on their faces with eye black. Fans wore jerseys and sweaters with Hughes' name and number on it. Following the game, Thomson and the team presented Hughes' mother, Twayne, with the game ball.
"Ashari's mom has been out to our games and really supported the girls," Thomson said. "She really lifted them up when they needed it. To see it through for Ashari, I know it meant a lot to her mom."
After a scoreless first quarter, Desert Oasis settled down and found its groove. Freshman quarterback Akemi Higa connected with sophomore wide receiver Erica Moreno on a 48-yard pass to set up the Diamondbacks at the 1-yard line.
Higa tossed the game's first touchdown on a 1-yard pass to senior wide receiver Kate Perkes. She added another touchdown on a 50-yard pass to senior wide receiver Devon Patmon. Desert Oasis led 14-6 at halftime.
Higa connected with Patmon again, this time on a 31-yard touchdown pass in the third quarter to give the Diamondbacks a 21-6 lead. Higa added a 4-yard TD pass in the fourth quarter to freshman wide receiver Akiko Higa.
"Those girls, they put in a lot this season to get to where we are," Thomson said. "To see it through to the end, it was pretty amazing. … I couldn't be prouder of anything than I am of those kids."
Desert Oasis lost last year's 4A state title game 12-7 to Liberty. After all his team has been through this season, Thomson said finishing the job for the school's first flag football state title made it even sweeter.
"As a coach, you hang onto that type of stuff," Thomson said of the loss last year. "We have some of the girls back from last year that didn't win in the state championship game, so to see them finally push through, it meant a lot."
In the 5A title game, Shadow Ridge held off Bishop Gorman 25-12 to win its second straight title.
Entering the second half tied 6-6, the Mustangs struck twice early in the third quarter to pull ahead. With under two minutes left in the fourth quarter, junior Kyla Moore added a rushing touchdown and forced a turnover on the ensuing possession to secure the win.
In 3A, Virgin Valley began the tripleheader of state title games by defeating Moapa Valley 26-20 in overtime to claim its second straight title.
The Bulldogs overcame a 20-point fourth quarter deficit with three touchdowns to force overtime. After scoring on the first possession of overtime, Virgin Valley's stopped Moapa Valley on four straight plays to secure the win.
Contact Alex Wright at awright@reviewjournal.com. Follow @AlexWright1028 on Twitter.