Desert Region: Jaelyn Eisenhart rushes Coronado by Sierra Vista
February 15, 2019 - 9:46 pm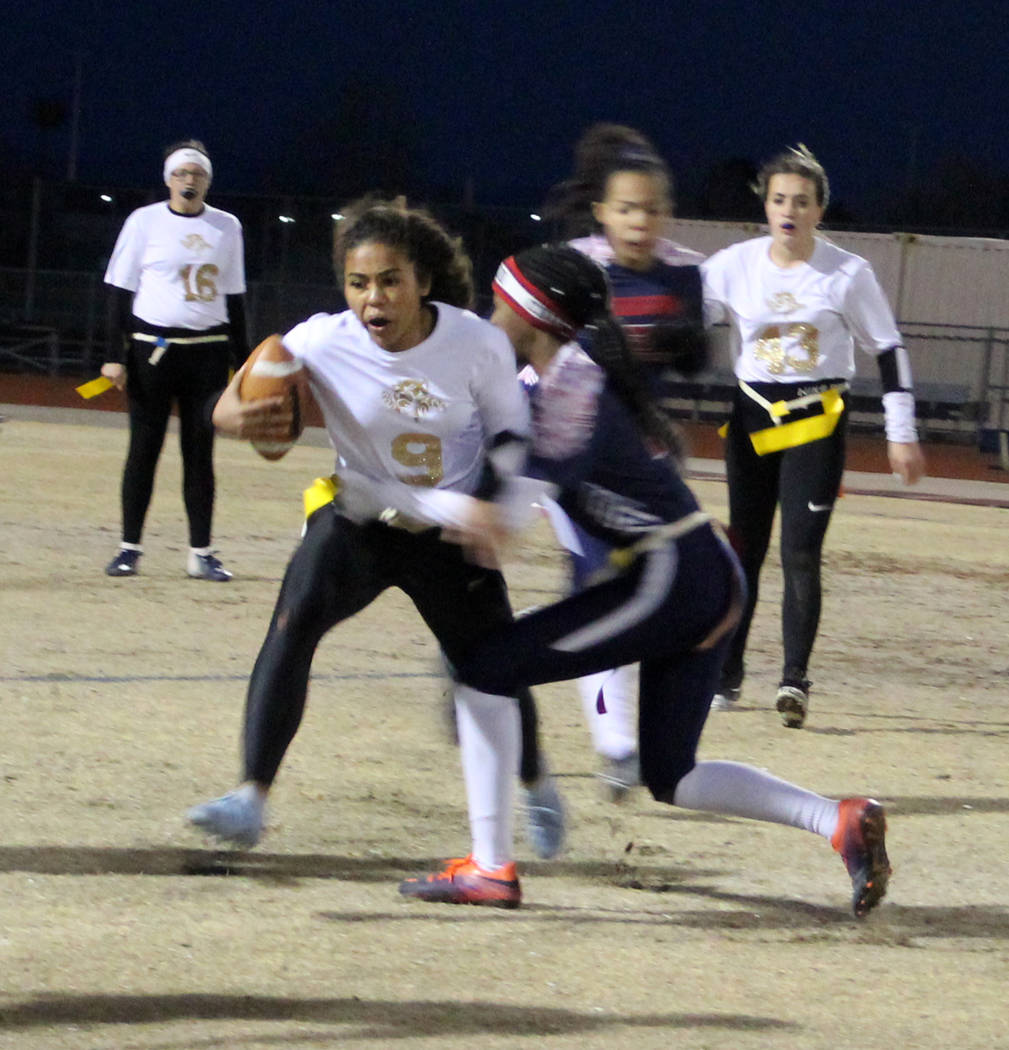 With a brisk wind howling across the field at Coronado, the host Cougars were having difficulty finding any rhythm with their offense in their Desert Region semifinal playoff game against Sierra Vista Friday.
So, Coronado went to plan B: Handing the ball off to Jaelyn Eisenhart.
Eisenhart responded by rushing for 135 yards and two touchdowns, and she carried the Cougars to a 20-0 victory over the Mountain Lions.
Defending state champion Coronado (16-4) plays Green Valley (25-2) in the Desert Region championship at 4 p.m. on Tuesday at Green Valley.
Against Sierra Vista, Cougars head coach Rusty Andersen said he was looking for a spark on offense after the sloppy start by his team.
"Our plan going in got scrapped pretty early. It was tough throwing conditions," said Andersen. "And not exactly a lot of great execution out there. But the weather had something to do with that. But we have a bunch of tough kids. They just kept grinding."
Clinging to a 7-0 lead with 2:00 left in the third quarter, Coronado faced a fourth-and-3 near midfield. Eisenhart took the handoff, ran left and bolted up the sideline 43 yards for a touchdown.
"Our blockers held strong and forced them one way, and I just ran to daylight where I could find space," said Eisenhart. "I saw an opening and I just kind of shot my shot and ran for it."
Andersen said Eisenhart, who has signed to play soccer at Southern California, was key to the victory.
"She definitely gave us a spark out there in the second half, "Andersen said. "She has a lot of talent but she is still learning to play football. It's fun to see her move around out there.
"And on the last score that put it away, I don't know if we blocked anyone on that play. That was 100 percent Jaelyn."
That play, Eisenhart's 20-yard TD run with just less than four minutes to play, was the game clincher.
"We didn't execute as well as we wanted to in the beginning," Eisenhart said. "Then toward the end, we got more momentum and pushed through to get the win."
Coronado was helped by a huge momentum swing on its first drive, as Sierra Vista had an interception return for a touchdown called back by penalty. The Cougars responded by marching down the field and scoring on a 1-yard run by Meg Tysee to take a 7-0 lead.
Mariyan Muhammad had 16 rushes for 66 yards to lead Sierra Vista (13-6). But the Cougar defense managed to keep Sierra Vista contained, limiting the Mountain Lions to 107 yards of offense to get their second consecutive shutout.
"Our defense doesn't get a whole lot of recognition, but they have been lights out," Andersen. "Last week we gave up under 50 yards. They have just carried us all season. That's a great group."
Green Valley 26, Basic 0 — At Green Valley, Jennifer Haberstock completed 12 of 21 passes for 122 yards and two touchdowns as the Gators shut out the Wolves.
Sidney Rood completed 3 of 5 passes for 48 yards and one touchdown pass for Green Valley. Jazlyn Camacho, Justina Coronado, and Kayla Ransom each had one touchdown reception.
Deborah Grant ran for 93 rushing yards and a touchdown for Green Valley.
Basic finished 4-16.