DIVISION I FLAG FOOTBALL: Wyrick, Bulldogs claim crown
February 24, 2016 - 12:09 am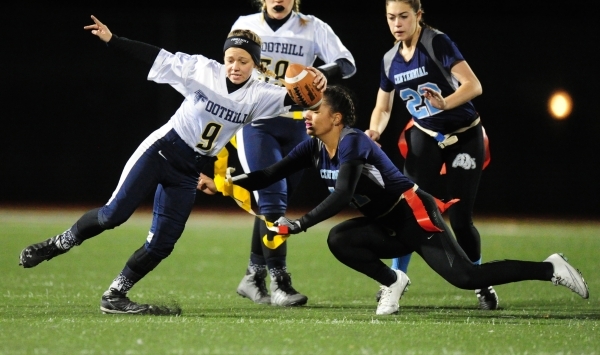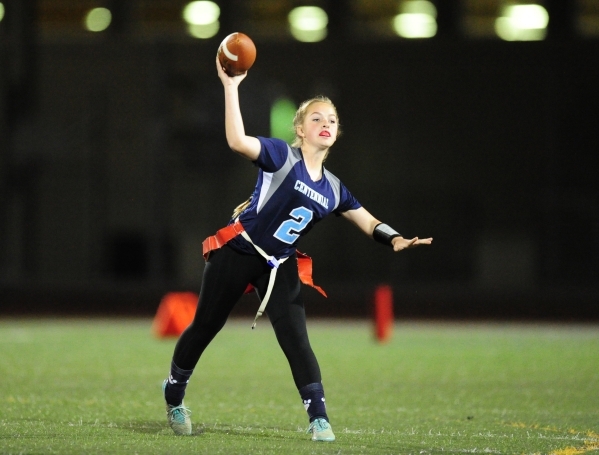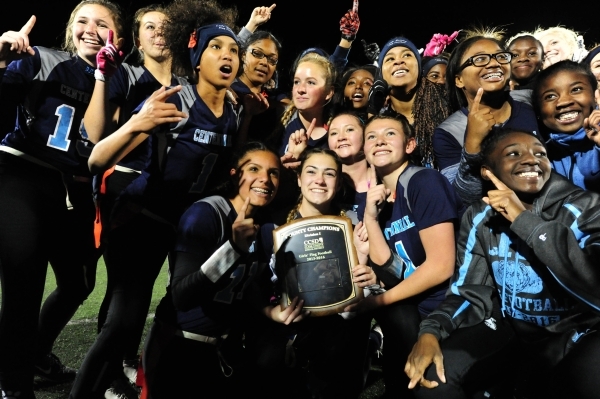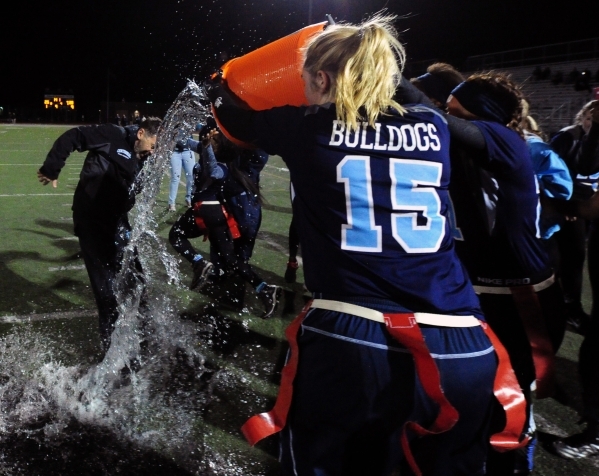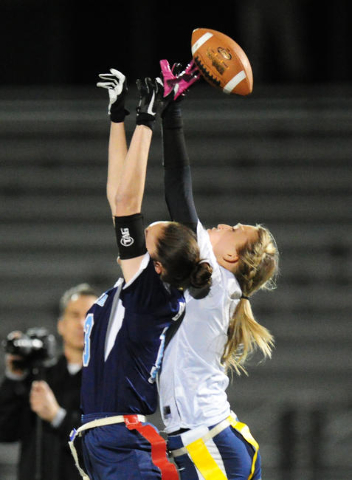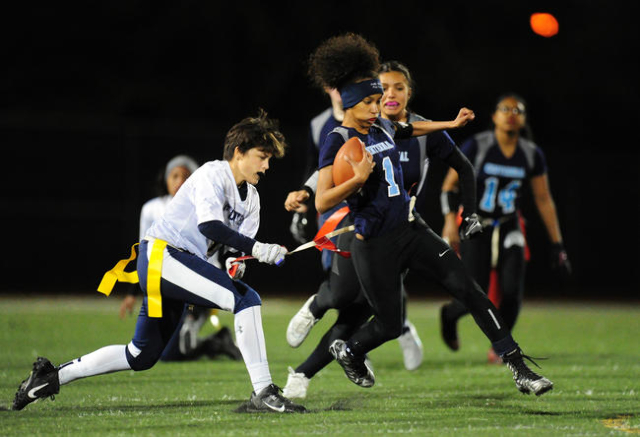 After its one-point loss to Boulder City in the Clark County School District final last year, Centennial's flag football team designed a shirt heading into this season with the slogan "Camp II Finish."
The "II" would be a reminder of how close the Bulldogs came to winning it all.
"I thought it was a great move," Centennial coach John P. Roberts said. "It just kept them motivated all season. We let them know that we weren't the same team as last year, but we still had the talent to (win it). We kind of mentally blew it last year in the finals, but we kept our heads together this time."
The Bulldogs left little room for doubt Tuesday, storming to a 25-7 lead before holding on for a 25-20 win over Foothill in the Division I CCSD final at Rancho High.
"Even coming into the game, I don't think I ever had a doubt," junior Aliyah Wyrick said. "I was always very confident. I came in here knowing we were going to win. We were not going to make it this far and lose. I knew we wanted it more."
Wyrick finished with 21 carries for 103 yards and three touchdowns — scoring on runs of 5, 2 and 7 yards — to lead the Bulldogs (23-3).
"She really stepped up late in the season," Roberts said. "She's definitely one of the top three players (in Southern Nevada). She's been playing the sport for a while, and she's just an athlete. …
"All of these girls have worked hard. I've got a few of them who have been with me all four years. It's great to finally see them win it. We've lost to the (eventual) state champion all three years before this. It's great to get it finished. Finally."
Wyrick scored on a 7-yard TD run to give Centennial a 25-7 lead with 15:20 left in the second half, and the Bulldogs then sat comfortably on their lead, regularly taking 20 seconds per play.
"We just grinded it out," Roberts said. "Slow down the game, ball control."
Foothill quarterback Jadyn McArthur, who completed 19 of 28 passes for 187 yards, threw two touchdown passes to Emily Russell on two of the team's next three possessions, but the Falcons didn't have enough time to mount a comeback.
Foothill pulled within 25-14 with 9:52 left on a 2-yard TD pass to Russell and stopped the Bulldogs on the ensuing possession. But Kayla Kipp-Nobles intercepted McArthur on the Falcons' next possession with 4:45 left, essentially ending the game.
"I saw (the wide receiver) tip it up, and I just went for it," said Kipp-Nobles, who also had six tackles and a sack. "I tried to capitalize on the mistake. I'm so proud of myself and our team because of everything we've been through. … I'm the happiest girl in the world."
Russell, who had six catches for 58 yards, also caught a 9-yard TD pass with 14.1 seconds left for Foothill.
Centennial quarterback Halli Erickson was 10-for-10 for 153 yards and a TD, and Bridgette Beckett caught three passes for 58 yards and a score for the Bulldogs, who led 13-6 at halftime.
Sydney Babakitis added five catches for 73 yards for Foothill (24-2).
Contact reporter Ashton Ferguson at aferguson@reviewjournal.com or 702-383-0430. Follow him on Twitter: @af_ferguson
Box score: