FLAG FOOTBALL: Centennial holds off Shadow Ridge
February 7, 2017 - 10:18 pm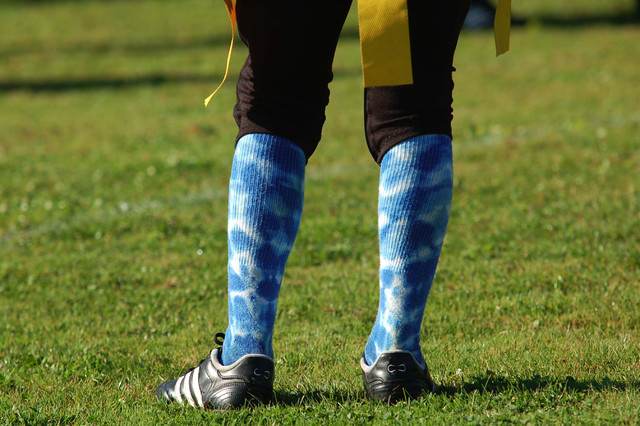 Halli Erickson threw for 141 yards and two touchdowns on Tuesday, and Centennial's flag football team grabbed a 13-0 halftime lead before holding off host Shadow Ridge, 25-22.
The Mustangs scored and converted a two-point conversion late in the second half to pull within 25-22, but Centennial ran out the clock to earn the win.
LeNae Thomas had 15 carries for 126 yards and a TD, and Talaya Logan had five carries for 48 yards and a score for the Bulldogs, who got TD receptions from Denae Benites and Chantay Dixon.
Jordan Ford led Shadow Ridge with 20 carries for 164 yards and two TDs, and teammate Samantha Milanovich had four carries for 36 yards and a score.
Cimarron-Memorial 39, Palo Verde 20 — At Cimarron, Tiarra Del Rosario threw for 261 yards and five touchdowns, and the Spartans topped the Panthers.
Del Rosario finished 17-for-22 passing and added 73 yards rushing on 12 carries.
Cimarron's Haylei Hughes had six catches for 173 yards and three touchdowns, and teammate Alyssa Karpinski finished with eight receptions for 76 yards and two scores for Cimarron. Catherine Jovan also ran for a score for Cimarron.
Elizabeth Asoau had 10 tackles and a sack to lead the Spartans' defense.
Coronado 33, Foothill 7 — At Coronado, Caitlin Shannon completed 9 of 18 passes for 145 yards and three touchdowns, and the Cougars scored 33 unanswered points to defeat the Falcons.
Shannon also had 10 carries for 136 yards and a score for Coronado, which shut out Foothill in the second half.
Jensen Boman had three catches for 93 yards and a TD, and Amanda Burt had 12 carries for 50 yards and a TD for the Cougars. Shawna Slater and Drew Stewart also had TD receptions for Coronado.
Giovanan Coelho led the defense with three tackles, a sack and two interceptions.
Foothill's Madisyn McArthur had a 5-yard TD run in the first half.
Green Valley 30, Basic 12 — At Basic, Bella Cipili completed 15 of 21 passes for 165 yards and four touchdowns to power the Gators past the Wolves.
Brooke Hijar had three catches for 65 yards and a score for Green Valley, which got a TD catch apiece from Alyson Thorne, Christina Mayberry and Hennessy Elkins. Mayberry also supplied 12 tackles to lead the defense for the Gators, who got an interception from Tiara Jimmison.
Basic's Marissa Owens tossed a five-yard TD pass to Gabrielle Collins, and also contributed a 3-yard TD rush for the Wolves.
Cheyenne 40, Desert Pines 24 — At Cheyenne, E'leseana Patterson completed 7 of 13 passes for 118 yards and a touchdown and ran for 138 yards and three scores to power the Desert Shields past the Jaguars.
Angela Hammond had eight carries for 144 yards and a TD, and Andrea Hammond had three catches for 43 yards and a TD for Cheyenne, which led 20-18 at halftime.
E'moni Albert led the defense with eight tackles.
Western 20, Sunrise Mountain 12 — At Western, Fabray Elam had 24 carries for 225 yards and three touchdowns to lead the Warriors past the Miners.
Western shut out Sunrise Mountain in the first half and recorded three interceptions.
Liberty 21, Silverado 20 — At Silverado, the Patriots stopped an extra-point attempt in the final minute to hold off the Skyhawks.
Arbor View 13, Legacy 0 — At Legacy, Jalyn Joule threw for 118 yards, but the Longhorns fell to the Aggies.
Box scores:
Centennial 25, Shadow Ridge 22
Cimarron-Memorial 39, Palo Verde 20
Western 20, Sunrise Mountain 12