FLAG FOOTBALL: Coronado rolls into Sunrise semifinals with victory over Rancho
February 14, 2017 - 10:36 pm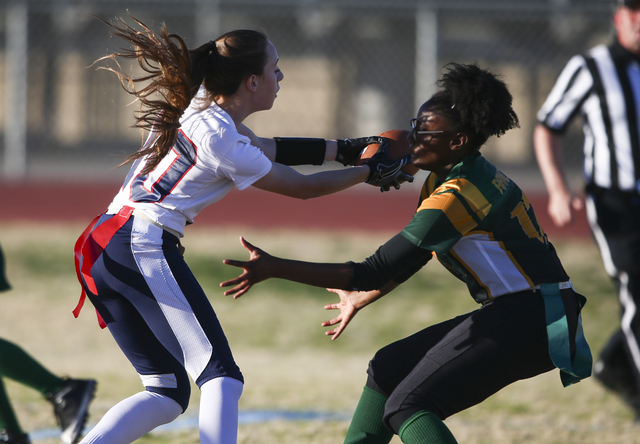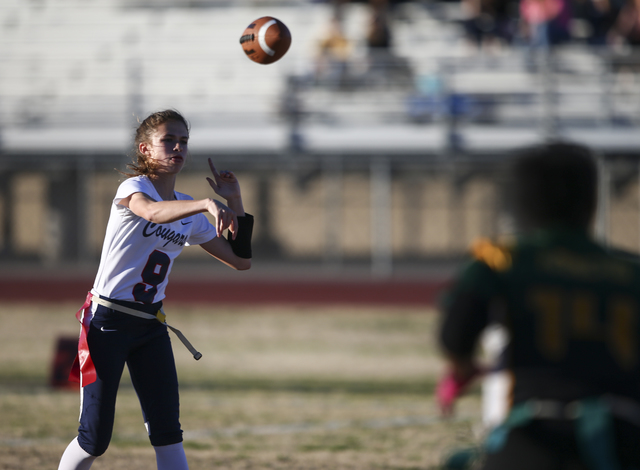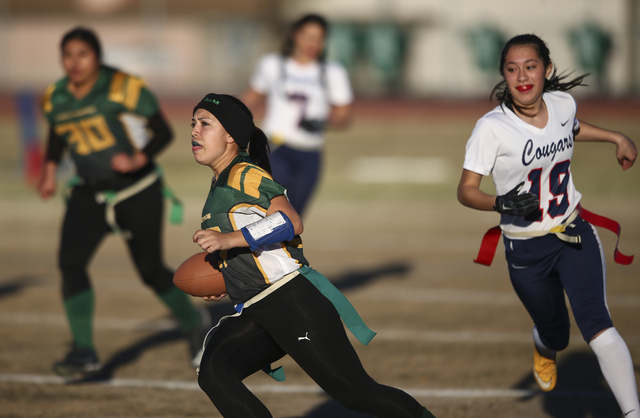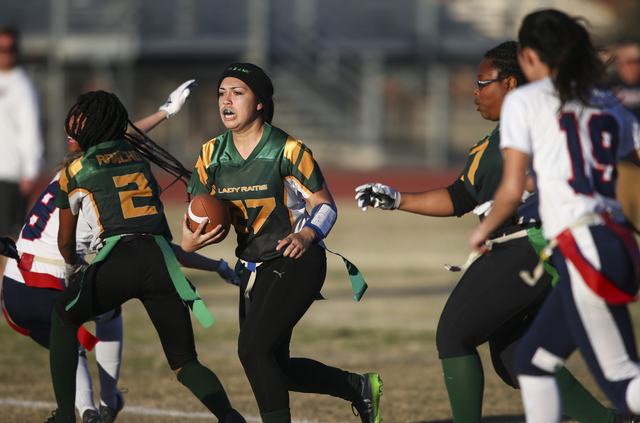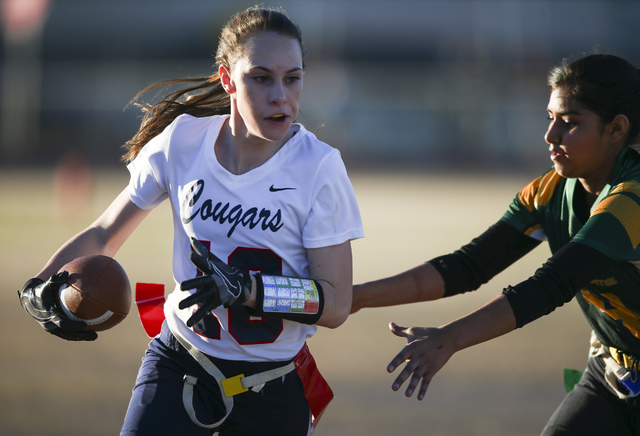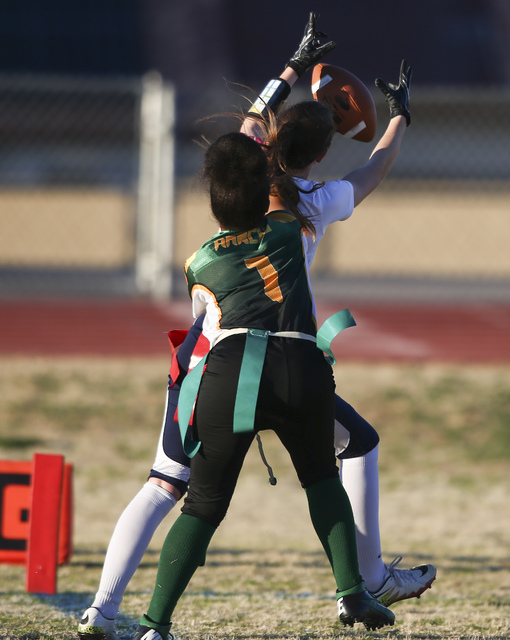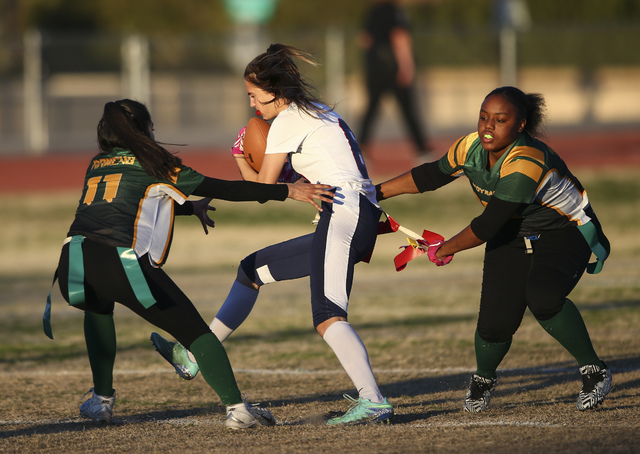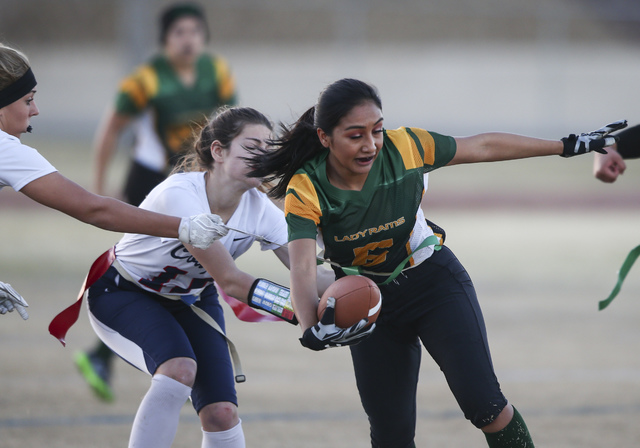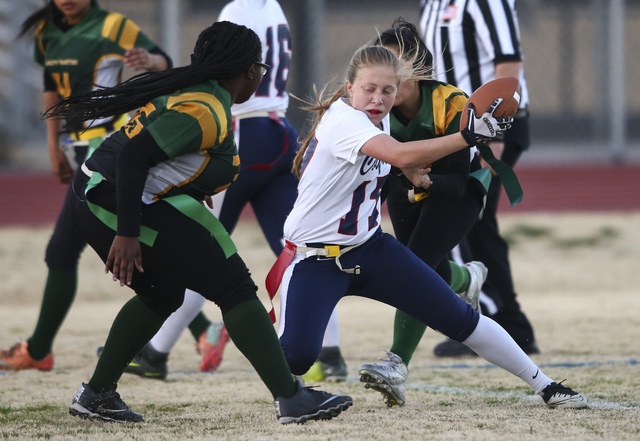 Coronado's Caitlin Shannon shakes her head in embarrassment each time her first varsity flag football game is brought up in conversation — the game in which she finished 2-for-18 passing for 20 yards and an interception.
"That was really rough," Shannon recalled. "I was like, 'They're going to replace me. I suck.' "
On Tuesday, the 5-foot-5-inch sophomore quarterback once again rewarded her coaches for sticking with her.
Shannon completed 18 of 23 passes for 211 yards and six touchdowns, including four in the first half, to lead the third-seeded Cougars to a 41-6 victory over No. 2 Rancho in the Class 4A Sunrise Region quarterfinals at Green Valley.
"I just can't stress enough the growth that she's made from game one to now," Coronado coach Rusty Andersen said. "What's awesome about that is she's throwing it to all these different receivers. We don't have the game-breaker who's going to have 2,000 yards receiving. We don't even have (a player) with 800 yards receiving. But she spreads the ball around, and everyone does their job."
Shannon threw touchdowns to four receivers and orchestrated six of seven successful extra-point conversions. She connected with Reagan Raimer on first-half touchdowns of 5, 20 and 25 yards to give the Cougars a 28-6 halftime lead.
"It felt pretty good," said Shannon, who also rushed for 21 yards on three carries. "There are still spots I can work on. But I had a lot of time to throw it and do stuff, so it was a lot easier."
In the second half, Shannon found Sydney Hansen and Milli Wright for TD receptions before handing off her quarterback duties with three minutes remaining. It all is a far cry from that first home loss to Sierra Vista on Nov. 29.
"I was on the freshman team last year, so all I had to do was chuck it up and we'd score a touchdown," Shannon said. "But this year, there are bigger girls. More competition. So it was a big adjustment, but it feels good to be adjusted now."
Raimer finished with five catches for 68 yards, and Sydnee Hansen had five catches for 61 yards and a TD for Coronado (11-8), which will meet host Green Valley (19-3) in the region semifinals at 6 p.m. Thursday.
The Gators won the previous two meetings by a combined seven points.
Amanda Burt had nine carries for 78 yards for Coronado, and teammates Trinity Rhoades, Shawna Slater and Giovanna Coelho each had five tackles to lead the defense.
"I'm not shocked by much that we do," Andersen said. "If we take care of our business, and everybody does their jobs, we're as good as anyone in town. We don't always do that. That's how you come up with eight losses. But the growth that we've made — we're starting to figure it out."
Katerina Anthony threw a 9-yard TD pass to Haley Nevil for Rancho (10-6).
Green Valley 33, Canyon Springs 12 — At Green Valley, Bella Cipili completed 16 of 26 passes for 248 yards and three touchdowns to power the Gators past the Pioneers in the Sunrise Region quarterfinals.
Deborah Grant rushed for 106 yards and two TDs on nine carries for Green Valley, which led 20-6 at halftime.
Alyson Thorne, Janel Fernandez and Olivia McClain each supplied a receiving score for the Gators.
Adrianna Caldwell-Williams connected on a 60-yard touchdown to Amaya Youngblood for Canyon Springs (3-7), which got a 41-yard interception return for a TD by Asisya Sykes.
Las Vegas 26, Silverado 12 — At Las Vegas, Sabrina Saldate caught four passes for 99 yards and a touchdown, and Kiura Shipman ran for 66 yards on 12 carries with a TD as the Wildcats turned back the Skyhawks (5-9) in the Sunrise Region quarterfinals.
Natalie Gennuso caught a TD pass, and Alba Trujillo-Hinojosa ran for a score for Las Vegas (14-5). Brynn Hardy contributed three interceptions for the Wildcats, who led 20-6 at halftime.
Las Vegas will host Foothill (17-5) on Thursday.
Foothill 40, Valley 12 — At Las Vegas High, Madisyn McArthur threw for 351 yards and five touchdowns as the Falcons rolled over the Vikings in the Sunrise Region quarterfinals.
Sydney Babakitis had 126 receiving yards and three touchdowns, and Whitley Brow caught for 135 yards and a touchdown for the Falcons (17-5).
Foothill's Paityn Toohey ran for 64 yards and a touchdown against the Vikings (4-13).
Cimarron-Memorial 28, Durango 14 — At Cimarron, Tiarra Del Rosario completed 19 of 29 passes for 297 yards, including seven completions for 150 yards and three touchdowns to Haylei Hughes, as the Spartans (18-1) defeated the Trailblazers (5-13) in the Sunset Region quarterfinals.
Del Rosario added a rushing TD and connected with Alyssa Karpinski for nine catches and 97 yards. Diona Whitley supplied eight tackles, a sack and an interception for Cimarron.
The Spartans will host Centennial (14-4) on Thursday.
Sierra Vista 32, Shadow Ridge 12 — At Sierra Vista, Courtney O'Neal accounted for 179 yards — 124 rushing and 55 receiving — and had two touchdowns and an interception as the Mountain Lions defeated the Mustangs in the Sunset Region quarterfinals.
Kalei Watkins threw for 213 yards and four touchdowns for Sierra Vista (15-3), which will host Palo Verde (13-5) on Thursday.
Alex McGriff caught a 50-yards touchdown pass for Shadow Ridge (17-8).
Centennial 40, Desert Oasis 14 — At Cimarron-Memorial, the Bulldogs took down the Diamondbacks (12-7).
Palo Verde 27, Bonanza 12 — At Sierra Vista, the Panthers defeated the Bengals (9-6).
Box scores:
Cimarron-Memorial 28, Durango 14
Green Valley 33, Canyon Springs 12
Sierra Vista 32, Shadow Ridge 12