FLAG FOOTBALL: Green Valley ends Boulder City's 49-game winning streak
December 12, 2016 - 9:08 pm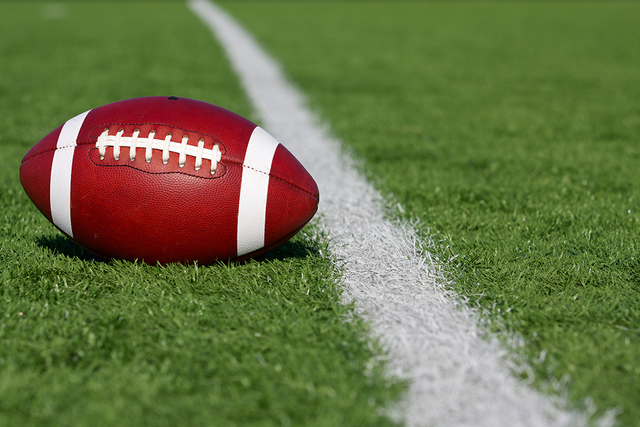 Bella Cipili ran for 64 yards and three touchdowns and threw a touchdown pass for Green Valley on Monday, and the Gators' 32-19 road win over Boulder City snapped the Eagles' 49-game winning streak.
The Gators defeated the Eagles in the Sunrise League playoffs in 2014, the last time Boulder City lost.
Green Valley's Hennessy Elkins caught a touchdown pass and threw a 64-yard touchdown pass to Alyson Thorne.
Erin Zinke had seven tackles and an interception to lead the Green Valley defense.
Tech 31, Cheyenne 27 — At Tech, Katy Orellana scored a touchdown late in the game, one of five she had a hand in, as the Roadrunners came back to beat the Desert Shields.
Orellana rushed for 90 yards and three touchdowns, and threw for 185 and two touchdowns for Tech. Both of her touchdown passes went to Avery Rayos, who had 135 receiving yards.
Cheyenne had a chance to win when it got the ball back with 1:30 left in the game, but two passes were batted down by the Tech defense.
Chaparral 18, Spring Valley 6 — At Spring Valley, Naja Muhammad ran for 135 yards and three touchdowns on 11 carries as the Cowboys rallied past the Grizzlies.
Angelica Rivera had 10 tackles to lead the Cowboys defense. Alyssa Porras had three interceptions and two tackles, and Sisilia Taumoefolau had two interceptions for Chaparral.
Legacy 34, Clark 6 — At Legacy, Mikaela Nunez caught three touchdowns as the Longhorns defeated the Chargers.
Qaylee Baker-Judie had 120 receiving yards and a touchdown for the Longhorns, whose defense made three interceptions.
Nunez finished with 89 receiving yards, and Jalyn Joule threw for 209 yards and four touchdowns.
Foothill 24, Del Sol 6 — At Del Sol, Madisyn McArthur's three touchdowns led the Falcons over the Dragons.
Foothill's Paityn Toohey rushed for 78 yards on 10 carries, and Morgan Melton had four catches for 67 yards and a touchdown.
Whitley Brow also scored a rushing touchdown for Foothill.
Xolani Frazier caught a 30-yard touchdown pass from Angel Jones for the Dragons.
Bonanza 32, Western 19 — At Bonanza, Brianna Hernandez-Silva threw for 204 yards and rushed for 203 yards to lead the Bengals past the Warriors.
Fabray Elam rushed for 190 yards and two touchdowns for Western.
Coronado 27, Sunrise Mountain 0 — At Coronado, Caitlin Shannon's two touchdowns led the Cougars past Spring Mountain.
Coronado's Merhan Noureldian rushed for 51 yards and a touchdown on 10 carries, Sydnee Hansen had a receiving touchdown, and Jensen Boman returned an interception for a score.
Cimarron-Memorial 28, Mojave 6 — At Mojave, Carol Morrow's 10-yard touchdown run was the only scoring the Rattlers could muster as they fell to the Spartans.
Box scores:
Green Valley 32, Boulder City 19
Coronado 27, Sunrise Mountain 0