FLAG FOOTBALL: Last-minute play wins league title for Cimarron-Memorial
February 9, 2017 - 9:47 pm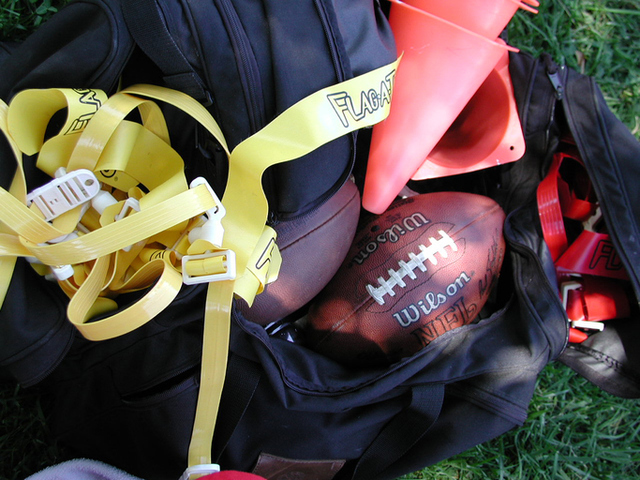 Alyssa Karpinski hauled in a 5-yard touchdown pass from quarterback Tiarra Del Rosario with 30 seconds remaining Thursday to help Cimarron-Memorial's flag football team clinch the Northwest League title with a 21-18 victory over host Centennial.
Cimarron trailed 18-14 with under five minutes to go, and began its final drive on its own 20-yard line with 1:30 left in the game. Karpinski supplied 44 yards receiving and an extra-point conversion for the Spartans. Del Rosario completed 14 of 24 passes for 199 yards and two TDs, supplied a 22-yard rushing score and contributed a 2-point conversion for Cimarron.
Haylei Hughes had a 55-yard TD catch in the first half for the Spartans, who led 8-6 at halftime.
LeNae Thomas had 12 carries for 162 yards and a touchdown, and teammate Halli Erickson added a rushing TD for Centennial. Denae Benites provided a receiving TD for the Bulldogs.
Western 27, Desert Pines 26 — At Desert Pines, the Warriors' defense stuffed a 2-point conversion attempt that would have given the Jaguars the win.
Fabray Elam ran for 222 yards and four touchdowns on 18 carries to lead the Warriors. With the score tied 20-20 with two minutes remaining, Elam scored on a 60-yard run, and Yareth Medina ran in the extra point to give the Warriors a 27-20 lead.
The Jaguars scored on their next possession to cut the lead to 27-26, but failed the 2-point conversion.
Alejandro Alvarez-Torres had 11 tackles to lead the Warriors' defense.
Legacy 34, Palo Verde 29 — At Legacy, Mikaela Nunez intercepted the Panthers with nine seconds left to seal the Longhorns' victory.
Legacy's Jalyn Joule threw for two touchdowns and ran for three more. Nunez caught one of those touchdowns, and finished with two interceptions and five tackles.
Heaven Menendez ran 19 times for 122 yards for the Longhorns.
Coronado 24, Liberty 6 — Caitlin Shannon threw three touchdowns and rushed for another to power the Cougars over the Patriots.
Shannon threw for 122 yards and rushed for 97 yards. Drew Stewart caught two of the touchdowns, and Jensen Boman caught the other.
Shawna Slater led the Coronado defense with eight tackles and an interception.
Elizabeth Branigan had a 40-yard TD run for Liberty.
Green Valley 33, Silverado 14 — At Green Valley, Bella Cipili threw for 212 yards and five touchdowns to lead the Gators past the Skyhawks.
Christina Mayberry caught five passes for 92 yards and three touchdowns. Olivia McClain and Chynare Christian each caught a touchdown pass for the Gators.
Mayberry had eight tackles to lead the Gators defense, and Erin Zinke had five tackles and an interception.
Kui'Puha Untalan and Francesca LoCascio each scored rushing touchdowns for the Skyhawks.
Shadow Ridge 27, Arbor View 6 — At Arbor View, Samantha Milanovich threw two touchdown passes, ran for 78 yards and supplied an interception on defense to lead the Mustangs past the Aggies.
Jordan Ford had 21 rushes for 146 yards and a score for Shadow Ridge. Sonia Triana and Alex McGriff each supplied a receiving TD for the Mustangs.
Foothill 36, Basic 0 — At Foothill, Paityn Toohey had 10 carries for 110 yards and two touchdowns, and Whitley Brow caught nine passes for 126 yards and two scores to lead the Falcons past the Wolves.
Madisyn McArthur completed 14 of 21 passes for 191 yards and three TDs, and Chloe Collins had a 13-yard TD reception for Foothill, which led 28-0 at halftime.
Mariah Coleman led the defense with seven tackles.
Cheyenne 50, Mojave 6 — At Mojave, Angela Hammond ran for 218 yards and three touchdowns on 12 carries as the Desert Shields routed the Rattlers.
E'leseana Patterson threw for 125 yards and a touchdown to E'moni Albert. She also intercepted a pass and returned it 55 yards for a touchdown.
Maria Borrero ran for 73 yards and a touchdown on seven carries.
Jiselle Mendoza had tackles to lead the Desert Shields defense.
Legacy 33, Palo Verde 29 — At Palo Verde, the Longhorns rallied from a 21-12 halftime deficit to defeat the Panthers.
Box scores:
Cimarron-Memorial 21, Centennial 18