Roundup: Alyssa Tygh guides Palo Verde into Sunset Region final
February 15, 2018 - 9:59 pm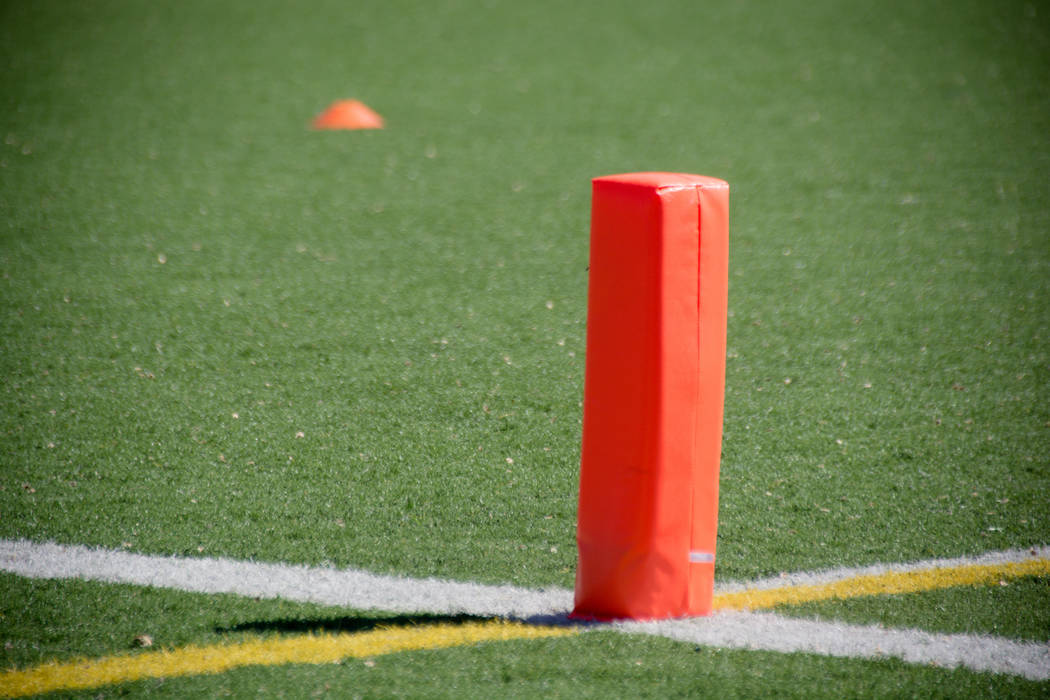 Alyssa Tygh threw for 322 yards and six touchdowns Thursday to help host Palo Verde's flag football team to a 40-13 rout of Sierra Vista in a Sunset Region flag football semifinal.
Grace Cashin had 10 catches for 157 yards, including two 60-yard TDs, and teammate Betsy Bellinger hauled in five passes for 150 yards, including two 65-yard TDs for the Panthers (16-2), who will face Shadow Ridge (16-5) in the Sunset final at 6 p.m. Tuesday at Green Valley.
Madison Hearn led the Panthers' defense with seven tackles and an interception.
Sierra Vista finished 10-8.
Shadow Ridge 40, Bonanza 26 — At Bonanza, Jordan Ford rushed for 242 yards and four touchdowns to left the Mustangs over the Bengals.
Shadow Ridge's Nicole Tripp-Hering threw for 208 yards and two touchdowns.
Ebonii Starks and Alex McGriff each had an interception for the Mustangs, and Dayvian Diaz and Samantha Guerra each had nine tackles.
Cindylou Rasiang completed 35 of 52 passes for 402 yards and three touchdowns for Bonanza.
Ashley Vasquez caught 12 passes for 192 yards and two TDs, and Evalynn Sandoval had a TD catch for the Bengals (14-6), who also got a rushing touchdown from Charlene Beck.
Sunrise Region
Jennifer Haberstock completed 21 of 32 passes for 175 yards and a touchdown to help Green Valley stun host Las Vegas, 13-7 in a Sunrise Region semifinal.
Haberstock tossed a 12-yard TD pass to Isabel Madrid for the Gators (20-3), who will host Coronado (20-0) in the region final at 4 p.m. Tuesday.
Jazlyn Camacho provided a 23-yard interception return for a TD for Green Valley, which got 99 yards on 15 carries from Theresa Caruso.
Kaitlyn Horstdaniel supplied a 4-yard TD run for Las Vegas (17-8).
Coronado 34, Foothill 6 — At Coronado, Caitlin Shannon threw three touchdown passes and ran for two scores as the Cougars routed the Falcons.
Shannon completed 16 of 29 passes for 170 yards and rushed for 105 yards on 14 carries.
Erin Shannon caught two TD passes, and Reagan Raimer hauled in a TD pass for the Cougars.
Madisyn McArthur's touchdown pass to Whitley Brow accounted for Foothill's scoring. Brow caught eight passes for 115 yards for the Falcons (12-6).
Class 3A State
Gabrielle DeGuzman rushed for 143 yards and a touchdown on nine carries as Tech downed Desert Pines, 19-7 in a Class 3A state quarterfinal in Mesquite.
Rhedisa Sua had seven tackles, a sack and a touchdown reception for the Roadrunners (10-9), and teammate Adriana Carrillo had two interceptions and five tackles.
Taylor Ritayik rushed for 76 yards and a touchdown, and also threw a touchdown pass for Tech, which will visit Virgin Valley (16-3) in a state semifinal at 6 p.m. Tuesday.
Desert Pines ended the year 4-7.
Del Sol 32, Mojave 6 — At Cheyenne, Stephanie Tewart tossed three touchdown passes a caught a TD pass to lead the Dragons past the Rattlers.
Tewart completed scoring passes to Cora Butorac, Cristal Valdez and Saleena Quichocho and hauled in a TD pass from Leila Canete.
Tarike Poullard also ran for a touchdown for Del Sol (14-8), which got three interceptions from Butorac and one from Canete.
Del Sol will travel to Cheyenne (14-4) in the other state semifinal at 6 p.m. Tuesday.
Mojave finished 5-12.
Virgin Valley 42, Sunrise Mountain 6 — At Mesquite, Kallie Graves ran for three touchdowns and threw a TD pass as the Bulldogs rolled past the Miners (4-15).
Graves rushed for 122 yards on seven carries and completed 10 of 12 passes for 99 yards.
Katie Zuniga and Emily Teerlink each rushed for a touchdown, and Markell Ludvigson caught a touchdown pass for Virgin Valley, which led 35-0 at the half.
Cheyenne 24, Boulder City 0 — At Cheyenne, the Desert Shields scored two touchdowns in each half and blanked the Eagles.
Boulder City finished 8-8.
Summaries
Sunrise Region
Sunset Region
Palo Verde 40, Sierra Vista 13
3A Southern Region
Virgin Valley 42, Sunrise Mountain 6