Roundup: Las Vegas High tops Legacy
February 1, 2019 - 6:34 pm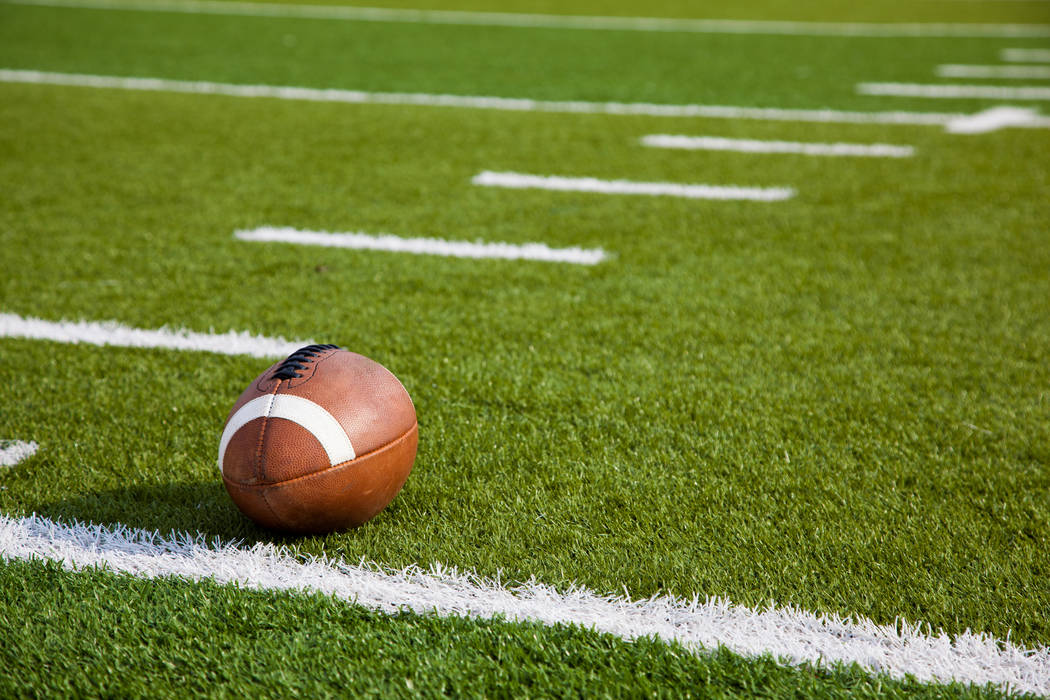 Kaitlyn Horstdaniel threw for 133 yards and four touchdowns Friday as the Las Vegas High flag football team earned a 28-14 home win over Legacy.
Brooklyn Stone caught seven passes for 133 yards and two touchdowns, and Tyler Rhoads caught four passes for 62 yards and two touchdowns for the Wildcats.
Josselin Sandoval had seven tackles for the Wildcats, who held the Longhorns scoreless in the second half.
Green Valley 12, Tech 6 — At Green Valley, Gators' Deborah Grant had a 20-yard rushing touchdown in overtime to seal the victory against the Roadrunners.
Grant finished the game with 20 rushes and 143 rushing yards.
Green Valley's Jazlyn Camacho caught seven passes for 119 yards and a touchdown.
Coronado 20, Liberty 14 — At Liberty, Ashtyn Almeido threw three touchdown passes as Coronado secured the Southeast League's top seed for the Desert Region playoffs with a win over the Patriots.
Almeido completed 13 of 21 passes for 135 yards. Reagan Raimer, Kaylee Zicha and Sydnee Hansen each caught one TD pass for the Cougars, who rallied from a 14-6 halftime deficit.
Jaelyn Eisenhart rushed for 129 yards on 14 carries for Coronado.
Chaparral 26, Sunrise Mountain 12 — At Chaparral, I'asia Mack completed 12 of 19 passes for 193 yards and two touchdowns as the Cowboys defeated the Miners.
Chaparral's Vanessa Sanchez had six receptions for 136 yards and two touchdowns, and Beverly Amaya and Amerie Baker each had one TD catch for the Cowboys.
Virgin Valley 18, Moapa Valley 14 — At Mesquite, the Bulldogs rushed for 397 yards and topped the Pirates.
Macee Bundy and Nikita Eskelsen each rushed for a touchdown for Virgin Valley, which scored two second-half TDs to get the win.
Bundy finished with 12 carries for 106 yards, and Eskelsen had even carries for 93 yards. Shaylee Feltner added 11 carries for 76 yards, and Ally Wright threw a 4-yard TD pass to Autumn Boatright for the Bulldogs.
Del Sol 33, Boulder City 13 — At Del Sol, Stephanie Tewart completed 14 of 19 passes for 155 yards and five TDs as the Dragons beat the Eagles.
Janeth Varela caught five passes for 67 yards and three scores, and Kassandra Medina-Bernal and Shelby Martin each added a TD catch for Del Sol.
Angel Hodges had 10 tackles, and Martin had eight tackles and two interceptions for the Dragons.
Valley 33, Western 7 — At Western, Heather Robinson caught a touchdown pass and returned an interception for a touchdown to lead the Vikings by the Warriors.
Frida Ochoa-Uribe ran for two touchdowns, and Angie Duran caught a touchdown pass for Valley.
Basic 27, Foothill 7 — At Basic, the Wolves rolled past the Falcons.
Foothill's Brooke Lynch completed 20 of 38 passes for 172 yards and a touchdown.
Eldorado 24, Rancho 0 — At Rancho, the Sundevils shutout the Rams.