Roundup: Legacy snaps Coronado's 27-game winning streak
December 10, 2018 - 9:21 pm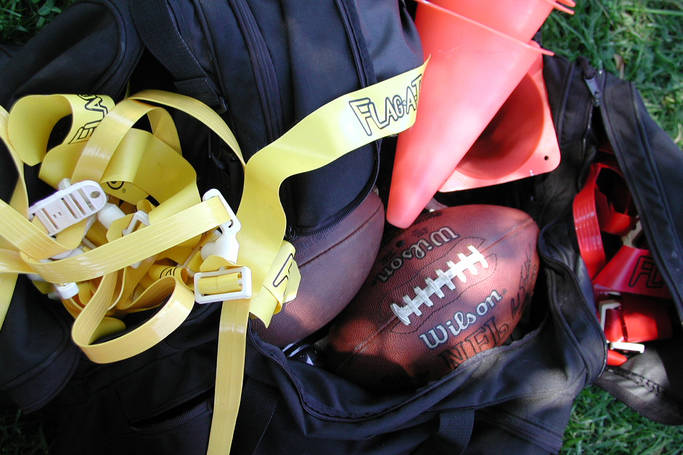 Jalyn Joule tossed two touchdown passes Monday as Legacy's flag football team snapped defending Class 4A state champion Coronado's 27-game winning streak with a 14-6 win.
Mikaela Nunez and Jordyn Williams each caught a TD pass for the Longhorns.
Kaylin Hall completed 21 of 38 passes for 187 yards and a touchdown for the Cougars, who lost for the first time since Feb. 22, 2017. Reagan Raimer caught Hall's scoring pass.
Durango 32, Tech 31 — At Durango, Lilliana Perez batted away a 2-point conversion attempt in overtime to lift the Trailblazers over the Roadrunners.
Tatiana Baes scored on a 20-yard run on the first play of overtime, and Kamaile Kuhiiki scored on the conversion for Durango.
The Roadrunners scored a touchdown on their possession, but the attempt to win the game on the conversion failed.
Baes finished the game rushing for 203 yards on 18 carries for the Trailblazers, who trailed 25-7 at halftime. Nayeli Silva-Kahlaewai completed 15 of 22 passes for 200 yards and three touchdowns for Durango. Gabriela Corchado caught eight passes for 135 yards and two touchdowns.
Tech's Taylor Ritayik completed 15 of 29 passes for 148 yards and three touchdowns.
Bonanza 50, Cheyenne 20 — At Cheyenne, Cindylou Rasiang threw seven touchdown passes to lead the Bengals by the Desert Shields.
Rasiang completed 20 of 35 passes for 369 yards. Ashley Vasquez caught two TD passes and returned an interception for a score for Bonanza.
Alicia Kestner also hauled in two TD passes for Bonanza, and teammates Shayne Dunn, Breanna Casas and Idaly Gomez each caught one touchdown strike.
Sierra Vista 33, Las Vegas 26 — At Sierra Vista, Aaliyah Medina threw for 220 yards and five touchdowns to lead the Mountain Lions past the Wildcats.
Jamie Kalaau-Sunia caught seven passes for 105 yards and a touchdown for Sierra Vista, which jumped out to a 26-7 first-half lead.
Kalaau-Sunia also had 12 tackles for the Mountain Lions.
Boulder City 25, Sunrise Mountain 13 — At Boulder City, Makaela Perkins threw two touchdown passes to Ryann Reese as the Eagles topped the Miners.
Makenna Arboreen rushed for 158 yards and a touchdown on 20 carries for Boulder City, and Jasmyn Curl added a TD run for the Eagles.
Chaparral 24, Western 14 — At Chaparral, I'asia Mack ran for 100 yards and a touchdown to lead the Cowboys past the Warriors.
Vanessa Sanchez caught eight passes for 150 yards and a touchdown for the Cowboys.
Del Sol 40, Valley 0 — At Del Sol, Valerie Perez rushed for 138 yards and three touchdowns as the Dragons blanked the Vikings.
KatieRae Patriquin had five tackles and two sacks to lead the Dragons on defense.
Virgin Valley 45, Mojave 6 — At Mesquite, Nikita Eskelsen rushed for 81 yards and two touchdowns on eight carries as the Bulldogs routed the Rattlers.
Rainee Brito, Shaylee Feltner, Macee Bundy and Ally Wright each added a touchdown run for Virgin Valley.
Wright also completed 7 of 13 passes for 120 yards, including a touchdown pass to Taylor Marshall.
Foothill 12, Bishop Gorman 6 — At Gorman, Morgan Melton and Lexi Marquez each hauled in a touchdown pass as the Falcons edged the Gaels.
Brooke Lynch and Roni Gibbs each tossed a scoring pass for Foothill.
Silverado 25, Liberty 19 — At Silverado, the Skyhawks topped the Patriots.
Jeszlyn Siores threw for 157 yards and two touchdowns for Liberty, and teammate Arielle Meikle rushed for 95 yards and a touchdown.