Roundup: Ryann Reese helps Eagles edge Mojave
December 5, 2018 - 9:14 pm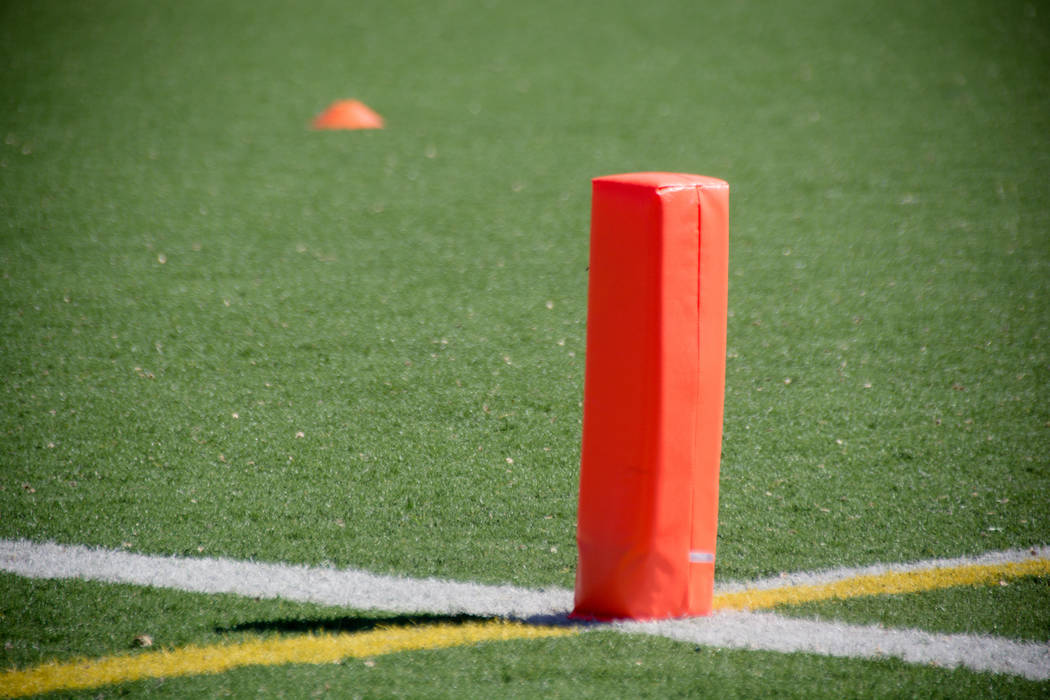 Boulder City's Ryann Reese rushed for a pair of touchdowns on Wednesday as the Eagles edged visiting Mojave 13-12 in flag football.
Reese scored on runs of 39 and 59 yards. She finished with 137 yards on eight carries. Reese also caught four passes for 43 yards and had six tackles.
Clarissa Sitko had 10 tackles, and Emily Rinella had eight tackles for the Eagles.
Anijaya Polk scored both touchdowns for the Rattlers.
Sierra Vista 20, Bonanza 19 — At Sierra Vista, Jamie Sunia-Kalaau's successful 2-point conversion with just less than two minutes to play gave the the Mountain Lions the win over the Bengals.
Kayla Sanguinetti caught a TD pass from Aaliyah Medina to cut the Bonanza lead to 19-18, and Sunia-Kalaau's conversion gave Sierra Vista the lead.
Sunia-Kalaau had 10 catches for 165 yards and a touchdown and also intercepted two passes to lead the Mountain Lions.
Bonanza's Cindylou Rasiang passed for 218 yards and two TDS, and Angela Avelar returned an interception 57 yards for a score for the Bengals.
Moapa Valley 6, Valley 0 — At Overton, Lara Bingisser caught a 7-yard TD pass from Graceann Erickson in overtime to give the Pirates the victory over the Vikings.
Hailey Williams had 11 tackles for Moapa Valley.
Foothill 29, Clark 18 — At Foothill, Whitley Brow scored two touchdowns and intercepted two passes to lead the Falcons over the Chargers.
Brow had five catches for 74 yards and two scores for Foothill, which trailed 12-7 at the half.
Madison Melton caught nine passes for 105 yards and a touchdown, and Makenzie Yeoman rushed for 66 yards and a TD for Foothill.
Viola Farias had 15 tackles to lead the Falcons defense.
Del Sol 38, Western 0 — At Del Sol, Janeth Varela caught two 10-yard touchdown passes and supplied two interceptions, including a 50-yard interception return for a TD, as the Dragons blanked the Warriors.
Quarterback Stephanie Tewart tossed four TD passes for Del sol. Angel Hodges and Julie Robles each caught a pair of TDs, and Valerie Perez made 10 tackles for the Dragons.
Virgin Valley 33, Chaparral 12 — At Mesquite, Shaylee Feltner rushed for 92 yards and three touchdowns on 18 carries to lead the Bulldogs over the Cowboys.
Ally Wright added a TD pass to Taylor Marshall for Virgin Valley.
Durango 19, Bishop Gorman 6 — At Gorman,Tatiana Baes had 24 carries for 178 yards, and added 49 receiving yards as the Trailblazers defeated the Gaels.
Quarterback Nayeli Silva-Kaha lewai completed 10 passes for 129 yards, including touchdowns of 6 and 21 yards to Gabriela Corchado for Durango. Andrea Bolanos added nine rushes for 85 yards and a 6-yard score for the Trailblazers.
Kaitlyn Marquez hauled in a 30-yard TD catch for Gorman's score.