Roundup: Strong defense lifts Green Valley over Centennial
December 8, 2017 - 8:36 pm
Updated December 8, 2017 - 9:27 pm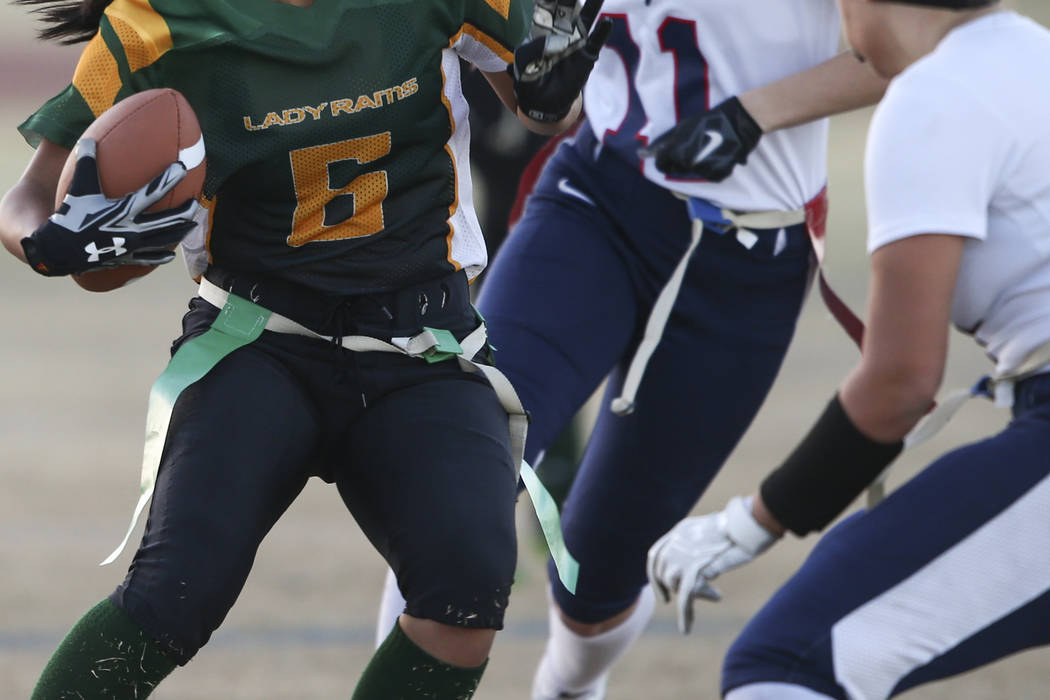 Tiara Jimmison recorded eight tackles and five sacks on Friday to lead Green Valley's flag football team to a 16-6 home win over Centennial.
Anna Marie Arce had seven tackles for the Gators, who led 2-0 at the half.
Jennifer Haberstock had a 1-yard TD run and threw a touchdown pass for Green Valley. Isabel Madrid had seven catches for 64 yards and a score for the Gators.
Mariah Reyna threw a 25-yard TD pass to Jocelyn Grecco for the Bulldogs.
Cimarron-Memorial 42, Valley 18 — At Cimarron, Tiarrah Del Rosario threw for 358 yards and six touchdowns as the Spartans defeated the Vikings.
Cimarron's Samantha Silva had four catches for 134 yards and two touchdowns, Mya Bethea had five catches for 118 yards and two touchdowns, and Zeccia Halton and Natasha Obradovich each had a touchdown reception.
Silva also had two interception, and Nancy Delatorre had one interception for the Spartans. Madison McCann led Cimarron with seven tackles.
Bonanza 18, Rancho 0 — At Rancho, Alicia Kestner had nine catches for 134 yards and two touchdowns as the Bengals shut out the Rams.
Cindylou Rasiang completed 12 of 23 passes for 180 yards and three TDs.
Kairra Castro led Bonanza with nine tackles.
Clark 20, Moapa Valley 6 — At Clark, the Chargers jumped out to a 20-0 halftime lead and defeated the Pirates.
Clark's Jania Quinones and Samantha Malley each scored a rushing touchdown, and Jaeda Centeno caught a touchdown pass thrown by Jagayra Gomes.
Durango 27, Legacy 25 — At Legacy, Gabriela Corchado caught two touchdown passes and had an interception as the Trailblazers edged the Longhorns.
Corchado had five catches for 75 yards. Nayeli Silva-Kahalewai caught a touchdown pass and threw a touchdown pass for Durango, and teammate Marina Bacon had a rushing touchdown and a passing touchdown.
Legacy's Jalyn Joule threw for 287 yards and three touchdowns.
Allanah Subira caught five passes for 132 yards and two touchdowns, and Mikaela Nunez had five catches for 122 yards and a touchdown for Legacy.
Isabella Jiminez also had a rushing touchdown for the Longhorns.
Box scores:
Cimarron-Memorial 42,Valley 18