Sunrise Flag Football: Caitlin Shannon helps Coronado slide by Green Valley in 2OT to win title
February 20, 2018 - 8:46 pm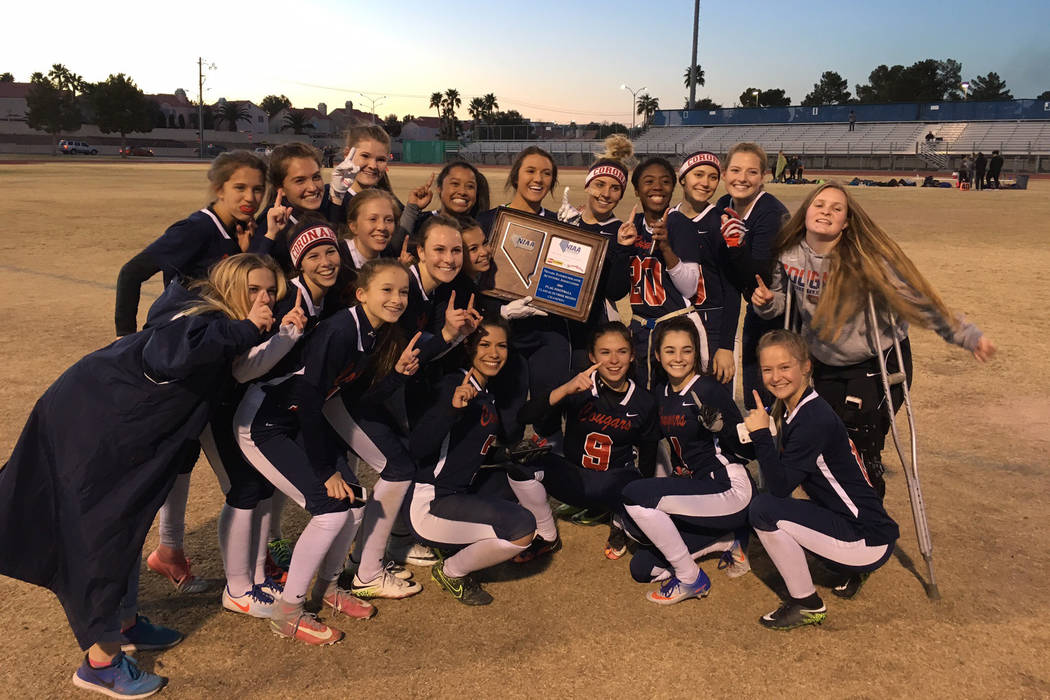 Coronado junior quarterback Caitlin Shannon had never been more stressed playing flag football.
She never had more fun, either.
Shannon passed for 272 yards and four touchdowns, and helped the Cougars rally from a two-score deficit to claim a 26-25 double-overtime victory over host Green Valley in the Class 4A Sunrise Region title game on Tuesday evening.
Coronado (21-0), which trailed by two scores early in the fourth quarter, will play Shadow Ridge (17-5) for the Class 4A state championship on Thursday at Cimarron-Memorial High School.
"We did not deserve that," Shannon said with a smile as her teammates celebrated beside her. "My heart almost exploded six times."
Shannon orchestrated Coronado's short passing game with poise and precision, and leads Las Vegas with 72 touchdown passes.
But Cougars receivers dropped several passes in the first three quarters on Tuesday — including two touchdowns — and Green Valley (20-4) capitalized with long scoring drives.
"We were our own worst nightmare," Coronado coach Rusty Andersen said. "I didn't even recognize who we were the first three quarters. We could not get out of our own way."
Gators quarterback Jennifer Haberstock threw two touchdown passes to Christina Mayberry to take a 13-0 lead, and ran for a third score in the fourth quarter.
But Shannon and company responded when they had to.
She threw two deep-ball touchdowns to Jensen Boman, and tied the game late with another touchdown pass late in the fourth quarter.
Green Valley's potential game-winning drive stalled at the end of regulation. Nobody scored in the first overtime and Shannon connected with her younger sister, Erin, for what turned out to be the game-winning score in the second overtime.
The Gators could have tied the game after scoring a touchdown in double-overtime, but opted to try a two-point conversion, and Haberstock's intended receiver was out of bounds.
Boman finished with eight catches for 135 yards and three touchdowns.
Shannon finished with her heart still intact.
"Everybody came together. Defense, offense," she said. "We came down into our brains, and we played."
Contact reporter Sam Gordon at sgordon@reviewjournal.com. Follow @BySamGordon on Twitter.
Box score:
Coronado 26, Green Valley 25, 2OT