SUNSET FLAG FOOTBALL: Cimarron secures region title on Logan DeLong TD catch
February 21, 2017 - 10:42 pm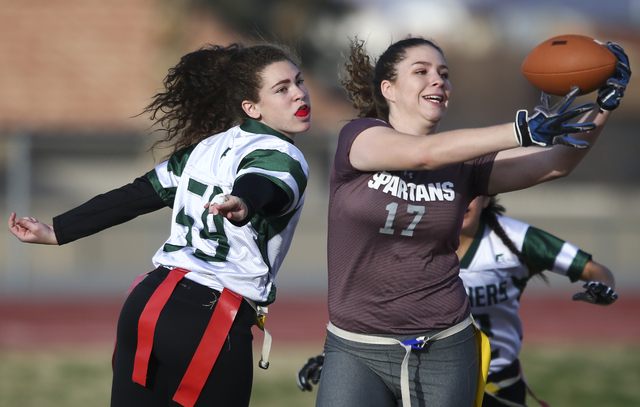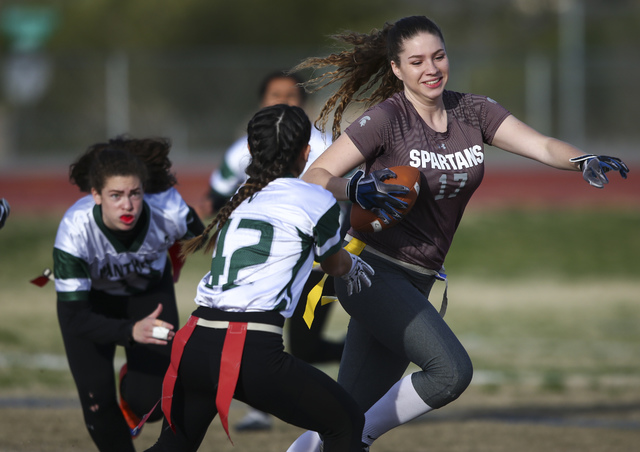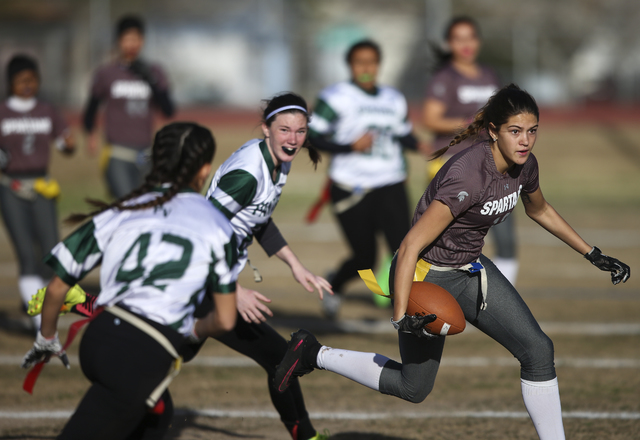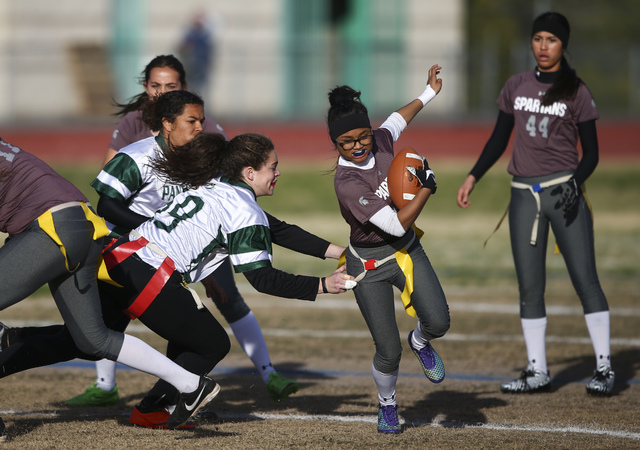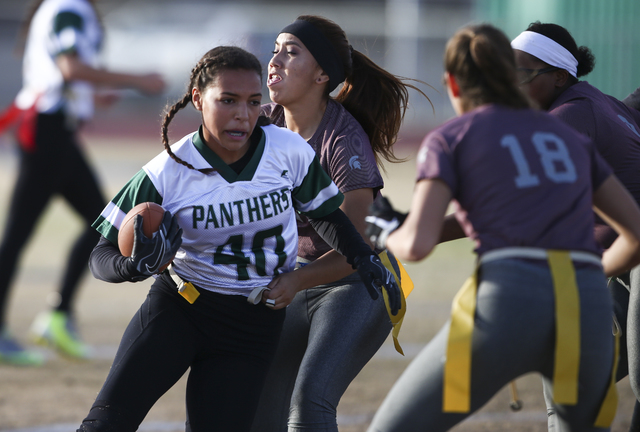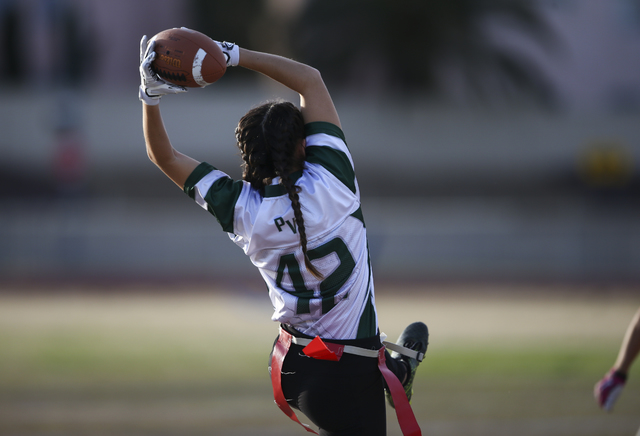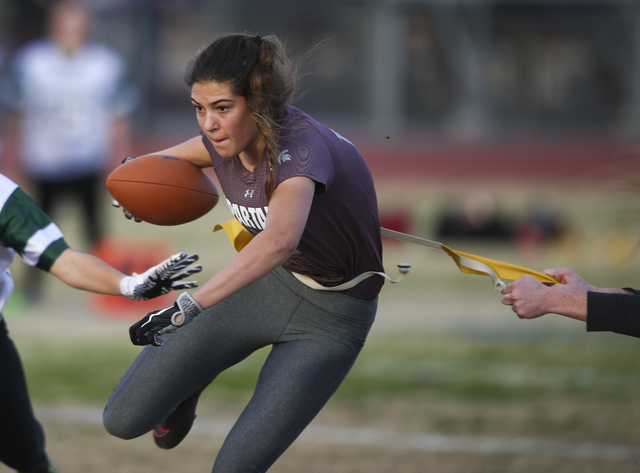 With a Sunset Region title on the line and his offense lined up at the Palo Verde 1-yard line with 30 seconds remaining Tuesday, Cimarron-Memorial flag football coach Mark Bailey had one play on his mind for fourth down.
The Spartans players, however, had other ideas. And senior tight end Logan DeLong let it be known.
"He wanted me to run it and I was like, 'I can't get it over this line. We have to run (a pass play) to the corner,' " DeLong said. "We just kept running it up the middle (three times) and I think they knew our game plan was to run it in because we were so close to the touchdown."
DeLong, with the eventual blessing of her coach, called an audible at the line before catching the game-winning touchdown pass from quarterback Tiarra Del Rosario with 24.7 seconds remaining in the Spartans' 20-13 win over Palo Verde at Green Valley.
"I called a run play, for sure," Bailey said. "But, look, I've got four years of letting these girls call audibles. They have the feel of the game, and I have no problem with that. If they called that audible and didn't catch it, I'd still have no problem with it. I'm OK with it.
"My girls are awesome. Just looking forward to tomorrow. Flag football rules."
Cimarron (20-1) will host Sunrise Region champion Coronado (13-8) — a 25-7 winner over Foothill — in the state final at 6 p.m. Wednesday.
After stuffing Palo Verde on fourth-and-4 at its own 24, Cimarron got the ball back with 2 minutes left in the second half. Del Rosario, who had thrown three interceptions, led a nine-play, 56-yard drive and hit a cutting DeLong on the right side of the end zone for the game-winner.
"We've come back in probably six or eight of our games. We've been down," Bailey said. "Tiarra was shaky the whole first half and there's all sorts of voices, but I know in the end, there's a handful of plays and players that are going to be successful. And we let the chips fall. Obviously, they fell on our side."
DeLong, who finished with 11 catches for 124 yards and two TDs, wasn't at all worried about her teammate throwing the ball at the end.
"We looked each other in the eyes before the play," she said. "I'm not kidding. And she was like, 'Dude, I'm throwing you the ball. You better catch it.' And I was like, 'I will catch the ball for you. Promise.' And that's how it happened.
"(After), I was like, 'Yes! I think we just won.' I knew there was time left, but not a lot. And our defense always holds it together, so I was pretty confident after we caught that. It was good timing."
Haylei Hughes caught the 2-point conversion to give Cimarron a seven-point advantage, and Palo Verde quarterback Alyssa Tygh tossed three consecutive incompletions in desperation mode as time ran out.
Del Rosario completed 19 of 34 passes for 211 yards and two scores. The sophomore also ran for a 10-yard TD in the second half to pull Cimarron within 13-12 with 6:20 left. The Spartans, who trailed 13-7 at halftime, failed on the 2-point conversion to stay behind in the game.
Elizabeth Asoau led the Cimarron defense with 10 tackles.
Allyson Snelling and Betsy Bellinger each caught a TD pass from Tygh in the first half for Palo Verde (14-6).
Anna Garrett had six tackles and two interceptions to lead the defense, and teammates Grace Cashin and Tiffany Yago each had seven tackles for the Panthers.
Box score:
Cimarron-Memorial 20, Palo Verde 13