Wildcats tackle sturdy schedule in quest to go deeper in playoffs
November 30, 2016 - 9:27 pm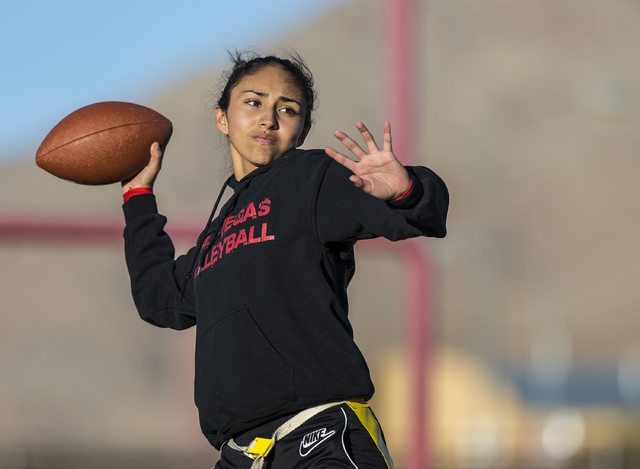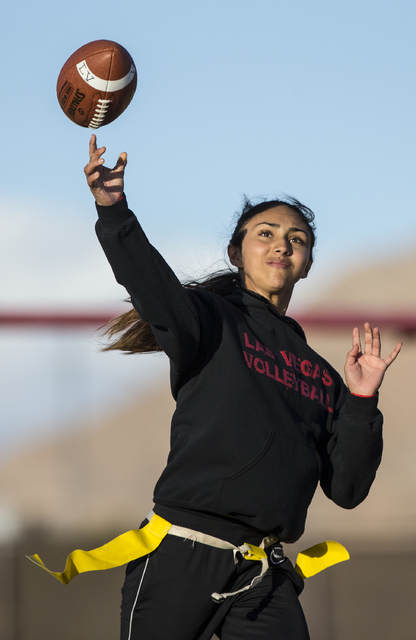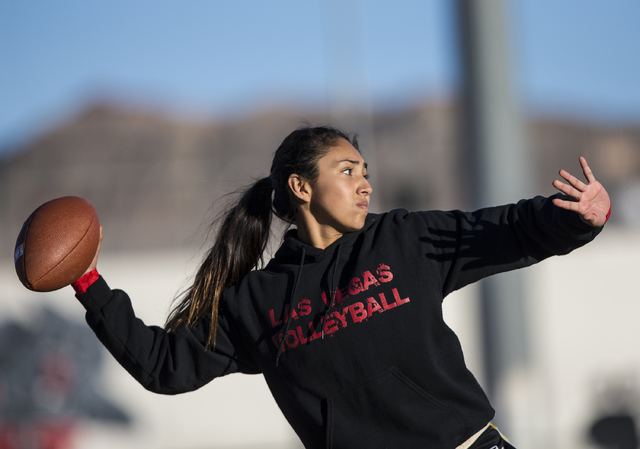 Las Vegas High's flag football team is coming off its best season in program history, but coach Erick Capetillo isn't one to rest on his laurels.
His eyes are on a much bigger prize. And his players are starting to catch the drift.
After going unbeaten in Northeast League play and advancing to the Sunrise Region semifinals last year, the Wildcats have embraced their coach's attitude and are looking to take it a step further this season.
Las Vegas, which returns eight letter winners, will play — by design — arguably the toughest schedule in Southern Nevada to prepare for what should be a long season.
"This year we wanted to be as competitive as can be," said Capetillo, in his fifth season. "So we decided to pick the best teams in Southern Nevada."
After his team lost to Coronado 33-30 in a region semifinal a season ago — a game in which the Wildcats blew an 18-point lead — Capetillo was disappointed over the missed opportunities. But rather than dwell on the loss, Capetillo took solace knowing he would have a formidable roster coming back.
He quickly began sending emails to several of the top coaches in the valley requesting a game. He got most of his wishes.
Las Vegas will face both of last season's Clark County School District champions — Centennial and Boulder City — and Sunrise Region runner-up Coronado. The Wildcats also travel to Mesquite to play in the Lady Bulldog Invitational, which normally is the top preseason tournament in Southern Nevada.
"(The schedule) is going to show us how good we are," said junior wide receiver Natalie Gennuso, who finished with 78 receptions for 1,299 yards and 20 touchdowns last season. "It's going to push us and show us our mental strength and physical strength."
Gennuso, senior quarterback Sabrina Saldate and junior cornerback Teleda Williams, who all made the first-team All-Sunrise Region team last season, should keep Las Vegas in contention in the region.
"I expect our team to do well," Saldate said. "We can get further than we did last year since we have a lot more experience. I just want our team to do good, and I'm going to try my best to help us succeed."
Saldate, who has committed to play softball at Adams State, passed for 2,767 yards and 48 touchdowns last season, and Williams led the defense with 15 interceptions. Senior linebacker Stacy Renteria, who had 73 tackles, also will help out on the defensive side.
They all know it's going to take a full effort should the team reach unfamiliar heights this season.
That is, ultimately, the goal.
"We don't want to repeat what we did last year," Capetillo said. "We want to go further."
Contact reporter Ashton Ferguson at aferguson@reviewjournal.com or 702-383-0430. Follow @af_ferguson on Twitter.