Friday's high school scores, top performers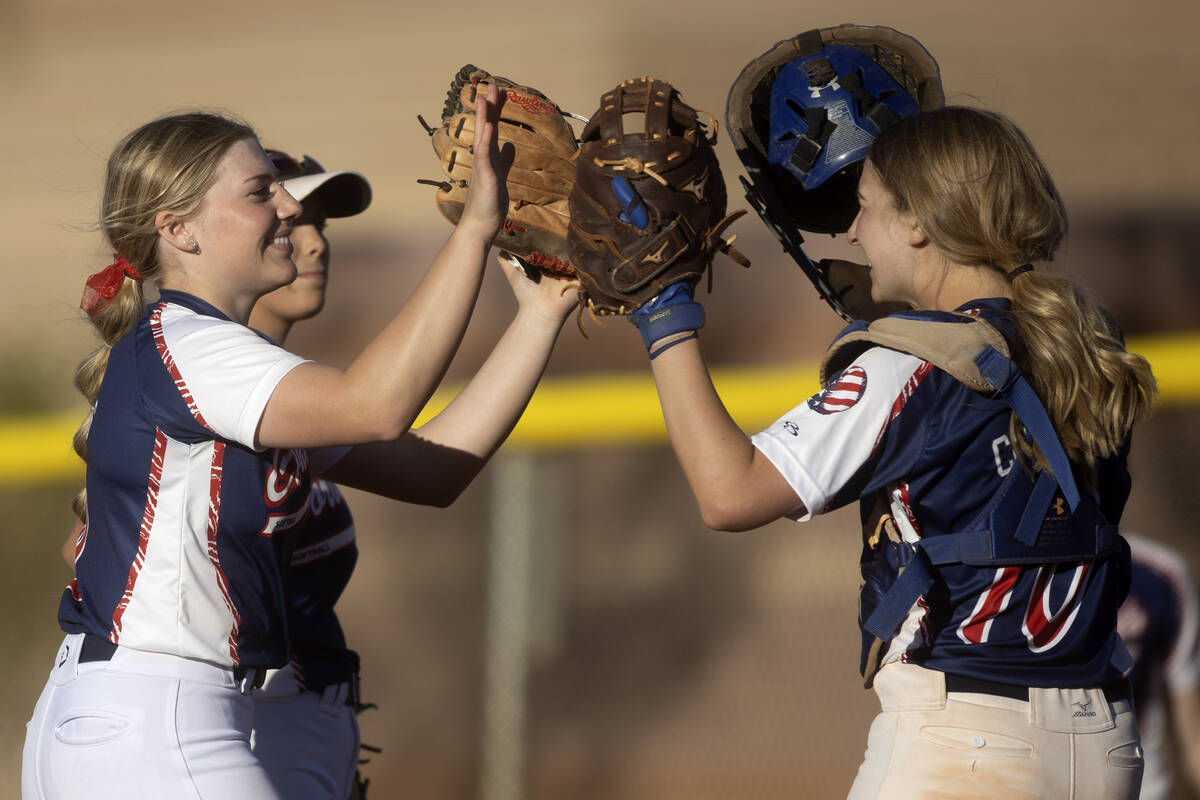 Friday's top high school performances:
Baseball
Landon Baker, Boulder City: The junior went 2-for-3 with a double, an RBI and two runs scored to help the Eagles defeat Moapa Valley 6-3.
Tyson Owens, Bonanza: The junior went 3-for-4 with two doubles and three RBIs, and was also the winning pitcher in the Bengals' 26-1 victory over Doral Academy.
McKay Rowland, Bishop Gorman: The senior pitcher allowed three hits and a run in seven innings to help the Gaels beat Doral Academy (Fla.) 4-1.
Ty Silva, Shadow Ridge: The senior went 3-for-4 with a home run and three RBIs to lift the Mustangs over Foothill 3-1.
Tanner Woods, The Meadows: The junior went 5-for-5 with six RBIs to help the Mustangs roll to a 28-0 win over Democracy Prep in the second game of a doubleheader.
Softball
Jesse Farrell, Liberty: The senior hit for the cycle with four RBIs and four runs scored to lead the Patriots past Rancho 12-1.
Hailey Gutierrez, Mojave: The senior went 3-for-3 with two triples and an RBI as the Rattlers routed Del Sol 19-4.
Macy Magdaleno, Silverado: The senior tossed a four-inning one-hitter on the mound and also went 5-for-6 with a home run, a double and five RBIs to lead the Skyhawks past Eldorado 22-3.
Kendall Selitzsky, Coronado: The junior threw a complete-game three-hitter and helped herself by going 2-for-4 with a home run and three RBIs in the Cougars' 7-0 victory over Faith Lutheran.
Lynsey Thomas, The Meadows: The senior pitcher won both games of a doubleheader, allowing just two runs and no hits on the day as the Mustangs rolled to 17-0 and 20-2 victories over Democracy Prep.
Scores
Baseball
The Meadows 17, Democracy Prep 1
The Meadows 28, Democracy Prep 0
Lake Mead 17, Lincoln County 0
Lake Mead 10, Lincoln County 0
Laughlin 14, Sandy Valley 1
Laughlin 24, Sandy Valley 1
White Pine 10, Awaken Christian 5
White Pine 16, Awaken Christian 0
Tech 16, Clark 0
Huntington Beach (Calif.) 3, Bishop Gorman 2
Bishop Gorman 4, Doral Academy (Fla.) 1
Shadow Ridge 3, Foothill 1
Boulder City 6, Moapa Valley 3
Coronado 11, Centennial 8
Del Sol 6, Chaparral 2
Desert Oasis 15, Rancho 0
Mojave 8, Desert Pines 4
Bonanza 26, Doral Academy 1
Palo Verde 13, Las Vegas 6
Spring Valley 8, Cimarron-Memorial 3
Softball
Green Valley 11, Basic 4
Cimarron-Memorial 17, Doral Academy 1
Clark 22, Desert Pines 3
Mojave 19, Del Sol 4
Silverado 22, Eldorado 3
Coronado 7, Faith Lutheran 0
Liberty 12, Rancho 1
Spring Valley 13, Chaparral 3
Canyon View (Ariz.) 8, Arbor View 5
Bishop Gorman 11, Sunset (Ore.) 8
Hillcrest (Calif.) 5, Bishop Gorman 4
Lincoln County 19, Lake Mead 9
Lincoln County 17, Lake Mead 0
Pahranagat Valley 12, Beaver Dam 1
The Meadows 17, Democracy Prep 0
The Meadows 20, Democracy Prep 2
Laughlin 12, Mountain View 2
Rancho Bernardo (Calif.) 3, Centennial 2
Coaches are encouraged to call in scores to the Review-Journal sports desk at 702-380-4587.