December 13, 2012 - 12:01 am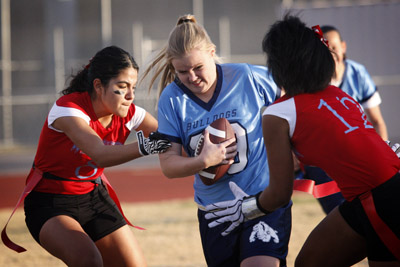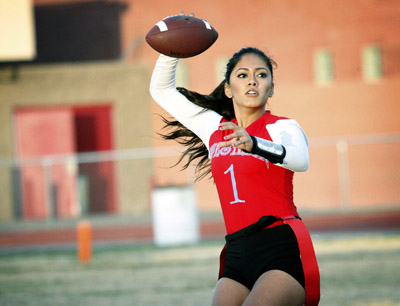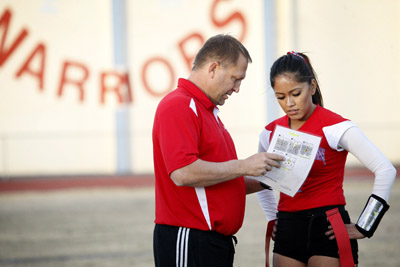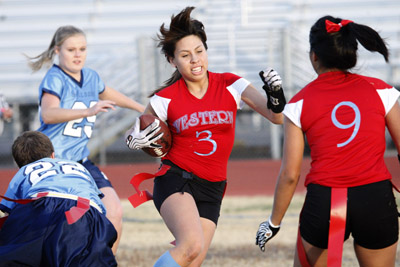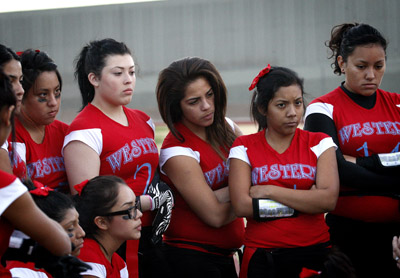 Jeff Hobbs was astonished when he saw the initial turnout of girls interested in flag football at Western.
With more than 70 girls signed up, Hobbs said the amount surpassed the number of boys who had tried out for the Warriors' football team in the fall. Consequently, the former wrestling and tennis coach was faced with the task of whittling his roster to 20 spots.
But he knew he wasn't alone.
"It wasn't just us," Hobbs said. "Arbor View had over 100 (girls) turn out. Every school that I talked to had 70 to 100 girls initially sign up."
The excitement and popularity of the sport, in its inaugural season in the Clark County School District, has exceeded the expectations of Hobbs and other coaches around the valley.
"When they first proposed this, everyone said it was going to be a joke and there's going to be no turnout," Hobbs said. "We've got literally thousands of girls coming out for the sport. As you can see, it's no joke. It's intense."
Pam Sloan, the CCSD Director of Athletics, said flag football was selected over competitive cheerleading and lacrosse in response to a Title IX complaint in 2010. Title IX is a federal law that prohibits discrimination based on sex in education programs and activities that receive federal financial assistance.
"There was a complaint, and we've been working with Title IX and the Women's Law Center," said Sloan, who noted the sport might expand to the junior-varsity level in the future. "What we're trying to do is build up our female participation numbers."
Sloan said the creation of the sport cost the district $225,080 to support the 34 participating schools.
Flag football has not been sanctioned by the Nevada Interscholastic Activities Association. Still, with a county playoff system in place, the level of participation has flourished.
"I received a comment from one of the athletes on the losing side of one of the first games of the season who was telling me that, 'Our team knows we should be bummed because we lost, but it was just so fun,' " CCSD board member Erin Cranor said.
Foothill coach Cynthia Guzman, who had at least 70 girls in her first meeting, was asked to lead the team while coaching the girls soccer squad in the playoffs.
Guzman said her skills and knowledge of soccer have aided in a smooth transition to the football field.
"I'm challenging myself in certain areas of the game," said Guzman, who noted that a quarter of her roster includes first-time athletes. "The determination and all of those other elements of the game kind of stay with me as I walk onto the football field."
Western's players were quick to identify a learning curve. Quarterback Leticia Mollineda said she always has had a desire to play football, taking lessons learned throughout her athletic career to improve her game.
"I've learned from pitching in softball," Mollineda said. "Since I'm quarterback, I try to incorporate my arm into throwing the ball further. It's a lot different with the team, too, because football is more all team, where softball is more do your own thing."
The senior said that reading defenses and scanning the field for open receivers has been the biggest challenge.
"It's all about dedication," Mollineda said. "You have to dedicate yourself and just come out here and play with a lot of intensity. The main thing is having fun with it."
Western junior Larissa Herrera said she had no knowledge of the game's nuances.
"I've never understood football until I joined," she said. "We watched a lot of football games to prepare, and we've gotten a lot of good feedback from our classmates."
The rules of flag football, divided into two 20-minute halves, are slightly different from traditional football. Offenses are required to move the ball 20 yards in four plays to get a first down. The field is 80 yards in length; the clock continuously runs until the final two minutes of the half; and no kicking is required.
"It's really just learning the Xs and Os of the game, rather than the physical contact," Hobbs said. "It's supposed to be noncontact, but as we see, it's like basketball. Collisions happen. Sometimes on purpose, sometimes not."
Guzman said, aside from the play on the field, she sees the Title IX implications of the sport as a giant step forward for the state.
"This has been really monumental for Nevada and for females," Guzman said. "A lot of people in the community have been waiting for something like this to happen. I think it's a really good opportunity for girls to become more active and be a part of a team. I think it's fabulous."