HEAD OF THE CLASS: Kentrell Petite's big night highlights Chaparral win
September 14, 2016 - 8:41 pm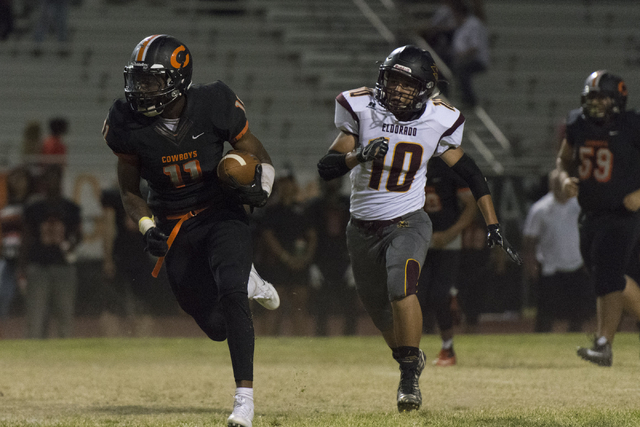 ATHLETES OF THE WEEK
BOYS CROSS COUNTRY
Omar Rubio, Green Valley
The senior finished first in the large school boys race at the Larry Burgess-Las Vegas Invitational at Sunset Park with a time of 15 minutes, 14.7 seconds for 3.1 miles.
— —
GIRLS CROSS COUNTRY
Alexis Gourrier, Centennial
The junior won her third Larry Burgess-Las Vegas Invitational, covering a 3.1-mile race in 17 minutes, 34.7 seconds.
— —
FOOTBALL
Kentrell Petite, Chaparral
The senior wide receiver caught seven passes for 208 yards and four touchdowns in a 50-0 home victory over Eldorado in the annual "Cleat Game."
— —
GIRLS GOLF
Eileena Tan, Valley
The junior shot a career-low 93 to claim medalist honors in the Northeast League match at Los Prados. It was Tan's best 18-hole score in relation to par by 14 strokes.
— —
BOYS SOCCER
Eduardo Quintero-Rodriguez, Canyon Springs
The junior had four goals and an assist to help the Pioneers to a 3-0 record for the week. Quintero-Rodriguez scored twice in a 4-1 victory over Arbor View.
— —
GIRLS SOCCER
Jensen Boman, Coronado
The junior finished with six assists and one key goal last week as the Cougars went 4-0. Boman converted a 20-yard free kick in Coronado's 2-1 win over Palo Verde in the championship game of the Las Vegas Kick-Off at Faith Lutheran on Saturday.
— —
BOYS TENNIS
Michael Pasimio, Clark
The junior went 7-0 in singles to help the Chargers to a 3-1 record.
— —
GIRLS TENNIS
Nikoletta Nikoloff, Coronado
The senior was 5-0 in singles, including a 3-0 mark in a 16-2 victory over Green Valley.
— —
GIRLS VOLLEYBALL
MacKenzie Carter, Silverado
The senior outside hitter sparked the Skyhawks' offense in their two wins last week. Carter had 16 kills in a 25-17, 25-19, 25-18 win over Palo Verde and finished with 21 kills and six digs as Silverado swept Faith Lutheran, 25-17, 25-19, 25-21.
— —
HEAD OF THE CLASS
BISHOP GORMAN — Football player Tate Martell passed for 178 yards and three touchdowns and rushed for 111 yards and another score in a 35-20 win over St. John Bosco (California).
BONANZA — Football player Ricardo Hill rushed for 238 yards and three touchdowns on 20 carries in a 42-8 win over Western.
CHAPARRAL — Football player Santiago Vialpando completed 13 of 18 passes for 300 yards and four touchdowns in a 50-0 win over Eldorado.
FAITH LUTHERAN — Football player Elijah Kothe had seven catches for 131 yards and a touchdown in a 49-18 win over Kaimuki (Hawaii). Girls golfer Sydney Smith finished fifth at the Antigua National Invitational in Scottsdale, Arizona, with a two-round total of 150.
PAHRUMP VALLEY — Boys cross country runner Bryce Odegard finished second in the small school race at the Larry Burgess-Las Vegas Invitational at Sunset Park, with a time of 16 minutes, 4.3 seconds for 3.1 miles.
SHADOW RIDGE — Football player Elisha Young had 161 yards and two touchdowns on just five carries in a 65-14 victory over Valley.