HEAD OF THE CLASS: Samuel Turner tops 300 rushing yards in win over Centennial
October 5, 2016 - 5:46 pm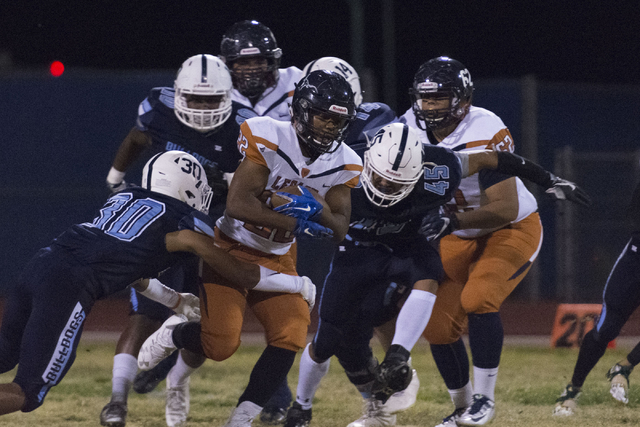 ATHLETES OF THE WEEK
BOYS CROSS COUNTRY
Bryce Odegard, Pahrump Valley
The junior finished sixth in the Section 2 race at the Central Park Invitational in Huntington Beach, California, with a time of 16 minutes, 10.97 seconds for 3 miles.
— —
GIRLS CROSS COUNTRY
Amy Amezcua, Green Valley
The senior finished second at the Spartan Pre-Region Invitational at Craig Ranch Park, posting a time of 20 minutes, 4 seconds for 3.1 miles to lead the Gators to the team title.
— —
FOOTBALL
Samuel Turner, Legacy
The senior rushed for 305 yards and three touchdowns to help the Longhorns move to 5-0 with a 27-20 win over Centennial.
— —
GIRLS GOLF
Annick Haczkiewicz, Palo Verde
The junior was the medalist at both of the Panthers' matches, shooting 1-under-par 35 in Palo Verde's nine-hole win over Bishop Gorman at TPC Las Vegas and even-par 72 to help Palo Verde win a Northwest League match at Aliante.
— —
BOYS SOCCER
Nevo Ziv, Adelson School
The senior had seven goals and six assists in four victories last week as the Lions remained undefeated.
— —
GIRLS SOCCER
Ellyson Reynada, Western
The senior scored both goals in a 2-0 win over Sunrise Mountain and then added four goals and two assists in a victory over Desert Pines.
— —
BOYS TENNIS
Ben Gajardo, Desert Oasis
The senior went 3-0 in singles in the team's most important match of the season, carrying Desert Oasis to a 10-9 tiebreaker victory over Clark and sending the Diamondbacks to the Class 4A Sunset Region title match.
— —
GIRLS TENNIS
Shelly Alvarado and Yazaret Arredondo, Desert Pines
The doubles team of Alvarado, a senior, and Arredondo, a junior, went 3-0 to lift the Jaguars to a 10-9 tiebreaker victory over Moapa Valley in the Class 3A Southern Region semifinals.
— —
GIRLS VOLLEYBALL
Eden Whitmore, Moapa Valley
The junior outside hitter guided the first-place Pirates to two key Class 3A Sunrise League victories. She had 12 kills in a 3-0 victory over rival Virgin Valley, and put away 17 kills in a 3-1 road victory over Boulder City.
— —
HEAD OF THE CLASS
ARBOR VIEW — Football player Andrew Wagner had four carries for 115 yards and two touchdowns and recorded six tackles in a 45-6 win over Shadow Ridge. Girls cross country runner Danielle Walker finished first in the varsity B race at the Spartan Pre-Region Invitational with a time of 22 minutes, 31.4 seconds for 3.1 miles.
BISHOP GORMAN — Football safety Bubba Bolden intercepted two passes, then blocked a potential game-winning field goal in the second overtime as the Gaels escaped with a 25-24 triple-overtime win over St. Thomas Aquinas (Florida).
CIMARRON-MEMORIAL — Girls cross country runner Alexys Arroyo placed ninth at the Spartan Pre-Region Invitational, setting a new personal record with a time of 21 minutes, 40.3 seconds for 3.1 miles.
DEL SOL — Football running back Taariq Flowers rushed for 288 yards and three touchdowns on 16 carries in a 39-7 victory over Boulder City.
DURANGO — Football player Alhaji-Ibrahim Kamara rushed for 164 yards and a touchdown on 34 carries in a 21-20 win over Bonanza.
FAITH LUTHERAN — Football wide receiver Elijah Kothe had six catches for 172 yards and three touchdowns in the Crusaders' 26-21 win over Palo Verde. Girls soccer player Bella Gutierrez had three goals in a 5-2 victory over Legacy.
GREEN VALLEY — Boys cross country runner Omar Rubio finished first at the Spartan Pre-Region Invitational with a time of 16 minutes, 15 seconds for 3.1 miles. Girls volleyball player Rachel Klopfer had a total of 35 kills, two aces, two blocks and 17 digs in wins over Coronado and Basic.
LIBERTY — Football quarterback Kenyon Oblad threw for 332 yards and six touchdowns in a 49-13 victory over Green Valley.
MOJAVE — Girls volleyball player Sua Estrada had a total of 83 assists in victories over Cheyenne, Sunrise Mountain and Del Sol.
PAHRUMP VALLEY — Football kicker Joey Sladek had a field goal against Cheyenne, his third of the season. Girls soccer player Kaitlyn Carrington scored a goal against Cheyenne.
PALO VERDE — Girls volleyball setter Arien Farfard had a total of 28 assists, 11 kills and five aces against Faith Lutheran and Shadow Ridge. Football player Jonathan Schofield rushed for 225 yards and a touchdown against Faith Lutheran.
SIERRA VISTA — Girls soccer player Calista Reyes had a goal and four assists in two games. Boys soccer player Daniel Perez had two goals in a 3-0 victory over top-ranked Durango.