Looking ahead at the week in high school sports
August 27, 2017 - 3:13 pm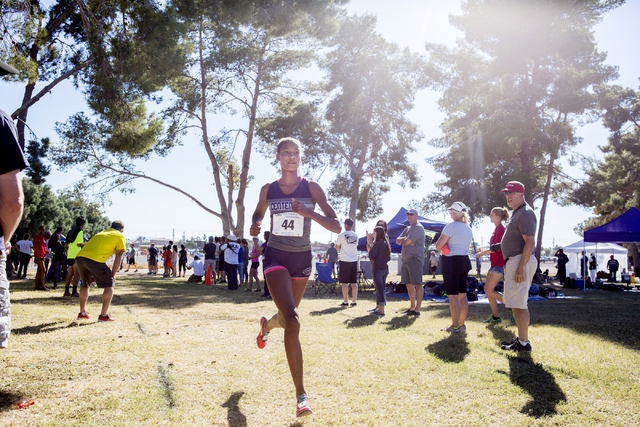 Here is a look at some of this week's top high school sports events.
CROSS COUNTRY
Saturday — Labor Day Classic at Palo Verde, 8 a.m.
Centennial's girls will look to defend their titles at the week's biggest local invitational. The Bulldogs captured both the freshman-sophomore and junior-senior girls races last season. The meet begins at 8 a.m. with the freshman-sophomore boys race and will feature four races total over a 3.1-mile course.
FOOTBALL
Thursday — Foothill at Palo Verde, 7 p.m.
Both teams opened the season with victories, and will get a crack at this week's local television game. Foothill sophomore quarterback Koy Riggin completed 10 of 12 passes against Centennial, but may have a more difficult time against a Palo Verde team that allowed only seven points and scored two defensive TDs against Sierra Vista.
Friday — Liberty at American Heritage (Florida), 4:30 p.m.
The Patriots were dominant in their opener, topping Arizona power Saguaro 51-20 and ending the Sabercats 26-game win streak. Now they must do it on the road against an American Heritage team that has won 15 consecutive games and is ranked No. 9 nationally in the MaxPreps Xcellent 25. Liberty shocked Westlake (Texas) on the road last season. Can the Patriots do it again?
Friday — Bishop Gorman at Mater Dei (California), 7 p.m.
The Gaels' hopes of earning a fourth mythical national championship ride on this one. Mater Dei is ranked No. 1 nationally by USA Today, with Gorman No. 4. The Gaels must find a way to slow down Monarchs quarterback J.T. Daniels, who has committed to Southern California and is considered to be one of the top quarterbacks in the class of 2019.
Friday — Desert Pines at Arbor View, 7 p.m.
The Class 3A Jaguars made a name for themselves by beating Arbor View 50-14 to start the 2015 season. But after winning the 3A state title last season, Desert Pines struggled in a 9-0 loss to Bishop Diego (California) on Friday. The Aggies could be in line for some revenge.
GIRLS GOLF
Tuesday — Southeast League match at Anthem
Coronado junior Victoria Estrada won the individual state title last season, and she will lead the three-time defending state champions in their first league match of the season with Basic, Foothill, Green Valley, Liberty and Silverado.
BOYS SOCCER
Monday — Southern Nevada Kick-off Classic, 5:30 p.m
The championship game of the season's opening tournament, which featured 11 Southern Nevada teams.
Monday — Adelson School at Cheyenne, 4 p.m.
The first league game of the 2017 season serves as the first league game for Adelson School. The Lions competed as an independent prior to this year, after a 12-0-1 season, are ready to make their mark in the Class 3A Sunset League.
Tuesday — Spring Valley at Centennial, 3 p.m.
The Grizzlies were the darlings of Southern Nevada last year, making a surprising run to a region title and the school's first appearance in the state tournament. They will get an early test against the Bulldogs, who will be looking for their seventh postseason berth in a row.
GIRLS SOCCER
Wednesday — Tech at Western, 3:00 p.m.
The two teams that represented the Southern Region in the Class 3A state playoffs last year, the Warriors beat the Roadrunners 2-1 in the region title game.
Thursday — Arbor View at Bishop Gorman, 5:30 p.m.
Two of Nevada's finest programs, the five-time defending state champions will travel to challenge a Gaels team that lost its top three scorers from last year, but have talented sophomore Jaden Terrana ready to take the next step.
BOYS TENNIS
Monday — Faith Lutheran at Centennial
Faith Lutheran is fresh off a victory over defending Class 3A champion The Meadows, and will look to parlay its success against the Bulldogs in the Sunset League opener for both teams.
Tuesday — Boulder City at Virgin Valley, 3 p.m.
Class 3A powerhouse Boulder City and Virgin Valley are both undefeated after their first week of action. They'll meet on Tuesday for an early-season showdown.
GIRLS VOLLEYBALL
Tuesday — Coronado at Shadow Ridge, 6 p.m.
Shadow Ridge outside hitter Whittnee Nihipali is one of the state's best players, and her Mustangs have high expectations this season after returning 11 letter winners. The Cougars might be the top team in the Sunrise Region. This match could be a state preview.
Tuesday — Silverado at Palo Verde, 6 p.m.
The defending Southeast League champions, with Gatorade Nevada Player of the Year Sydney Berenyi, will be tested be a Sunset Region school that has made six consecutive playoff appearances. The Panthers could end up representing their region in the state tournament.
Thursday — Palo Verde at Coronado, 6 p.m.
One of the top Sunset Region teams will face arguably the No. 1 Sunrise Region squad. Both teams return five starters, and each could be in contention for a state playoff berth.
Friday-Saturday — Las Vegas Invitational at Las Vegas
The Wildcats will host the two-day tournament that features several local teams, including Centennial, Foothill, Palo Verde, Shadow Ridge and Silverado.